Buying a new home is a huge decision and it's important to know what to look for when viewing a house. This includes looking beyond the interiors and judging the structure of the property.
Here we've compiled what to ask when buying a house and some house viewing tips. These should help you narrow down your dream home and buy somewhere you won't live to regret.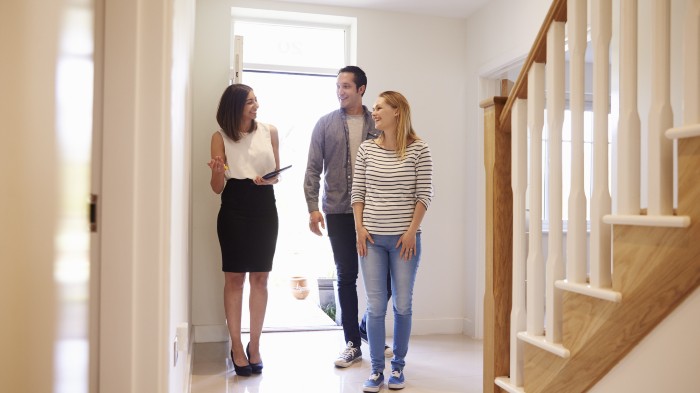 Your house viewing checklist
There's a lot to think about when you view a house and it might be overwhelming. Even more so if you're buying your first house.
But our simple house viewing tips should make the entire process easier.
In a nutshell:
Arrive early. Arriving slightly early gives you the opportunity to look at the outside of the house and get a good feel for the neighbourhood. It also gives you the chance to see how far a local shop, park, or school is and whether it's within walking distance.

Look with your nose, as well as your eyes. It's not just about the cushions, rugs, and throws. You need to pay attention to any potential defects and you should also be able to smell if the home has a damp problem.

Ask questions.

If you meet the seller, or even if it's an estate agent, you won't have long with them and it's important to

have an idea of the questions you want to ask before you meet

.

Take pictures if you can. If you have permission, it's worth taking well-lit photos or a video of absolutely everything you can. Not just of an entire room or corridor but of small details like fixtures and fittings, window frames, and boilers.

Bring a friend or family member. It's easy to get carried away and miss important things when viewing a house or to get caught up in what you might do to it. Bringing a trusted partner, especially an honest one, could help you with your decision.

Go for a second viewing. Buying a house is a major commitment and ideally you don't want to hand over your savings if you've only seen it once. Try to see the property at different times of the day to get an idea of the neighbourhood. As well as different days of the week, as a sunny day could make it look different.
What to ask when viewing a house
You could ask hundreds of house viewing questions but only some might actually be useful when making a decision over whether to buy it or not.
Here are some to write down and take with you.
How long has the house been on the market?
This is arguably one of the most important questions you should ask. If the house has been available for more than 3 months, there could be an underlying problem that's putting off other buyers. Although it also could depend on local property market conditions.
If there's an underlying problem, such as subsidence, the seller might accept a lower price. It's also worth asking what the lowest offer the seller will accept is and if they're willing to negotiate.
Why is the owner selling?
The estate agent is under no obligation to answer, but you might be able to get a few details that could help you later on.
For example, if the owner is leaving the country or a relationship has broken down, they might accept a lower price for a quick sale.
But if there's something fundamentally wrong with the property, or they've had problems with the neighbours, you might want to reconsider whether this is the right home for you.
How long has the owner lived here?
An estate agent might not tell you this but you could look online to see when the property was last sold.
If there's been a lot of previous short-term owners, there might be a problem.
You could also ask about any current offers on the property, and what price these have been made at. The estate agent might not tell you but it's always worth asking.
What's included in the price?
Homeowners can take pretty much anything with them, so always ask what's included. In some cases they might include items like cookers or fridges for a small cost.
Gardens, outbuildings, and even parking spaces might have shared ownership with the neighbours. So, it's good to get an answer on who owns what so you can find out exactly what you'll get for your money.
Are the sellers in a chain?
A chain is when a group of buyers and sellers are connected. For example, if you want to buy a house you need to wait for the seller to buy their next home, and so on.
The length of the chain could change how long it takes to buy a property. A delay at the start of the chain causes problems further down the line, so expect a longer wait if the house is in a chain.
This is where it can help being a first-time buyer as you can use your position as a negotiating tactic. This is because you're not dependent on anyone buying your house before you can move, so that speeds up the sale.
How much will the household bills be?
It isn't just the mortgage you pay when you move into a property. It's important to budget for all of the household bills.
While you can usually switch some providers, such as energy, broadband or home insurance, you might be locked into others such as council tax.
At the same time, ask the estate agent about how energy efficient the home is. This might also add to your budget if it has a low Energy Performance Rating (EPR).
Other costs, such as parking permits, could also add to your overall costs.
Are there any local plans that could affect the property?
Your dream property might be surrounded by fields right now. But if there are plans to build a supermarket or housing estate on them, you might want to reconsider your decision.
Similarly, if the property is in a conservation area or if it's a listed building, it could restrict the amount of building work you can carry out.
What to look for when viewing a house
Viewing a house is all about looking beyond the obvious.
Scrutinise each room and assess things like how long a bathroom can be used in its current condition, and if a window needs replacing in the next few years.
You also want to look at the potential of the house. For example, the current layout may not be practical or offer enough space, but could there be room to add an extension or change the layout with some work. Any improvements you make could also have the benefit of adding value to the house.
The answers to these types of questions might change your overall budget and the amount of time you spend maintaining a property.
Also keep a close eye out for potential defects that could be costly to fix later on, like:
Old boilers
Signs of damp
Loose or missing roof tiles
Blocked drains or gutters
Large cracks in walls or ceilings for signs of subsidence