Louise trained as an accountant at PWC before taking up a role as a Strategy Consultant at Fujitsu Services. Louise then joined Admiral Group in 2009 and spent two years at Confused.com as Business Development Manager and Finance Director. She became our CEO in 2017.
Louise is passionate about righting the balance between customers and financial service providers. Part of this involves empowering people to make more informed financial decisions. As our spokesperson Louise regularly appears on TV and radio, having notched up appearances on Sky News, BBC Breakfast, LBC, BBC 5 Live and BBC Radio 4 to name a few.
As if Louise's CEO role isn't busy enough, she also chairs the FinTech Wales board, the Insurtech 2.0 board and is the non-Exec director of CFC Underwriting. She's also the driving force behind our work to become a zero-carbon company.
Recent coverage of Louise: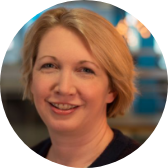 Louise says:
"We've been in the business of helping customers for nearly two decades. But despite our good work there's still plenty of confusion around insurance, utilities and personal finance. Our work is far from done.
I'm passionate about helping customers, and I truly believe businesses should be a force for good in society."