If you have home insurance, it's more than likely you see it as a necessary expense rather than something that you feel is genuinely valuable.
Why is that the case? For a few reasons:
Home insurance is not top of mind for customers.
The jargon makes it hard for customers to understand what they're getting.
The products aren't flexible enough.
I've worked in insurance for almost 3 years, and currently work as the Product Lead for Home and Lifestyle at Confused.com. My experience in both motor and home insurance, as well as working for a motor finance company, has given me a good overview of how insurers and customers interact with each other.
Why do home insurers struggle to demonstrate the value of insurance?
Customers don't understand what they're getting
Home insurance products don't usually have the most straightforward wording. What does "unforeseen events" really mean? How much will "gradual deterioration" affect my premiums? How does "liability insurance" apply to my home?
The jargon helps insurers define what they can and can't cover. But it comes at a cost: policyholders don't understand what they're getting, which means they don't really understand the value either.
The value of home insurance becomes apparent only when a customer files a claim
Catastrophic events like a fire or a flood don't only cause a financial loss, but also an emotional one. Which means that if you've had a claim pay out already, you're a lot more likely to recognise the value of home insurance.
In other words, only people who have made a claim – and were successful – are those who understand the value. And yet, that is an incredibly small portion of policyholders.
According to the FCA, buildings-only home insurance policyholders in 2021 claimed at a rate of 1.54%. What happens to the other 98%? It's likely they don't see the benefits of home insurance.
Insurance is not top of mind for the customer
90% of UK home and motor insurance customers only interact with their insurer 1 - 2 times a year, usually at renewal time.
Combine that with the fact that customers only see the value when they claim, and it's easy to see why insurance is rarely top of mind. Policyholders usually want to pay for their insurance and then forget about it. It can be hard to shift that mentality.
Customers also usually only reach out to their insurer when something negative happens – for example, flooding or a storm. So their perception of insurance might not be the most positive.
Trust in the industry is low
The acceptance rate for home insurance claims is only three quarters (77%), which means many customers are claiming for events that are not insured. This demonstrates a lack of understanding of what can and can't be claimed for and leads to low trust in insurers.
In one survey conducted by the Association of British Insurers (ABI), participants were asked about what they thought of insurers handling their data and using that information to offer a fair price. The results showed that few customers fully trusted their insurer on data and pricing accuracy.
On a scale from 0-10, where 10 means they 'completely' trust insurers to use data in customers' best interests, just 13% of general insurance customers selected a score from 8-10.
If you don't trust your insurer, you're a lot less likely to value what you're getting from them.
3 ways insurers could better communicate their value
A great example of an insurance product undergoing a rebranding is travel insurance. Before the Covid-19 pandemic, travel insurance was seen like any other insurance product and wasn't given much thought.
But look at the transformation post-Covid: there's been a big move towards a more quality product. Now, when people buy travel insurance, they actually think about what might happen if their travel plans were disrupted by an event outside of their control. Customers are much more likely to consider the value of the product now, not just the cost.
Unless we get another Covid-type event, I believe insurers need to focus on better communication if they want customers to value their product more. Here are 3 ways they can do that:
1. Use the customer's language and make sure to define the value
Without speaking the customer's language, you can't communicate clearly the value of your product.
Yes, insurers should look to move away from vague, jargon words and keep it simple – but what can they do instead? Some examples are:
Explain in advance how the quote and claim process works.
Make it easier to complete a quote – move away from the 60 question application form.
Anticipate problems and rewrite questions in a more straightforward way.
Use diagrams to explain a question (for example, lock diagrams).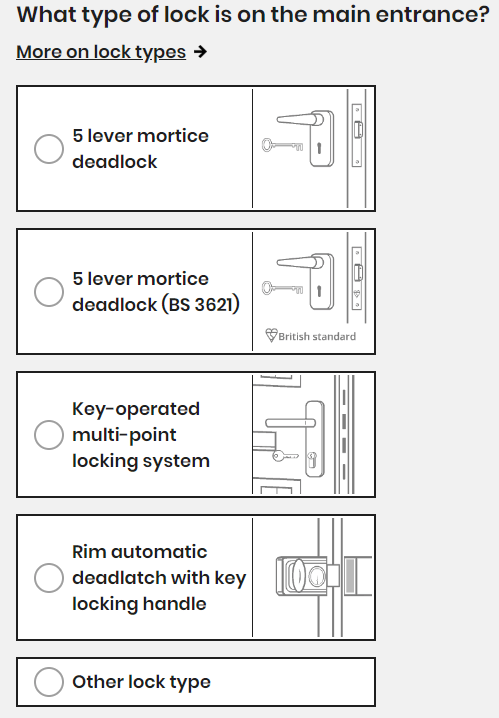 Example of the lock types question taken from the Confused.com home insurance quote process.
And then, insurers should also make the value of their product a lot clearer throughout all their messaging.
One example of this is renters, who are a lot less likely to have insurance than homeowners. Why? Because many don't believe they have anything worth insuring. And yet, if they had to replace their clothes, electronics and kitchenware, they would probably be out of pocket by a considerable amount.
There's a lot insurers could do to make this clearer on their messaging. Something as simple as adding a calculator on the website and encouraging customers to think of how much their possessions are worth could help with value perception.
2. Stay consistently in touch with the customer
Insurers need to find more ways to stay in touch with customers for something other than renewals or a claim.
The obvious options are email and social media. Customers might not want to read a big essay on insurance, but they might be interested in reading short snippets on what's happening. For example, an explanation of how a recent world event (for example, the cost of living crisis) might affect them.
Insurers need to move away from a purely transactional relationship and look for ways to add more value. For example, they could move monthly touchpoints instead of yearly. Or ask users to install an app and send push notifications that are relevant for them.
At Confused.com, we offer customers a reward after they get their insurance via our platform. Not only does it offer another touchpoint, but it's a positive touchpoint. The rewards are not related to insurance, making it feel more "like a treat". For example, our motor, home and van insurance customers can claim coupons for £20 off petrol.
3. Offer more product flexibility
Younger generations are shifting towards subscription services, and therefore expect the same when it comes to insurance. Customers want shorter contracts, the freedom to pay monthly and to add or remove other people from the policy.
This is especially true when targeting a customer segment like renters. Renters may not want to commit to 12 months, especially if they have a shorter tenancy. To target a different customer segment, insurers need to design a product that is more suitable to them. Urban Jungle, for example, does this quite well by giving customers the flexibility to only insure specific items, such as their laptop, camera or clothes.
Lemonade is another example of an insurer that's putting this into practice: when the customer fills in a quote, they can choose to do this via an AI chatbot. The chatbot helps cut through the jargon, holds the customer's hand throughout the quote process and can even settle claims in 2 seconds.
The role of PCWs and how Confused.com can help with communicating value
As a key part of the insurance buying process, it is our responsibility as PCWs to support insurers in effectively communicating the value of home insurance.
With our direct connection to customers and insurers, we're in a good position to help customers understand the value of home insurance. Here are a few ways PCWs can do that:
Anticipate customer needs and remain customer centric
As a PCW, we play the role of the consumer champion. The fact that we have visibility over the quote process means that we have a better overview of the customer. If we have an existing relationship with a customer, we know quite a lot about their situation.
For instance, if they use Confused.com for car insurance, we can complete many of their details when they approach us for another product, as we are already familiar with their situation. We can anticipate their needs and offer another product – while also explaining the benefits.
A clear example is our ability to generate a home insurance quote from a car insurance quote. Based on the questions answered when getting a car insurance quote, we know enough about a customer's home to be able to give them an indicative home insurance quote. This can help customers save time, raise awareness of current prices and remind them of the need to protect their home and belongings.
Make it more accessible
As a consumer champion, we can also take the lead when it comes to educating customers. We can explain what certain words mean (e.g. clearly explain "excess"), and we can also simplify the process. With our Quick Quote process, someone who's already done a car insurance quote can also get a home insurance quote in a few minutes.
Not only can we help people understand phrases better, but we can make the process more accessible. Instead of asking the customer to fill in a 60-question quote process, we can pre-fill a lot of it for them already.
We've also done this via our Confused.com app, launched in 2019. The app simplifies quick quote filling and enables additional communication, including the push notifications I mentioned earlier.
Insurers and PCWs have to work together to communicate value in home insurance
There are three key factors to communicating the value of home insurance: educating the customer, making the product more accessible and communicating the value.
I believe there's a big opportunity for home insurers and PCWs to get more involved in the customer-insurer relationship and add more value to the customer's lives. It shouldn't take another Covid-like event to make it happen.
If you want to learn more about Confused.com and our history as a consumer champion, read about our journey.