If in the unfortunate event your ring gets lost, stolen, or damaged, you'd want to make sure it can be replaced. And you want to make sure doing so doesn't put a big dent in your bank account.
That's why you should list your ring on your home contents insurance policy. So that if you ever need to make a claim, your insurer could help settle this.
Here's everything you need to know on how to get the best ring cover out of your insurance.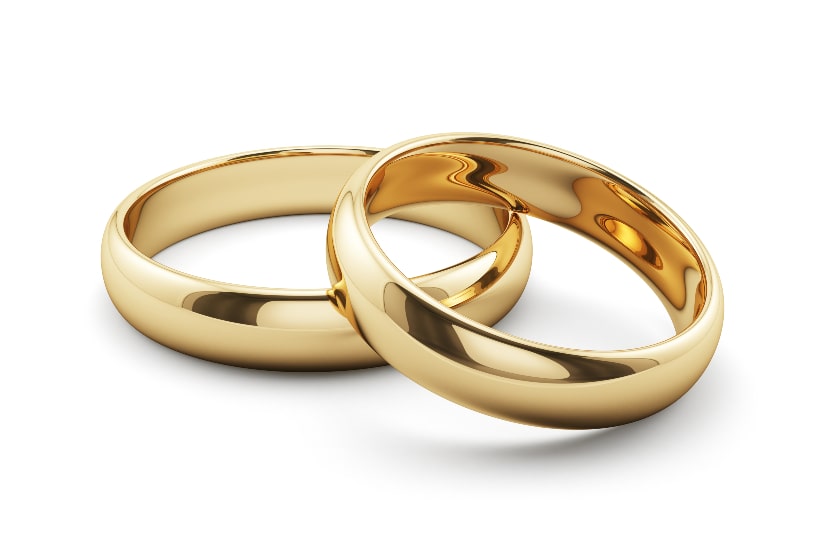 What does ring insurance cover?
As a standard, most ring insurance policies cover:
Accidental loss
Theft
Loss of stones or diamonds
Away from home cover (UK and abroad)
The cover doesn't usually include cosmetic damage, like scratches and general wear and tear.
If you wanted to insure any other jewellery that isn't your engagement or wedding ring, you can get jewellery insurance, which covers a similar amount.
Does my home contents insurance policy cover my wedding and engagement rings?
It depends on the value of the ring. Most home insurance providers have a set limit on the amount you can claim for a single item.
If your rings are worth £1,000 or less, then this might be within the limit and you may be automatically covered if you have contents insurance. But this can vary between providers so check to make sure.
Anything more than this single item limit and you need to list it as a separate item on your home contents insurance as a high-value item.
If you only have buildings insurance, your rings aren't covered.
Contents insurance could also help cover your other valuable items like laptops, furniture and any art.
You can use our contents insurance calculator to make sure you're getting the right amount of cover. This also helps avoid paying too much or too little for your insurance.
How can I be sure that my engagement and wedding rings are properly covered?
If your wedding or engagement ring is higher than the £1,000 single item limit, have it listed separately. Although this might make your insurance cost more, it's better to know it's properly covered.
Even if your ring is added to your policy as a single item, it may not be protected in all circumstances. It varies from provider to provider, but some policies might exclude cover outside of the home.
Given that your rings are for everyday wear, there's a fair chance your ring might get damaged, lost, or stolen while you're away from home. Your insurer might not cover for this unless you specifically ask for it.
Covering your ring outside your home should be available as an optional extra.
You can also choose to pay a little extra for personal possessions insurance with your contents insurance. As well as accidental damage cover.
You might find this gives you better peace of mind.
Compare home insurance quotes
How can I find out how much my engagement or wedding ring is worth?
A specialist jeweller should be able to give an up-to-date valuation on how much your engagement or wedding rings are worth.
A valuation should give a complete description and verification of what the ring is and confirm its current value.
The information you get from your valuation should help if your ring every gets lost or stolen and you need to make a claim. This should help make sure you get replacement that exactly matches the size and quality of the ring.
The valuation also helps to make sure you're properly covered, and you're not over or under insured.
It's recommended that you re-value your ring every 2 to 3 years to make sure it's up-to-date. This is because the price of precious stones and metals can fluctuate.
Your insurer might also say how often your jewellery needs to be revalued, so check the policy details.
Other reasons a professional valuation of a ring might be needed include:
Family separation or divorce
For probate to help sort out the items of a loved one
Selling of the item
How can I make a claim?
If you've covered your ring on your home contents insurance, contact your insurer as soon as possible.
Get as much information as you can gather to help settle the claim quicker.
Making a claim for your wedding or engagement ring might mean you lose your no claims bonus. Check the small print of your policy to be sure.
Will my engagement and wedding rings be covered if I go abroad?
If you have travel insurance in place while you're abroad, it might be covered under this.
But you may find it might not cover as much as you'd need for the rings to be fully protected.
Check your home insurance policy to see if it's covered in the country you're visiting. There might also be a limit on how long you're covered for if you're planning to visit another country for a while.
If your cover isn't enough, you could consider either leaving your rings at home or having a specialist jewellery insurance policy.
What happens if I under-insure my engagement and or wedding rings?
If you get a lower value policy than you need, it could affect how much you can claim for.
For example, if you've said your engagement or wedding ring is worth £1,500 but it's actually worth £3,000, you're 50% under-insured. So if you were to make a claim, insurers might only pay out, at best, 50% and you'd need to fork out the other half yourself.
This is why it's important to make sure you regularly get your rings valued with a specialist jeweller.
You might not realise how much your ring could've gone up in value and you risk not being adequately covered.
How can I get cheap insurance for my wedding and engagement rings?
There a few different ways to get cheaper ring insurance, including:
Comparing quotes for the best insurance deal for your type of cover.
Carrying out safety measures to protect your home from being burgled. For example, installing smart home security or investing in a safe.
Avoiding making a claim if you can, and building up your no claims discount.
Opting to pay annually rather than in monthly instalments.
Paying a higher voluntary excess if you can. Insurers are likely to offer cheaper ring insurance costs, but bear in mind you then pay more towards the cost of a claim.
For more tips, read our guide on how to save money and reduce the cost of your home contents insurance.
How can I keep my wedding and engagement rings safe?
If you can help it, it's best to avoid having to make a claim on your ring insurance.
Losing or needing to replace your precious rings is hard enough, and having the cost of your insurance go up after claiming rubs salt in the wound.
Here are 5 steps you can take to prevent having to claim and keeping your ring safe:
1. Know when to keep or take off your ring
It's generally safer to take your rings off at night and while doing the washing up or having a shower.
This is because they can easily slip off and end up down the drain. But at the same time, there's a risk of leaving your ring behind and losing it.
Your ring also isn't invincible. It might be safer to keep it off while you're playing sports or any physical activity.
You're the best person to decide for yourself when you think it's best to leave your ring on, or take it off.
2. Make sure you have the appropriate fit for the ring
You want your ring to be able to slide over your knuckle but sit tightly enough around your finger so it doesn't slip off.
Taking your ring off should also not need a lot of excessive pulling, and should feel snug enough to put on or off. You can find a ring sizer online to correctly measure your ring size.
Before resizing your ring, be mindful of the factors that could affect the fit of your ring. This includes:
Seasonal changes in temperature
Weight fluctuations
Travelling in air
A ring too loose can end up wearing out the diamond and causing the setting to go out of shape.
3. Keep ring dishes around the house
You might find yourself often needing to take your ring off around the house. The best way to be sure you won't be wandering around panicking you've lost your ring is to have ring dishes. This way, you know exactly where to look for it.
Place the ring dish around designated areas of your home where the ring is likely to come off. For example the bedroom, kitchen, or the bathroom.
4. Regularly clean your ring
Over time your ring may have a buildup of dirt and oil as you go about your day.
It's recommended that you have your ring professionally cleaned a few times a year to help maintain its condition. This way, the professional can also look out for any loose stones.
Or you can DIY it. You'd just need warm water mixed with dish soap. Then, use a soft-bristled baby toothbrush to scrub. Rinse, and dry.
But make sure you cover the drain!
5. Check the prongs and setting of your ring
Keep a close eye on your ring. Look out for any loose stones, or if a prong looks shorter than the others.
For peace of mind, you can take the ring to a professional jeweller for a 'prong check' to be sure the ring's in perfect condition.
Is there any excess to pay following a claim?
Yes, there should be.
When taking out home contents insurance, there are 2 types of excess to consider: compulsory and voluntary.
When you make a claim, the compulsory excess is decided by your insurer. Your voluntary excess you decide for yourself - you can choose to not pay any if you don't want to.
Both excesses get added together, and this is the total amount that gets deducted from your claim payout.