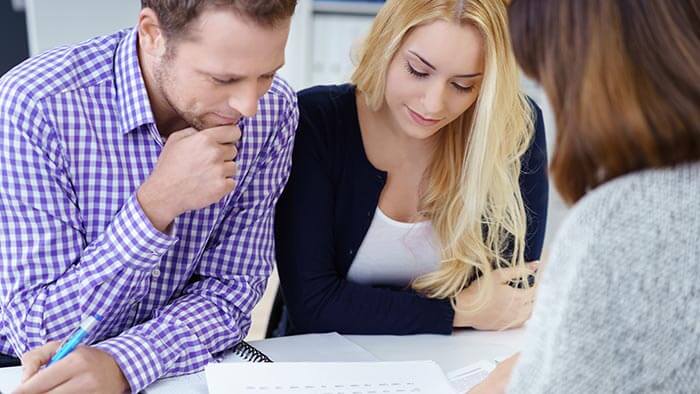 Confused about whether you should be looking at a 95% mortgage? We'll shed some light to make things clearer.

The government has backed a 95% mortgage guarantee scheme, which aims to help people secure a mortgage of up to £600,000 with only a 5% deposit.
The scheme will be initially backed by Lloyds, Santander, Barclays, HSBC and NatWest. Virgin Money will follow. For more information, visit the GOV.UK website.
But how are these types of mortgages different? Let's take a look.
We don't compare this type of mortgage - this guide is for informational purposes only. But you can compare remortgages.

What is a 95% mortgage?
As its name suggests, a 95% mortgage is when you borrow 95% of a property's price. You put down a deposit of 5%, and borrow the rest from a lender.
How does a 95% mortgage work?
Let's say you've fallen in love with a property worth £200,000. With a 95% mortgage, you have to save up a deposit of 5%, which is £10,000. You then take out a mortgage for the remaining £190,000.

You'll pay off the £190,000 over a set period – normally 25 years – making a payment every month.

The lender will charge you interest on the amount you borrow. 95% mortgages are riskier for the lender, so the interest rate could be higher than for other types of mortgage.

What do lenders look at?
Before they offer you a mortgage, a lender will want to know that you can afford the monthly repayments. To work that out, they'll look at:
How much you earn

How much you spend each month

Whether you have any debts.
They'll also do the maths to work out if you could still afford the mortgage repayments if interest rates rose in the future.
And they'll look at your credit score. This shows a lender that you can pay bills and loans back on time. Take a look at the things you can do to improve your credit score.

What are the pros and cons of a 95% mortgage?
Let's look at the plus points:
At the time of writing, property prices are at their highest ever, and getting on the housing ladder can be hard. With a 95% mortgage, you only have to save up 5% of a property's value.

If you're renting at the moment, those monthly rental payments can seem like a waste of money. The sooner you get on the housing ladder, the sooner you can build up equity in a home.
Now the negatives:
As you're borrowing a large percentage of the property value, the lender could charge you a higher rate of interest.

You might find it hard to move to another mortgage when your current deal ends. Lenders tend to offer better deals to people with more equity.

There's also the worry about negative equity. If the value of your home falls, you could owe more than it's actually worth.
How much could I borrow?
Mortgage lenders tend to let you borrow up to five times your salary. Or five times your combined salary if you're buying with your partner or someone else. Let's crunch some numbers.

If you've saved up 5% to buy a £200,000 home, that's £10,000. So you'd need a mortgage of £190,000. Divide that by five and you get £38,000. So you – or you and your partner together – would need to be earning that a year for the mortgage lender to accept you.

How can I choose the right 95% mortgage rate?
As with all mortgages, there are two main types of 95% deals: fixed rate and variable rate.

With a fixed rate, your interest rate is set in stone for a certain period. Say two years. During that time, you'll know exactly what you repay each month.

On the plus side, you can budget more easily as you know what's coming out of your account. But if interest rates fall, you could end up paying more than you would on a variable rate.

With a variable rate, your interest rate will change in line with either the Bank of England base rate or your lender's standard variable rate.

The benefit here is that, if interest rates fall, your repayments could too. But on the flip side, if rates rise, you're likely to pay more each month.

Can I get a 95% mortgage on a new-build home?
The bad news is it's unlikely that you'll be able to get a 95% deal on a new-build. Especially with how things are at the moment. But there is some good news.

The government's Help to Buy equity loan could help you become the proud owner of a new-build. Find out more below.

Has Covid-19 affected 95% mortgages?
Afraid so. Mortgages in general are a lot harder to come by, as Covid-19 makes things riskier for lenders. At the moment, they're tending to play safe and are mainly offering mortgages to people who've got larger deposits.

The amount of 95% deals on the market has fallen during 2020. You might find it difficult to get one, and your options are more limited.

Should I wait and save up a bigger deposit?
That could be a good call. It doesn't look like 95% mortgage deals are coming back to the market anytime soon. But there are 90% deals out there.

And with a 90% mortgage, you'll generally have a lower interest rate than with a 95% mortgage. So your monthly repayments will be lower.

It could be worth waiting to see what happens to the housing market. There's been a surge in buying, as the Chancellor of the Exchequer has made it more tax-efficient for people to buy homes. But that helping hand will be taken away in Spring 2021, so the market could change.

What other options are there?
There are other options too. A Help to Buy equity loan or shared ownership, for example.

With a Help to Buy equity loan, if you save up 5% of the property value as a deposit, the government will then lend you an extra 20% of the property's value. Or 40% if you're buying in London.

Shared ownership is where you buy a share of the property, and the government owns the rest. You pay rent on the part of the property owned by the government.

To qualify, your household has to be earning less than £80,000 a year, or £90,000 a year if you live in London.