Need help? Take a look at our expert guides.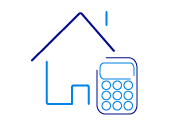 Contents calculator
Getting home contents insurance? Our calculator makes it easy for you to estimate the value of your possessions.
You might also be interested in other insurance types
Confused.com Business Insurance is provided by Simply Business. Simply Business is a trading name of Xbridge Limited which is authorised and regulated by the Financial Conduct Authority (Financial Services Registration No: 313348). Xbridge Limited (No: 3967717) has its registered office at 6th Floor, 99 Gresham Street, London EC2V 7NG. Our service is free and compares a range of trusted household names. Confused.com is an intermediary and receives commission from Xbridge Limited which is based on a percentage of the total annual premium if you decide to buy through our website. We pride ourselves on impartiality and independence – therefore we don't promote any one insurance provider over another.