Running a guest house can be a difficult job at the best of times, so the last thing you need is extra worry when you're trying to juggle your daily duties.
As with any property investment it makes sense to protect it against risks that may leave you struggling financially.

With the right cover in place, you could give yourself peace of mind that comes from knowing your business is protected.
A buildings policy can cover your guest house from events like fires, floods and storms. See what else is covered

Certain insurers provide you with public liability insurance as standard when you take out a policy with them

You could also get contents cover to protect items like your furniture from damage
Some insurers offer add-ons for things like accidents, income loss and legal claims
Possessions insurance will cover your guests' possessions against loss, damage or theft while staying in your property
Getting cover for your business could end up saving you money in the event of a theft loss or damage. We compare a range of trusted companies to get you the best deal.
It's important to get the right level of cover to suit the needs of your business. Additional protection could be available for things like:
Accidental damage


Legal claims by staff or guests injured on your premises


Loss of alcohol license


Cash on the premises or in transit


Business interruption cover - if you have to temporarily close your business


Maintenance and repair of electrical and plumbing services


Damage to stock, like frozen food
As the owner of a guest house you not only have to deal with the same problems as most property owners, like damage to your building and belongings, but you also face the extra stress that comes with running your own business.
Protect your investment and give yourself peace of mind so you can concentrate on giving your guests a great holiday experience.
Need help? Take a look at our expert guides.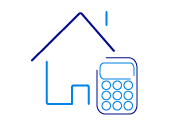 Contents calculator
Getting home contents insurance? Our calculator makes it easy for you to estimate the value of your possessions.
You might also be interested in other insurance types
Confused.com Landlord Insurance is provided by YOUR Insurance of Downsview House 141-145 Station Road East Oxted Surrey RH8 0QE. YOUR Insurance is a trading name of Towergate Underwriting Group Limited, authorised and regulated by the Financial Conduct Authority (No. 313250).Our service is free and compares a range of trusted household names. Confused.com is an intermediary and receives commission from Towergate Underwriting Group Limited which a fixed commission fee, if you decide to buy through our website. We pride ourselves on impartiality and independence – therefore we don't promote any one insurance provider over another.