How to protect yourself from pram theft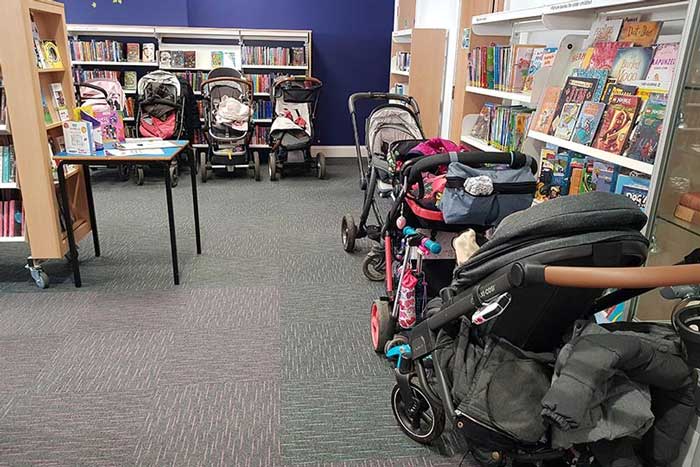 We've teamed up with Dave at The DADventurer to give you some helpful tips on keeping your pram safe and sound.
Buggies, pushchairs - whatever you call them, they're an essential item for any parent and baby. However, with some travel systems costing well over £1,000, it's no surprise that buggy theft is rife.
And with many parents confused as to how they protect something like a pram, here's some practical advice on how to keep your pushchair safe. We also take a quick look at four popular buggy locks and share our thoughts.
Take a look at any soft play centre, theme park or cafe and you'll find abandoned and unsecured pushchairs lined up in the corner. This plays right into the hands of the opportunistic thief looking to make a quick quid.
There's a thriving second-hand market for popular branded pushchairs on eBay, Facebook or Gumtree that make them a tempting target.
This is despite the likelihood that a pram will be the single most expensive baby purchase made by mums and dads. So what can parents do to keep their buggies safe when in public?
READ MORE: How to claim on your home insurance policy
Top five tips to securing your pram
Use a lock
Just like you wouldn't leave your bike unchained or car unlocked, ensure that you secure your pram with a lock. There are many different types available, however they're all designed to act as a deterrent and prevent opportunistic theft.
By fastening your pushchair to an immovable object or by securing the wheels together, the chances of being on the receiving end of pram theft will be drastically reduced. Later we take a look at four popular locks and put them through their paces.
Label or mark it
Labelling your pushchair with your name will help you to quickly identify it and reduce the risk of it being taken. Yes, it may slightly ruin the aesthetics, but that's better than the alternative of no buggy at all.
Also consider writing your details with an ultraviolet (UV) marker pen, keeping original receipts and noting down the serial number. This will all help the police to return a stolen pushchair.
Remove a part
Many pushchairs can be disassembled in some way, so consider using this to your advantage when leaving it out in public.
Removing a wheel or taking off the handlebars will make it more difficult for someone to physically escape with your pushchair. Plus it may make it less attractive to thieves in the first place because it doesn't look complete.
Remove your valuables
If you have to park your buggy, make sure you don't leave any possessions in or on it. If a pushchair is piled high with shopping bags, handbags and coats, thieves may be more drawn towards it.
Leave it at home
Before reaching for your expensive pushchair, consider whether there's an alternative means of transporting your baby. If you know you'll have to leave your buggy unoccupied when you arrive, it may be wise to wear your little one in a baby carrier instead.
Alternatively, invest in a cheap umbrella fold pushchair for times when you don't want to risk your main buggy.
READ MORE: How much home insurance cover do I need?
Extra protection for your pram
Even if you follow the advice above, you could still find yourself a victim of buggy theft. Like with any valuable or sentimental item that you take out of the house, you'll want to consider protecting your belongings against loss or damage.
Home insurance contents cover protects your possessions when in the home. Items you take outside aren't automatically covered, though.
This is where personal possessions cover is useful. Usually an add-on to home contents cover, this protects your belongings once you leave your front door.
Due to the value of your pushchair, you may be required to name the item on your policy, much in the same way that you might name jewellery, a laptop or a bike.
Even if a pushchair is named and covered, you should take appropriate care. You may encounter issues with claiming on your insurance if you've left your buggy unattended or unlocked.
READ MORE: High value listed items
Buggy locks reviewed
With this in mind, we've taken a look at four popular pram locks and shared our thoughts:
MyBuggyBuddy Lock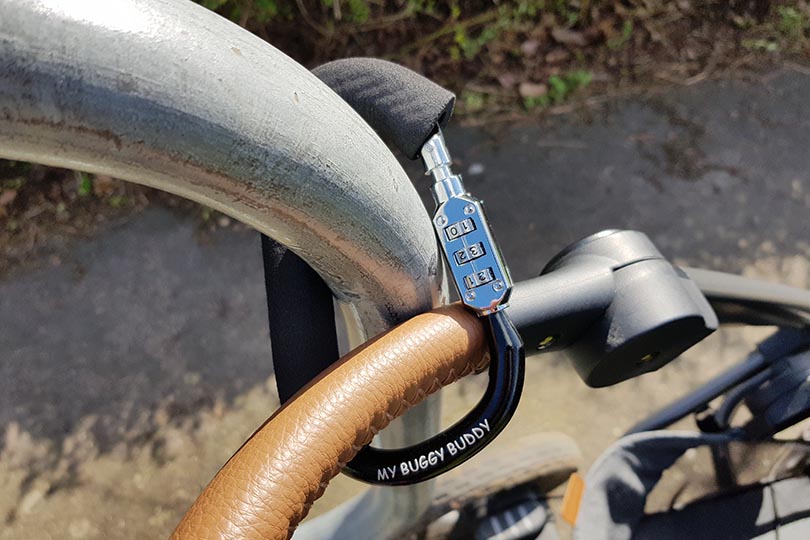 A foam-covered, loop-shaped device with a three-number combination lock that secures the pram to a fixed object. It's easy to set your own code, lightweight and simple to use.
However the number dials are a bit small, the lock mechanism feels a little flimsy and the rigid shape significantly limits what you can attach the pram to and makes it awkward to carry.
RRP £8.95
Stanley Carabiner Lock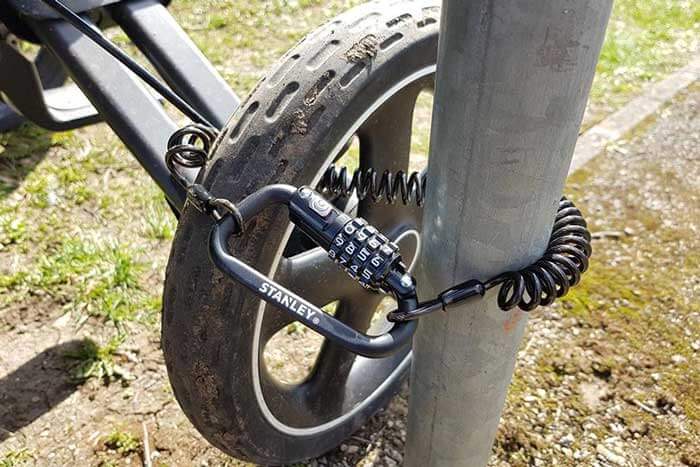 A four-number combination lock comprising a small carabiner and a flexible, vinyl-coated steel cable that can stretch to 180cm. The carabiner is too small to be used as a lock on its own (like the MyBuggyBuddy), so instead you wrap the cable around the pushchair and a static object.
Alternatively, you can you use it to connect the wheels together. The lock is lightweight and small but feels solid, it's easy to set your own code, and the flexible cable opens up plenty of ways to secure the pushchair.
RRP £15.99
BuggyGuard Stroller Lock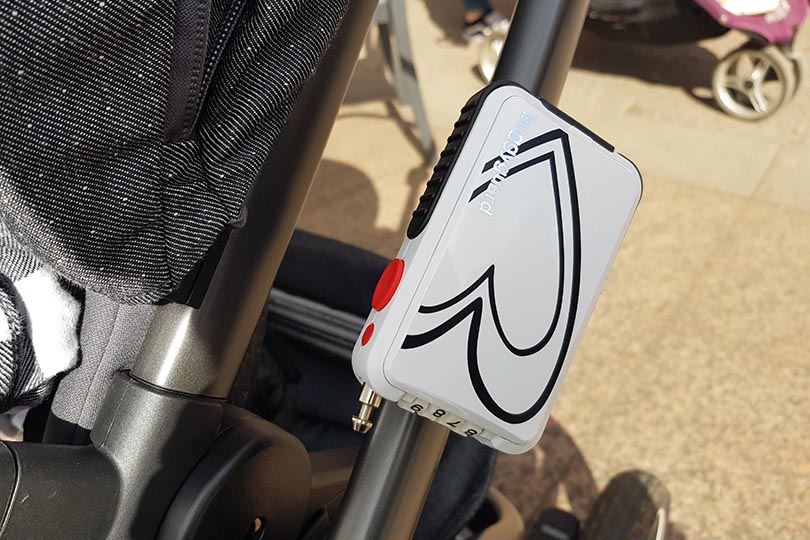 Similar in size to a deck of cards, the four-number combination lock has a long, retractable, vinyl-coated steel cable. You extend the cable by holding a button on the side, then secure your pushchair by wrapping the 120cm cable around a static object or through the wheels.
It looks stylish, feels solid, is easy to use, has chunky number dials and comes with a Velcro bracket for easy storage. However, it took a few times to change the combination and the wire doesn't always retract properly first time.
RRP £19.99
LittleLife Buggy Cable Lock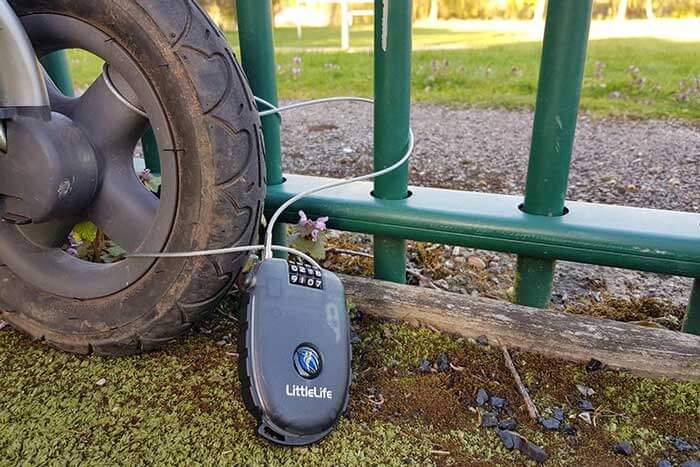 The four-number combination lock with retractable, vinyl-coated steel cable works exactly the same as the BuggyGuard above. However, the cable is significantly shorter (90cm), which reduces your options, and the semi-transparent casing looks and feels cheaper.
It's smaller and thinner than the BuggyGuard, and features a plastic loop that allows you to attach a key ring to aid portability. Ultimately, however, it's a sub-par version of the BuggyGuard.
RRP £8.99
Our top pick
Of these four locks, our vote goes to the Stanley Carabiner Lock. It was a close call with the BuggyGuard Stroller Lock, but the Stanley lock just pips it on price, size and cable length.
Ultimately, having any kind of lock on your pushchair is going to be better than having no lock at all. Considering the amount spent on pushchairs, it's well worth spending a few extra pounds to buy a lock and help reduce the risk of buggy theft.