Having a good home insurance policy in place is key to protect your home and its belongings.
It's important to have enough cover in place should something unexpected happen to your home. Too much cover means you could be overpaying. Too little cover and you might find some key features aren't covered.
But how do you work out how much cover you need? Here's what you need to know.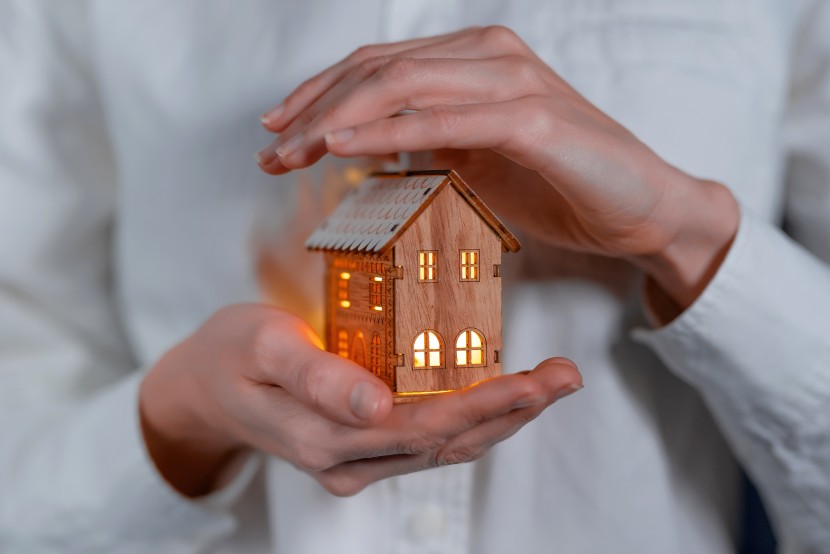 Home insurance is split into 2 parts - buildings and contents.
Buildings insurance covers the cost of any damages to the structure of your home. This includes permanent fixtures like the roof, walls and ceilings.
Contents insurance covers the cost of repairing or replacing your personal items if they're damaged or stolen.
You can choose to either get buildings and contents insurance separately, or as a combined policy under the same insurer. Here we explain how much cover you'll need for both policies.
How much buildings insurance do I need?
When getting a quote for your buildings insurance policy, it's worth finding out how much it might cost to rebuild your home from scratch. This should help you work out how much buildings insurance cover you need.
Your home's rebuild value isn't based on the value your house was when you bought it, or even what it's worth now. It could be much lower than that.
This is because when a house in on the market, several factors are considered including:
Location
School catchment areas
Surrounding land
For more information, read our guide on how to work out your home's rebuild cost.
But if you've recently got a mortgage, you can find this out by looking for the home valuation report.
When calculating the rebuild cost, remember to include if you've had any extensions built. This needs to be factored in to ensure you have enough cover to rebuild that extension.
A higher rebuild cost is also usually needed for older houses. Or for houses with a non-standard construction. The rebuild cost is likely to vary over time depending on changing material and labour costs.
Non-standard construction buildings insurance
Some insurers might charge you more if your home isn't a standard construction. For example, a thatched roof or a house made from wattle and daub.
On these occasions you might need to seek out specialist home insurance, as some insurers don't offer it or offer the right level of cover.
Listed buildings insurance
These are houses with special historic interest. According to Historic England, there are around 400,000 listed buildings in England.
They're split into grades:
Grade I: Buildings with exceptional historic interest. Only 2.5% of the 400,000 are Grade I.
Grade II*: Particularly important buildings with more than a significant historical interest. 5.8% of the buildings in the 400,000 are Grade II.
Grade II : These are of special historic interest and every effort is made to preserve them.
If something should happen to a listed building, you may need specialist materials and expert tradespeople to repair it. A listed building insurance policy should cover this.
For more information, read our guide on the different types of buildings insurance.
How much contents insurance do I need?
It can be difficult to work out exactly how much contents insurance you need. But our data shows the average value of a home's contents is £51,351*.
First, it's worth walking around room-to-room in your home and list the items that are valuable to you. This can include your:
TV
Sofa
Rugs
Games consoles
Even things you might not think of, like kitchen equipment or expensive cutlery, should go on the list too.
Remember, these are items you'd want to replace if they get destroyed, so be thorough with your list.
Next, you can calculate your contents total value by using our contents calculator.
If you're not sure how much an item is, you could do a quick search online to see how much it retails for.
Or, if you've kept your receipts for any white goods, your sofa, even small electrical items, that's a good place to start.
Calculating high-value items
High-value items are usually items worth over £1,000.
Most contents insurance policies have a 'single item limit'. This is the maximum you can claim on over a single item. That means you're unlikely to be covered for the full amount of any high-value items.
In situations like this, it's worth considering high-value item insurance.
You can get specialist jewellery insurance for expensive pieces. You can also get separate bicycle insurance for bikes over £1,000 too.
If you own any antiques or paintings, it can be difficult to know their true value. In this case, it's worth getting a professional valuation so you're properly covered.
Can I get buildings and contents insurance as a combined policy??
Yes, you can choose to get buildings and contents insurance policy separately or combined under a single insurer.
But not everyone needs to get both types of cover.
For example, if you're a tenant you shouldn't need to worry about buildings insurance as that's your landlord's responsibility. This is also the case for students and those living in shared accommodation.
Students are more likely to be a victim of crime, so it's a good idea to consider student contents insurance.
Compare home insurance quotes
*Confused.com data. August 2022 - July 2023. Buildings, contents and combined home insurance policies.