Across England and Wales there are upwards of 2.3 million household members committed to the Neighbourhood Watch. The scheme aims to create a safer neighbourhood, reduce fears of crime and improve the overall quality of life in the local area.
Ever thought of joining the Neighbourhood Watch scheme but not sure what's expected of you? We're here to tell you, and the many advantages involved - including cheaper home insurance.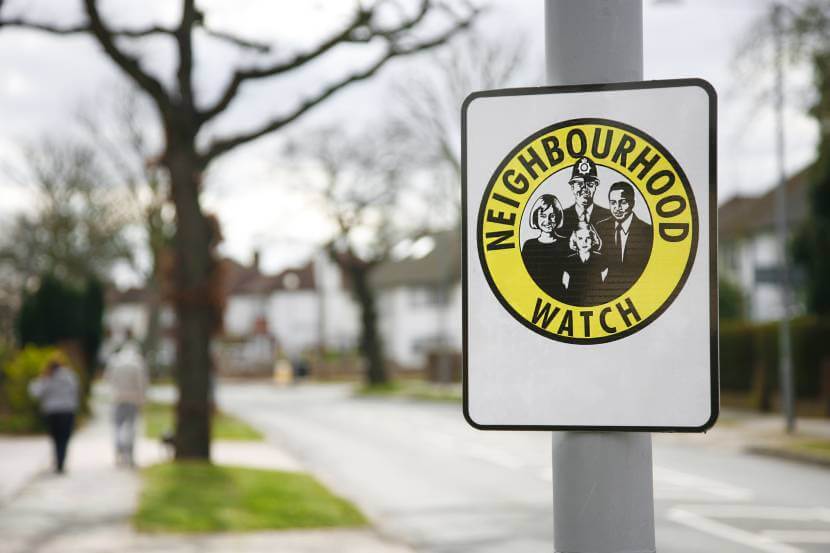 What is a Neighbourhood Watch group?
A Neighborhood Watch group is the largest voluntary crime prevention movement in the UK. Together, a community of residents join forces to help police their local area.
The volunteers are directly involved in activities that promote a safe place to live. Their main purpose is to improve the quality of life for the neighbourhood.
Members of the Neighbourhood Watch group look to reduce any criminal activity or anti-social behaviour in the area. Vandalism being a prime example.
Members are vigilant and aim to combat unwanted behaviour. They do this by either issuing warnings on social media or informing the police of suspicious activities.
You should be able to tell if you live in an Neighbourhood Watch area as you might see the bright yellow sign on a lamppost in your street. The sign shows the face of police officer along with its fellow Neighbourhood Watch members.
Will joining a Neighbourhood Watch lower my home insurance costs?
Some insurers may offer discounts off your home insurance if you choose to join a Neighbourhood Watch group.
Neighbourhood Watch is designed to reduce crime. So insurers like to see that you're going the extra mile to provide security for your home and the surrounding areas. Becoming an active member means you're minimizing the risk of needing to make a claim. Insurance is all about risk, so lower risk means lower home insurance costs.
If you live in an area with high crime rate, your contents insurance is likely to cost more. This is because of your increased likelihood of becoming a victim to burglary.
But there's no guarantee every insurer will offer you a discount, and the size of the discount may vary depending on the insurer.
Compare home insurance quotes
If the possibility of getting cheaper home insurance isn't enough, there are other benefits of joining a Neighbourhood Watch. This includes:
Crime prevention advice
Access to a wide range of ready-made campaigns and toolkits
Cyber protection
Online workshops
Exclusive discounts and offers
How do I join my local Neighbourhood Watch group?
Joining a Neighbourhood Watch group is easy and free to do. You just need to find your local area and register your interest.
You're then expected to attend every local meeting in your area to discuss matters of concern. Attending a Neighbourhood Watch meeting is typically informal. But this doesn't mean you shouldn't be a consistent participating member.
At the meetings, volunteers usually get together to report on any criminal or anti-social behaviours. The meetings also provide a good opportunity to learn tips on how to spot and prevent crime.
If a Neighbourhood Watch group doesn't already exist in your area, you can set it up yourself!
The first step is to talk to your neighbours and make sure you have support for the Neighbourhood Watch scheme. You then should speak to the local police so they can give you advice on how to set up and maintain the scheme.
Being the main coordinator of the scheme can be time-consuming. Ideally, you need a trustworthy neighbour who has enough time on their hands to focus on the group.
How do I find my local Neighbourhood Watch scheme?
If you're keen to join, but not sure how to get started, you can find your local Neighbourhood Watch scheme through their official website.
Using the postcode tool, just enter your postcode and you should be able to see 7 of the closest registered schemes.
If there's no Neighbourhood Watch group in your area, you can apply to set up and run a local scheme with the support of other neighbours. The Neighbourhood Watch website has many useful resources to help you get started.
What kind of crimes do the Neighbourhood Watch report on?
There are several crimes the group aims to surveil and prevent, including:
You can get involved and support a campaign to prevent crime online.
What do I need to do as an active Neighbourhood Watch member?
If you've joined your local Neighbourhood Watch group and your home insurer has given you a discount off your home insurance costs - that's great! But to keep that discount, you need to continue being an active member of the group.
This is because if you ever need to make a claim on your home insurance, your insurer may ask for proof of membership. You might need to show them how you've been active in the Neighbourhood Watch group in your local area.
Being an active member of the group involves:
Keeping in contact with the police and reporting any suspicious behaviour or criminal activities in the area.

Letting trusted members of the group know when you're going on holiday. This is so they can keep an eye on your property when it's empty. It's also important you have the

right door lock

for your home so it can't easily be broken into.

Encouraging local residents to support and join the scheme - hand out leaflets, newsletters and put up neighbourhood watch signs.

Being a point of contact for neighbours to give or get information.

Attending regular meetings with neighbours and the local police to discuss community issues.
So, it may be worth joining the Neighbourhood Watch in your area if you're interested in keeping your community safe. Saving money on your home insurance can also be a great benefit of joining the scheme.
Find out other ways to reduce the cost of your home insurance.