Insuring your garden, sheds and outbuildings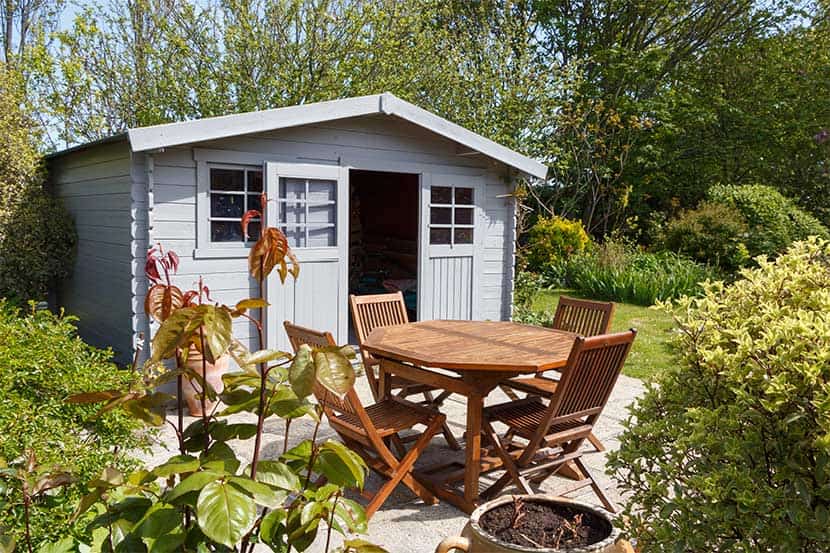 Invested in a new barbeque or some fancy new deck chairs? Here's how you insure them.
This article contains affiliate links. If you buy any products via these links, we may earn a small commission at no cost to you.
Two in five people made changes to their outdoor spaces during lockdown*. They spent over £200 on average.
When asked, one in 10 people thought there were now more valuables in their garden than in their bedrooms.
We've all realised the importance of our outdoor spaces in the last year, so how do we protect them from theft or damage?
And if the worst should happen, what does your insurance cover? Let's find out.
Should I insure my shed or outbuilding?
You should consider two things here, the building itself and what's stored inside.
According to our research, thieves tend to target tools in outbuildings. In fact, over two fifths of thefts involved tools being stolen from sheds or outbuildings.
Bikes were next on the thief's agenda. Nearly two fifths of people had their bikes stolen from their shed or outbuilding.
With the shift towards working from home, one in 10 people have converted their outbuildings into offices.
It's likely then that valuable work items – like computers and laptops – are being stored away from the house, making them easier for thieves to get to.
| Most stolen items from outdoor spaces | Percentage of thefts |
| --- | --- |
| Tools | 42% |
| Bikes | 39% |
| Plants | 23% |
| Working equipment | 23% |
| Lawnmowers | 23% |
| Garden decorations | 23% |
| Barbeques | 21% |
| Furniture | 21% |
| Sporting equipment | 18% |
| Gym equipment | 16% |
Structure-wise, your shed or outbuilding should be covered through your buildings insurance. As this typically covers roofs, walls, floors and ceilings, to name a few.
For example, if there's a storm and a tree falls causing damage to your shed, you should be covered on your buildings insurance policy.
Anything stored inside your shed individually worth up to the value of £1,000 should be covered by your contents insurance. You'll have to tell your insurer about anything over this value.
For example, if you invested in an all-singing, and all-grilling barbeque worth over £1,200, you should mention this to your insurer.
You can also list laptops and bikes worth over £150 in your home insurance quote with the option to add cover while you're away from home.
Cover for the garden and outbuildings varies between providers. Make sure you check your policy wording, so you know exactly what's covered.
What does my insurance cover in the garden?
Who doesn't love a sausage outdoors? Two in five people bought new garden furniture to create swanky outdoor seating areas during lockdown, with another two in five buying barbeques.
These have been a vital lifeline for people to spend time outdoors with loved ones.
But where do these fit into your insurance policy? Like with your tools or your bike, anything individually worth over £1,000 should be mentioned separately to your insurer.
Anything under that should be covered on your contents insurance.
You know what we're going to say here though, make sure you check your policy wording to make sure you're covered.
Jessica Willock, home insurance expert at Confused.com comments:
"We've spent a lot more time in our gardens this past year than ever before – it's no surprise many people spent hundreds in making it a better space to enjoy the summer.

"But in investing in more expensive items, we're putting ourselves at a higher risk of theft. While most items should be covered under our contents insurance, this isn't always guaranteed. Always check your policy details!

"Ultimately, keeping our gardens and sheds secure will be the most effective way in protecting our valuables. We've compiled our top tips to keeping outdoor spaces secure, and this can be as easy as buying padlocks, or investing in cameras or other smart tech as we would for our homes."
What are the most effective ways to keep sheds and outbuildings secure?
To avoid having to claim for theft altogether, it's worth investing in extra security.
Gravel can act as an audible alert if someone's walking up your driveway. You could also try raising your fences to stop any unwanted peepers.
If you have a small shed, thieves might be able to lift the sides. It's worth anchoring it to the ground or to a wall if you can.
Check prices for shed anchors on Amazon
Once your shed is fully anchored, make sure you lock it securely using a padlock or a door bolt.
Check prices for bolts and padlocks on Amazon
Often, smaller sheds have hinges on the doors which are easy for thieves to cut through. Replacing these with nuts and bolts could make them more robust. You could even superglue the nut to the bolt for even more security.
Check prices for hinges on Amazon
Once your shed is like Fort Knox, store your tools, expensive furniture or your barbeque in here to keep it safe. Making sure to add extra locks for security.
If you don't have a shed, bolt down your items to the patio or decking.
Motion-detected floodlighting is also worth looking into, as thieves are less likely to continue stealing if they're fully illuminated.
Check prices for motion detected flood lighting on Amazon
Backing this up with a camera or home security system will work well to capture thieves in the act. Some can even alert you if there's something happening in your garden that shouldn't be.
Check prices for security camera on Amazon
READ MORE: On guard: the best home security devices
*Figures taken from omnibus research carried out by OnePoll on behalf of Confused.com. This was a nationally-representative poll of 2,000 UK adults with a garden, garage, shed, or outbuilding. The research was conducted between 17 February 2021 and 19 February 2021.