Your home insurance policy should also cover sheds and outbuildings as standard. But exactly what these policies cover varies between companies. And given how out garden sheds often contain expensive tools and equipment, it's worth knowing just what you're covered for.
Here's what you need to know.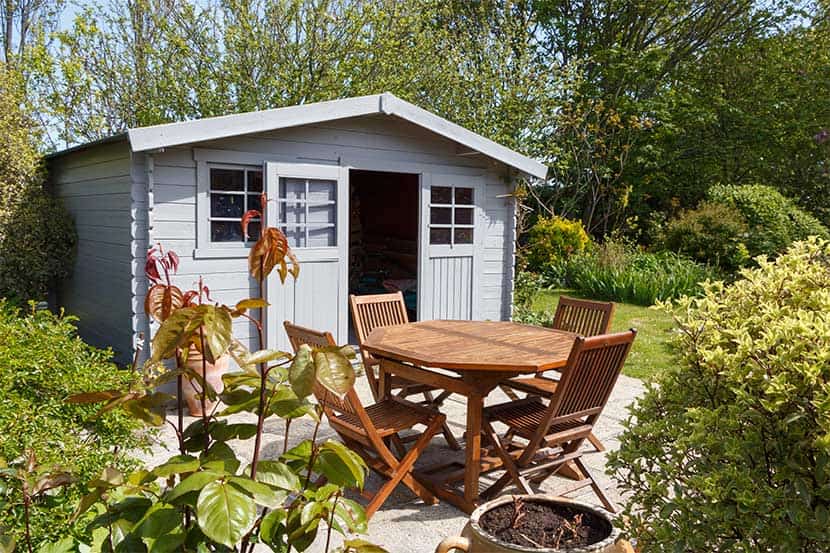 Will my home insurance cover my shed, garage, or outbuilding?
Yes, your home insurance policy should cover your shed, garage, or outbuilding. Generally if it's connected to your home or in the garden it should be included.
Structure-wise, your shed or outbuilding should be covered through your buildings insurance. This typically covers:
Roofs
Walls
Floors
Ceilings
For example, if a tree falls and causes damage to your shed, you should be covered on your buildings insurance policy.
Anything stored inside your shed should be covered by your contents insurance policy. But you might find that your policy has an overall limit for contents in your shed, so check the details.
You also need to specifically list high-value items that exceed your policy's single-item limit.
For example, if you invested in a barbeque worth £1,200, you should mention this to your insurer. When you get a home insurance quote with us, we'll ask you to list any single items worth over £1,000.
You can also list laptops and bicycles worth over £150 in your home insurance quote with the option to add cover while you're away from home.
This personal possessions cover add-on is useful for those taking their tech with them to the office. Or simply for those who want peace of mind their gadgets are insured while they're out and about, as well as at home.
Cover for the garden and outbuildings varies between providers, so make sure you check your policy wording, so you know exactly what's covered.
What about my garden? Do I need separate garden insurance?
No, you don't need a specialist garden insurance policy. Anything in your garden should already be covered on your contents insurance policy.
But, like with your tools or your bike, anything individually worth more than your policy's single item limit should be mentioned separately to your insurer.
What's excluded from my home insurance policy?
Specific exclusions vary between insurance providers. But some common outbuilding exclusions on standard home insurance policies are:
Frost damage to plumbing
Theft of money
Damage to windows, doors or locks
Where standard policies exclude outbuildings and sheds, you might be able to upgrade your policy to include them. This is likely to cost more.
How can I keep my shed, garage or outbuildings safe?
To avoid having to claim for theft altogether, it's worth investing in extra security. You might find that your policy doesn't pay out if you haven't taken appropriate steps to keep items stored in your shed and outbuildings secure.
Consider installing security cameras in your garden to catch thieves in the act
Gravel can act as an audible alert if someone's walking up your driveway
Motion-sensor lights can be useful to put off thieves
Raise your fences to stop opportunist thieves casing your property
Consider anchoring your shed to the ground or to a wall so thieves can't lift it off the ground
Invest in a a padlock or a door bolt on your shed
Often, smaller sheds have hinges on the doors that are easy for thieves to cut through. Replacing these with nuts and bolts could make them more robust. You could even superglue the nut to the bolt to make it more secure.
If you don't have a shed, bolt down your items to the patio or decking.
Remember that your house is likely to be more secure in general than any outbuilding. So, if you're using one as an office, or recreational space, consider bringing any expensive and transportable items into the house.
Compare home insurance quotes