How to secure and insure your shed and other outbuildings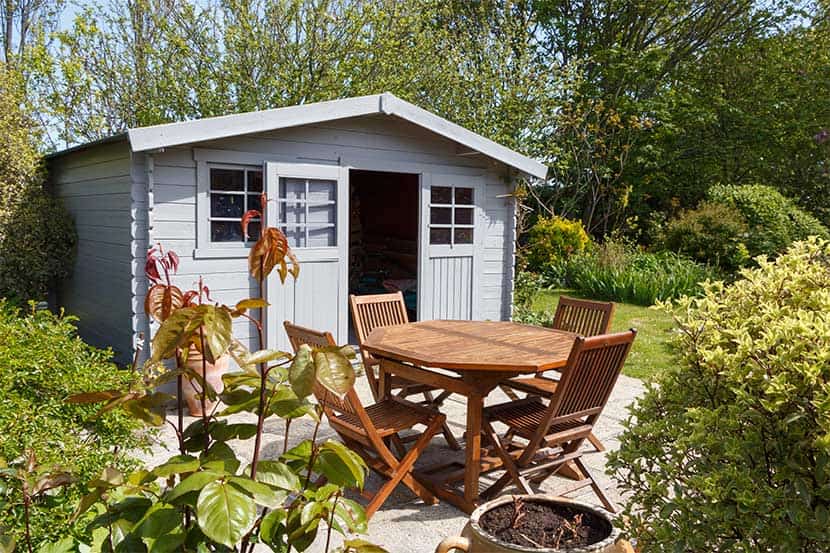 Want to keep your garden contents safe? Here's all you need to know when it comes to keeping your garden shed and outbuildings secure.
When we think of home insurance, we usually think of protecting the main building. But home insurance policies can cover your garden shed and outbuildings too.
Sheds and outbuildings usually store a lot more than a rusting shovel or a couple of half-empty tins of paint.
They're a prime target for thieves as security is often overlooked especially during the summer months, making them much easier to break into than a house or a flat.
Insuring your shed and outbuildings
The total value of outbuilding contents can run well into the thousands, as they often store a range of things from barbecues to children's toys. So having the right level of cover in place for your garden is important.
Many insurance policies will cover your 'outbuildings' which include sheds, garages, gazebos and greenhouses as standard.
But it's best to check your policy small print for to see if you're covered for these.
READ MORE: Home insurance policy types
What's covered?
Sheds and outbuildings are usually covered by your buildings insurance for fire, flood and damage. And there's not normally a maximum pay-out limit for damage if you had to claim.
Your garden items are usually covered for theft under your contents insurance. Unlike buildings insurance, most contents policies have a maximum limit for theft from outbuildings of around £5,000.
But it's worth bearing in mind that expensive items such as power tools and bicycles may not be covered as standard.
Typically, any items worth more than £1,000 should be individually listed on contents insurance policies.
And it's a good idea to take photos of expensive goods, as this can often speed up the payment of a home insurance claim.
Once again, check your policy small print or contact the insurer to see if you're covered and if you need extra cover.
READ MORE: How to calculate your home contents
Tips to protecting your garden contents
1. Secure garden valuables
Don't leave your lawnmower, bicycle or garden toys lying around once you've finished with them. Store them securely in your shed as your policy may not cover you for theft or damage..
2. Secure your tools
Your home insurance policy could be void if a thief uses tools you left lying around (such as a ladder or hammer) to gain entry into your house or outbuilding.
For the same reason, don't hide house keys in your shed – it's an obvious place for a burglar to look.
3. Invest in some floodlighting
Deter thieves by illuminating the garden with a sensor light, or fit a mains or battery-powered alarm to your shed.
4. Get a lock
Keeping your shed and outbuildings padlocked will deter thieves and keep your contents safe.
Also, take care to ensure the shed is firmly anchored to the ground, as sheds can sometimes be lifted up and moved.
5. Secure your fences
Ensure all your fences and gates are in good condition, and are kept locked.
It's worth checking that your walls and fences are covered against damage as not all buildings insurance policies cover these automatically.
READ MORE: Saving money with a burglar alarm