When you turn 70 you need to renew your driving licence and continue to do so every 3 years after that.
A new driving licence at 70 is required because by this age we might have developed health conditions, which could affect our ability to drive safely.
Renewing your driving licence at age 70 is easy. Here we look at everything you need to know including how to renew a driving licence, driving licence restrictions, where to get a D1 driving licence form, and what this means for your car insurance.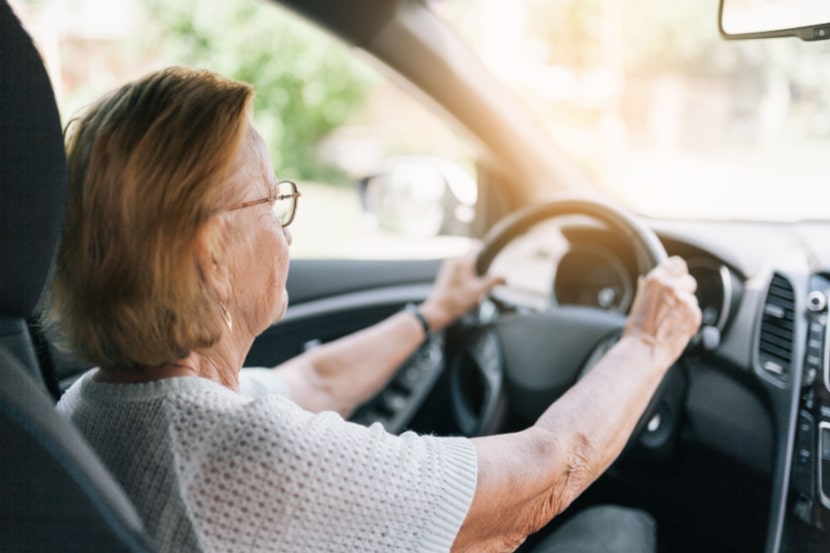 When do I need to renew my driving licence?
You need to renew your UK driving licence at the age of 70 if you want to carry on driving. At this point your licence expires but you're allowed to carry on driving if you've applied to renew it.
How do I renew my licence if I'm over 70?
There are a few different ways to renew your licence.
Renew your photo driving licence in person
To renew your driving licence at 70, you need to fill in a D46P application form, which should be sent to you 90 days before your 70th birthday. If you don't get the form you can contact the DVLA driving licence team on 0300 790 6801 to request it.
You could also pick up a D1 driving licence form at your local post office. This is the standard form for applying for a new licence. Fill in this form and send it back to the DVLA.
Renew with a paper licence
If you have a paper licence, you need to fill in the form and enclose an up-to-date passport photo. It takes up to 3 weeks for your DVLA licence renewal if you do it this way, and it's free of charge.
Renew your licence online
It's quickest to renew your licence online. It's also free of charge and you should get your new licence within a week.
To do this you need:
An email address
Addresses of where you've lived over the last 3 years
Your national insurance number
A valid UK passport number
How to renew my driving licence without a passport
If you don't have a UK passport, it's still possible to renew your driving licence at age 70.
Instead you need to post an alternative identity document. This could include:
A current foreign passport that shows you have permission to live in the UK ( a visa sticker or stamp)
A current Irish passport
A biometric residence permit (BRP)
A travel document
Evidence you claim the state pension
A UK birth, adoption or naturalisation certification (further documents may also be required)
You must send original document - photocopied, laminated or certified versions aren't accepted.
Should I send my old driving licence back?
Yes. The DVLA should ask you to send your old driving licence back when you renew it. Once you've completed your application you're given the correct address to post it to.
If you don't have your current licence to post back, you have to tell the DVLA why you no longer have it.
Can I still drive while the DVLA has my licence?
Yes, you can still drive while your licence is with the DVLA, as long as the following apply:
Your licence was valid and you weren't disqualified from driving
You only drive under the conditions of your old licence - for example, you don't try and drive a HGV if you're not licenced to
Your application is less than a year old
Your licence wasn't revoked or refused for medical reasons and your doctor says you're fine to drive
You meet the minimum eyesight requirement
You weren't disqualified as a high-risk offender on or after June 2013
For more information on this, visit the GOV.UK website.
I have a health condition: do I have to stop driving?
Having a health condition doesn't always mean you have to stop driving. But if it has the potential to affect your ability to drive, you must tell the DVLA.
If you don't let the DVLA know and you have an accident, you could risk prosecution and a fine of £1,000. Your car insurance might be invalid too.
Here are some of the conditions that you need to declare:
Dementia
Parkinson's Disease
Diabetes (if treated with insulin)
Any condition that affects both eyes or total loss of sight in one eye
Neurological conditions like epilepsy and seizures
For a comprehensive list, visit GOV.UK.
Once you've told the DVLA about your health condition, it should assess your ability to drive. This could take up to 6 weeks.
To determine whether you're safe to drive the DVLA usually contacts your doctor. Sometimes it might arrange for you to have an examination or take a driving assessment, eyesight or driving test.
The DVLA could decide that you're unable to drive due to your health condition. But it might also decide to issue a shorter licence of up to 3 years, depending on the severity of the illness.
The DVLA could also issue a licence that shows you need special controls added to your vehicle to assist you while you drive.
Should I be driving if my eyesight is poor?
The DVLA standard of vision says a driver should be able to read a car number plate from 20 metres away, with glasses or contact lenses if needed.
If you aren't able to do this then you could be putting yourself and other drivers at risk. Eye conditions might become more prevalent as you get older, which is why regular checks are advised.
Age UK recommends getting your eyes checked every 2 years, or as often as your optician advises. Some conditions can be treated if they're detected early.
If you're over 60, you might be able to have these tests for free.
Sight conditions that can affect the over 60s include:
Glaucoma
Cataracts
Macular degeneration
As mentioned, you must tell the DVLA if you have a condition that affects your eyesight in both eyes or a total loss of sight in one eye.
If you notice any change in your vision you should consult your optician as soon as possible.
How do I get my driving ability reassessed?
If it's been a long time since you first passed your driving test, or you feel your driving skills have become a little rusty, it's possible to have your driving ability reassessed.
These are usually arranged through a local driver assessment scheme or a mobility centre. The Institute of Advanced Motorists, for example, offers a driver assessment for older drivers.
Does my car insurance change if I'm over 70?
Older drivers usually have a few decades' experience behind the wheel, so their car insurance costs are often below the national average.
According to the Confused.com quarterly price index, 69-year-old drivers faced an average premium of £306 a year in Q2 2021. This is compared to the UK average of £522.
However, this is a competitive market and you should be able to find an affordable policy that meets your needs. It's well worth comparing different insurers, and policies, before you buy one.
It's also important to tell your insurer if you've had any illness that could affect your ability to drive. For example, if you've had a stroke or heart attack.
Although this could affect the price you pay, if you have an accident and you haven't told your insurer, your cover might be invalid.
Compare car insurance quotes
What happens if I don't renew my licence at 70?
As your driving licence expires when you reach the age of 70, if you've not renewed it you won't be legally allowed to drive after your 70th birthday.
If you haven't had your new licence back, but you've submitted it to be renewed, you're still able to legally drive.
Do I have to retake my driving test at 70?
Although you need to renew your driving licence at 70, you don't need to take another driving test.
How much does it cost to renew my licence at 70?
There's no charge to renew your licence at age 70 - you shouldn't ever be charged a fee.
Renewing your driving licence at age 73
After you've renewed your driving licence at age 70, you then need to do it every 3 years. You're able to renew your driving licence at age 73 in the same way that you did when you were 70.
How can I adjust to life without being able to drive?
At some point you may need to stop driving. It may be because you have a health condition or have lost confidence. Either way, it's a big change adjusting to life without a car.
However this doesn't mean you need to give up your independence or mobility. You might be entitled to get help with public transport costs - for example, a free bus pass. Once you no longer you have the costs associated with running a car, you may also have money to spare for taxis.
AgeUK has a rundown of what's available for you and how you apply.