Driving at 70: how to renew your licence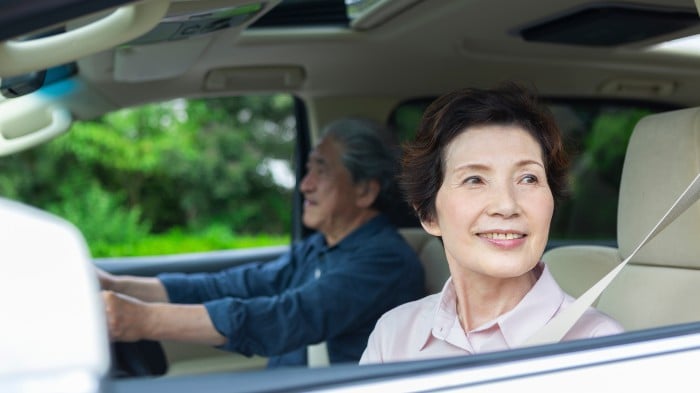 Our tips on how to stay safe on the road in later life and renewing your driving licence at 70.
Many people carry on driving well into their senior years. But there are a few things that you need to bear in mind if you're behind the wheel as you get older.
For example, you must renew your driving licence at 70, and continue to do so every three years after that.
Also as we age we are more susceptible to health conditions, some of which can affect driving ability.
Our tips can help keep you safe on the road in later life.
How do I renew my licence if I'm over 70?
An application form will automatically be sent to you 90 days before your 70th birthday. This is known as the D46P application form.
Or you can visit your local post office and pick up a D1 application for a driving licence form. This is the standard form for applying for a new licence.
Simply fill out this form and send it back to the DVLA.
If you have a paper licence, you'll need to fill out the form and enclose an up-to-date passport photo.
These applications can take up to three weeks and are free of charge.
Can I renew my driving licence online?
You can renew your licence online too. It's much quicker than renewing by post and should arrive within one week of your application. It's also free of charge.
To do this you will need:
An email address

Addresses of where you've lived over the last three years

Your national insurance number

A valid UK passport number
Can I still drive while the DVLA has my licence?
You can drive while your licence is with the DVLA, as long as:
Your licence was valid, and you weren't disqualified from driving.

You only drive under the conditions of your old licence (e.g. don't try and drive a HGV if you're not licenced to).

Your application is less than a year old.

Your licence wasn't revoked or refused for medical reasons and your doctor says it's ok to drive.

You meet the minimum eyesight requirement

You weren't disqualified as a high risk offender on or after the 1st of June 2013
For more information on this, visit GOV.UK.
I have a health condition: do I have to stop driving?
Having a health condition doesn't always mean you have to stop driving. But if it's effecting your ability to drive you must tell the DVLA.
If you don't let the DVLA know and you have an accident, you could risk prosecution and a fine of £1,000. Your insurance may be invalid too.
Here's are some of the conditions that you need to declare:
Dementia

Parkinson's disease

Diabetes (if treated with insulin)

Any condition that affects both eyes or total loss of sight in one eye

Neurological conditions like epilepsy and seizures
For an extensive list, visit GOV.UK.
Once you've told the DVLA about your health condition, it will assess your ability to drive. This can take up to six weeks.
To determine whether you're safe to drive the DVLA will usually contact your doctor. Sometimes it will arrange for you to have an examination or take a driving assessment, eyesight or driving test.
Unfortunately, The DVLA can decide that you're unable to drive due to your health condition. But it may also decide to issue a shorter licence of up to three years, depending on the severity of the illness.
The DVLA can also issue a licence that shows you need special controls added to your vehicle to assist you while you drive.
How will my eye condition affect my driving?
The DVLA standard of vision states that a driver should be able to read a car number plate from 20 metres away, with glasses or contact lenses if needed.
If you aren't able to do this then you could be putting yourself and other drivers at risk.
Eye conditions can become more prevalent as you get older which is why regular checks are advised.
Age UK recommends getting your eyes checked every two years, or as often as your optician advises. Some conditions can often be treated if they're detected early too.
If you're over 60, you can have these tests for free.
Some sight conditions that can affect the over 60's include:
Glaucoma

Cataracts

Macular degeneration
As mentioned, you must tell the DVLA if you have a condition that effects your eye site in both eyes or a total loss of sight in one eye.
If you notice any change in your vision you should consult your optician as soon as possible.
Does my insurance change if i'm over 70?
According to the Confused.com quarterly price index, 68-year-old drivers face an average premium of £464 a year.
But there are options available for finding cheaper premiums, for example telematics insurance assesses your driving ability, rather than taking your age into account.
It's also important to tell your insurer if you've had any illness that could affect your ability to drive. For example, if you've had a stroke or heart attack.
Although this could affect the premium you pay, if you have an accident and you haven't told your insurer, your cover may be invalid.