Booking a flight at the last minute is never the best option, but sometimes you just don't have any other choice. In an ideal world we'd all book well in advance and avoid last minute travel, but this isn't an ideal world. Sudden changes in holiday plans, a family bereavement or a destination wedding can see you frantically seeking flights at short notice. So, what do you do if you want to avoid paying through the nose?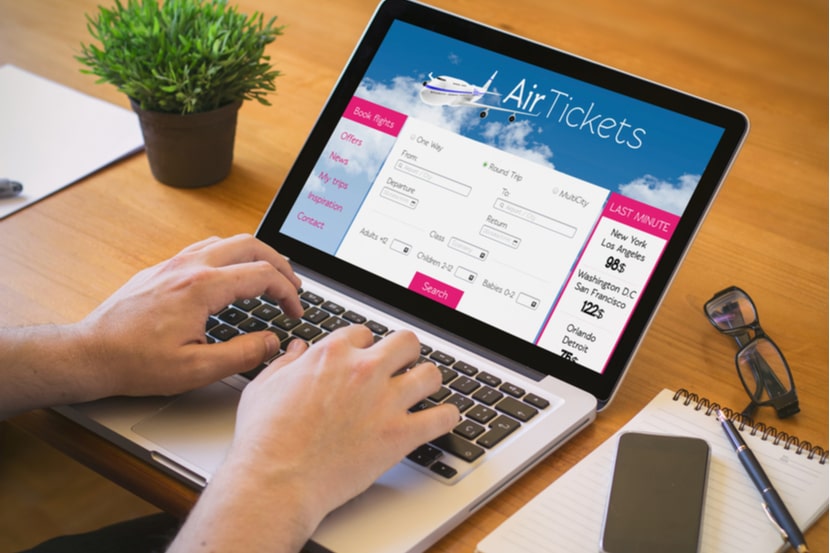 When is the best time to book flights?
You've probably braced yourself for a relatively high cost if you've no option than to buy a ticket at the last moment. The airline sector knows this and sets its prices accordingly. But that doesn't mean you can't chip away at the potential cost, which is where timing comes in.
The jury's out on when's the best day to book flights. Tuesday got the vote from many experts, including US flight comparison site SkyScanner, which recently said you could save between 15% and 25%.
The Airlines Reporting Corporation has a different take, throwing its weight behind Sunday as the best day to get a cheap flight. The consensus is that Friday and Saturday are the worst days to book. This is probably because this is when most people put aside some time to trawl the net for flights.
When it comes to picking your flights, it's best to opt for those that take off or land mid-week. These flights tend to be cheaper than those departing or arriving on a Friday, Monday or over the weekend. This is because many hotel or Airbnb bookings run from Saturday or Sunday to Friday or Saturdays, and these days are also popular with business travellers.
Why is it so expensive to book a flight near the departure date?
It's a fact of life that plane tickets tend to rise as the departure date gets closer. This reflects the way the airline sector operates.
When operators release tickets, which can be up to a year in advance, demand is relatively low. This is because many travellers won't have pinpointed when they want to fly. But, as seats get filled, and departure day looms, demand for the remaining tickets creep and then soar. This is especially the case on prime-time, rather than red-eye, flights. As a general rule, ticket prices start to really rise within the last month before the flight date and rocket in the last 2 to 3 weeks.
Holiday package deals
There are two types of commercial flights that holiday makers use: schedule and charter. Schedule flights operate to a strict timetable in much the same way as our rail services are supposed to. They tend to be relatively expensive and booked direct or through a travel agent.
It's fair to say that scheduled flights aren't ideal if you're looking for a cut-price, last-minute flight. This is due to the pricing structure airlines such as British Airways and KLM employ. Their strategy is to release cheaper tickets early, then sell further seats for increasingly higher prices as the departure date draws closer. They follow this approach because the airlines are confident they'll sell all their remaining tickets before gates close, typically to top-dollar paying business travellers.
Are charter flights cheaper for last minute flights?
Charter flights are a different matter altogether, as seats on these are sold by tour operators and aimed at tourists on package holidays. If a proportion of holidays aren't sold, the flights are likely to have spare seats. These spare tickets tend to go on sale in the days leading up to departure for much less than the going rate. This makes sense, as the airlines and tour operators would likely prefer to earn something rather than nothing.
You might think this sounds like a great way to get last minute travel deals. But if the flight's filled with people on a package deal, there's a high chance they'll have coaches laid on to ferry them to their hotel. You, on the other hand, need to find your own way to your final destination – so be prepared to build in this additional cost.
One last thing on costs. Unlike passengers on a package deal, you might not have a complimentary meal provided and might have only a small baggage allowance. Resolving these potential issues could put quite a dent in your budget.
How to get cheaper flights
Some flights and destinations are invariably more expensive than others. It's all about demand and supply. Chances are you'll probably want to fly to somewhere particular, or at a particular time of the year that's more expensive. Examples of premium-price flights include:
Travelling during school holidays, particularly the summer holidays, as well as Christmas and Easter
Visiting destinations when they're hosting big events, such as a F1 Grand Prix, or the Word Cup, or those serving popular holiday destinations
City breaks are increasingly popular, which means flying to airports that are close to attractive urban areas
If you can't help but book late for a trip at a busy time there are several strategies you can try to keep costs to a minimum. Here are 8 hacks that could help:
Check that there's nothing going on in the vicinity served by your destination airport before booking. Being flexible with the dates if there's a big event taking place could help keep your costs in check.

Fly into an airport that's a little further away and get a train, bus or taxi to your destination. Let's say you're planning to stay at an Airbnb on the Costa Brava. Rather than fly to Girona or Barcelona, why not see if it's cheaper to land in Perpignan, France and get the train the rest of the way?

Don't limit yourself to travelling from the closest and most convenient airport. You could get a cheaper deal by leaving early and travelling to one a little further afield. For example, you could travel up to Luton if you live in south-east England rather than automatically selecting one of the London airports.

Consider flying with less well-known or budget airlines. The likes of Lufthansa, British Airways and Virgin Atlantic tend to be pricier than easyJet and Ryanair, for example.

Consider a layover to lower your costs. Flying direct is convenient, but if it saves you money to travel to Phuket via Paris, it's worth considering a stop-over.

Compare the price of return flights with two one-way flights. You might be surprised that it could actually work out cheaper.

T

urn up at an airport on the day

you want to travel and hope to find a flight. This is only an option if you're really flexible about where you want to go. Airlines offering scheduled flights in particular frequently sell more seats on flights than they have. This is because they expect some people to duck out late, so some seats may remain empty. This probably isn't for the faint-hearted, and it's more suited to adventurous single travellers or couples than

family holidays

.

Book a package deal, even if you don't stay at the hotel. It's not unheard of for a package holiday to work out cheaper than just buying the flights alone, and you don't have to stay at the hotel complex.
Don't forget your travel insurance cover
It always pays to be prepared. But if your plans suddenly change, and you need to rearrange a holiday or fly off somewhere at short notice it's easy to forget about travel insurance.
You might have bought single trip cover for a break you had to cancel and have since arranged a replacement holiday. But do the dates tally? If they don't, or you're travelling somewhere different, you might not be covered. In which case, it's worth comparing travel insurance polices to make sure you're still covered.
Whatever you do, don't risk travelling at the last minute without adequate travel insurance. Travel cover protects you in the event of an accident that necessitates what would otherwise be expensive medical treatment and even repatriation. It also covers you in the event of a travel insurance claim for losses due to theft and much more besides.
It takes just a couple of minutes to compare holiday insurance prices, and you're covered from the moment you buy the policy. When you come to booking your trip remember to buy your policy at the same time so you're covered for late cancellations.