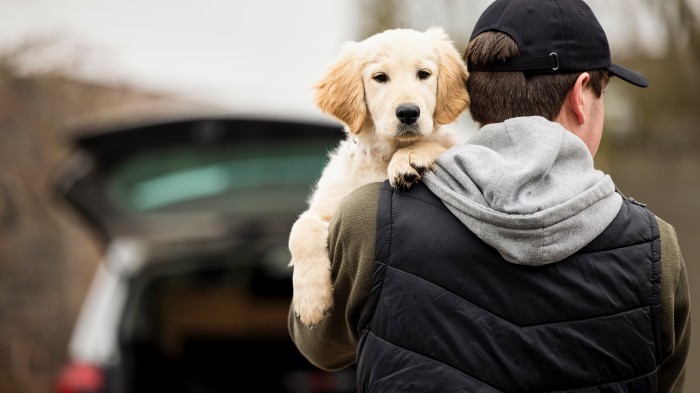 We look at why dog theft is on the rise, and how to keep your dog secure both in the home and while walking.
This article contains affiliate links. If you buy any products via these links, we may earn a small commission at no cost to you.
Our dogs are part of the family and it's heart-breaking when they get stolen.
In lockdown, many of us have realised that a furry companion is exactly what's missing in our lives. In fact, the Kennel Club reported a 168% increase in people searching for puppies last year.
Criminals have capitalised on this though, with reports UK-wide of puppies or dogs being stolen from households.
DogLost, a UK charity that helps victims of dog theft, recorded a 170% increase in missing dog cases, from 172 dogs reported stolen in 2019 to 465 dogs in 2020.
As worrying as these statistics are, there are some simple ways we can keep our dogs secure and safe.
Why are dogs getting stolen?
Criminals have always targeted dogs. Some will take dogs then return them to get a handsome reward.
Others will try and steal them for breeding or to sell on, they might even focus on specific breeds that can get them a good price.
And with more demand for dogs in the past year, theft has become more frequent.
How do I protect my dog from being stolen?
If you hear reports of dog theft in area, don't panic but try to be more cautious.
Be vigilant
Dogs are cute. That's a fact. So, chances are you'll have had a few doting smiles when out on a walk.
If someone is acting suspiciously though – for example following you or insisting on holding your dog – try and get away and phone the authorities.
Keep your dog on the lead if recall isn't perfect
Only let your dog off the lead if you know they'll come back to you. If they only come back some of the time, keep them on the lead.
You could try using an extendable or long lead that's strong so thieves can't cut through it.
Check prices for dog leads on Amazon
Some people have reported their dogs being unclipped from their lead and taken away.
To stop this, replace your usual lead clip with a carabiner lock. This type of lock has a twisting mechanism which will be harder for thieves to unclip.
Some leads already come with a carabiner lock.
Check prices for leads with carabiner locks on Amazon
Or you can buy the carabiner separately and add it on yourself.
Check prices for carabiners on Amazon
Again, be vigilant and try and keep them close by if you can.
Always keep an eye on your dog
You should never leave your dog tied up or unattended outside a shop. This is a prime location for opportunistic thieves.
When your dog's out in your garden, make sure to keep them within your eyesight.
Secure your garden too. If you have a gate, make sure it's securely padlocked. The RSPCA advises fitting a bell so you can hear people coming through.
For more information on securing your outdoor spaces, read our guide on garden, shed and outbuilding security.
You could also invest in extra cameras or floodlighting so you can see what's happening in your garden. Our guide on home security devices can help you with this.
Make sure your dog has a collar and microchip
It's a legal requirement for your pet to have a microchip. But you must keep your details, for example your address and phone number, up to date.
That way you stand a better chance of being reunited with your dog.
When you're in a public space your dog should be wearing a collar.
This should have a tag or plate attached with your address and phone number on it, as well as your name – not the dog's.
Check your dog walker
If you have a dog walker or pet sitter, make sure that you check their credentials. You also should watch them with your dog at first.
Don't be afraid to ask them to be more cautious when they're out walking your dog.
Neuter your dog
Thieves will see an opportunity to breed from your pet if they're not neutered, as puppies can often fetch a higher price than older dogs.
Your dog will be less inclined to slink off to find a companion if they're neutered too.
Insure your pet
Although this won't help prevent theft, some pet insurance companies might help with advertising costs to help find your pet. For example, missing posters. They can also help with offering a reward.
What should I do if my dog gets stolen?
If you think your dog has been stolen, phone the authorities straight away.
Check your local area thoroughly, just in case your dog has escaped.
Phone the microchip database and tell them your dog is missing. If the chip is re-registered, they'll receive a notification and let you know.
Report your missing dog to your local vet, dog warden, animal hospitals and rehoming centres.
Print out posters with up-to-date photos of your pet, providing information about when they went missing and from where, along with any other relevant information.
Hang them around your local area, in vet surgeries or in local parks.
Register your dog on sites like DogsLost, Petslocated, or the National Pet Register.
Facebook can be a useful tool for locating your missing dog or spreading the word about them.
Sometimes thieves advertise stolen dogs for sale on Facebook. So it's worth keeping an eye on various 'selling' groups.
Create a post on Facebook with up-to-date photos and information. Try to regularly update your Facebook post and send it to a variety of groups – both local and further afield.
Someone may recognise your dog from an advert they've seen, or they may have seen them in person.
Confused.com is a participant in the Amazon EU Associates Program, an affiliate advertising program designed to provide a means for sites to earn commission incomes by advertising and linking to Amazon.co.uk.