If you own a dog or cat, it's worth understanding common vet treatments and their costs.
According to pet insurer Scratch and Patch, one owner had to pay £15,000 to fix a dislocated knee. The insurer also found that a limp could end up costing well over £7,000.
Pet insurance is there to help manage vet bills. Your 4-legged friend can get the care they need, and there doesn't have to be such a huge dent in your bank account.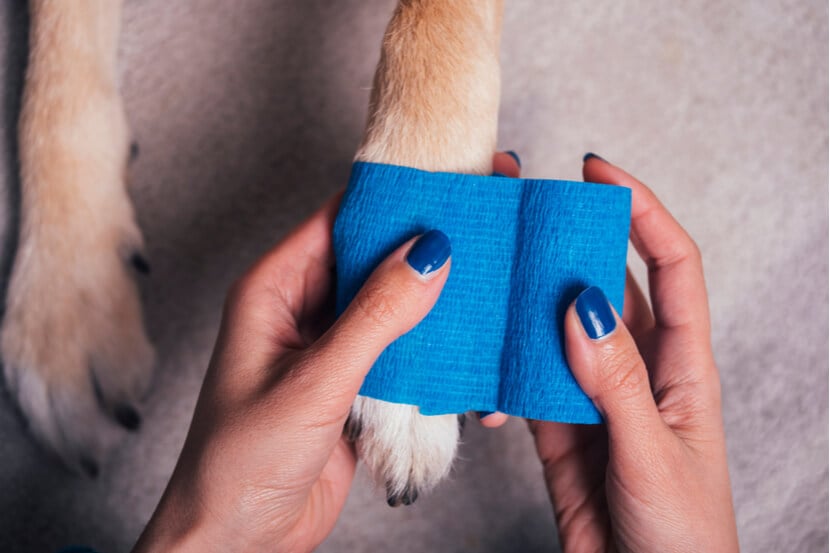 How much does it cost to see a vet?
You should expect to pay £50 to £60 for a standard vet consultation. However, an emergency, out-of-hours consultation with a vet could cost you £200.
If your dog has a minor stomach upset or rash, a standard vet consultation could be over in 10 minutes. Then you're quickly on your way with a week's supply of medicine.
For a relatively minor illness or injury, the total cost may be less than £70, including the prescription.
The trouble is that vet treatment prices can vary a lot. For more complicated ailments, you could easily find your vet bill runs into thousands of pounds!
Here are some rather pricey, yet common vet treatments:
| Condition | Average treatment cost |
| --- | --- |
| Brachycephalic Obstructive Airway Syndrome (BOAS) | £1,686 |
| Lameness | £966 |
| Seizures | £656 |
| Gastroenteritis | £592 |
| Diabetes | £186 |
The vet bill can soon mount up if your dog needs expensive care such as an operation or an MRI scan. It means you could save a lot by taking out pet insurance.
If you're still thinking of chancing it, it's worth noting that, according to the ABI, the average claim cost for pet insurance is £848.
When you get a quote for pet insurance with Confused.com, you can choose between a cover level of at least £1,000, at least £2,000, at least £3,000 or at least £4,000. As with insurance in general, the higher your cover level, the higher your costs tend to be.
What fees will my pet insurance cover?
Here are some of the key things pet insurance covers:
Veterinary fees
This is the main cover provided by pet insurance. It's those potentially huge vet bills – anything your vet charges for diagnosing and treating your pet's illnesses or injuries. This includes things like consultations, medications, operations, tests and scans.
Loss of pet
Covers you if your pet is lost or stolen, typically for the amount paid for your breed of pet in the year they were born.
Advertising costs
Up to a certain limit, you can also claim for the costs of advertising and a reward to help find your pet. Typically, the reward for finding your pet can't be paid to anyone you know!
Death due to accident/illness
Some policies let you claim for death due to accident or illness. You may need to show a receipt from when you first bought your pet so you can claim the maximum amount of death benefit. The amount of cover tends to fall the older your pet gets.
Third party liability
Covers you for the compensation you may have to pay out if our dog injures someone or damages someone's property.
Emergency boarding
If you suddenly have to go into hospital then you can claim for the costs of boarding your pet in a kennel or cattery. Where emergency boarding is included, policies typically stipulate that you must be hospitalised for more than 4 consecutive days to make a claim.
Travel abroad
Depending on where you're traveling to, you can also claim for vet fees when you take your pet on holiday with you abroad.
Holiday cancellation
Pet insurance could allow you to claim for travel and accommodation expenses if you have to cancel/cut short your holiday should your pet require lifesaving/emergency treatment.
My pet has a pre-existing condition, can I still get them insured?
Most standard pet insurance policies don't cover pre-existing conditions. That includes the pet insurance you can buy through Confused.com.
However, some specialist insurers cover pre-existing conditions. So with a little research, you might find one that covers your pet's particular condition.
Remember, the type of pet insurance you choose could also affect the conditions you can claim for in the future. Some policies don't let you claim for the same condition more than once.
What are the different types of pet insurance?
When you get a pet insurance quote from Confused.com, you can select from 3 different types of pet insurance:
Time limited cover
With time limited cover, a new condition is covered only for a set period of time, usually up to 12 months from when it was first detected. It's then deemed as a pre-existing condition and excluded from future claims.
Maximum benefit cover
Rather than a set period of time, maximum benefit cover means new conditions are insured until the financial limit on the cover has run out. Once the limit is reached, the condition becomes pre-existing and is excluded from future claims.
Lifetime cover
This is the most comprehensive type of pet insurance offered through Confused.com. As with maximum benefit cover, your pet is insured for all new medical conditions until the financial amount of cover you've chosen runs out. The cover then stops until the policy is renewed. But here's the good news: if you renew the policy, cover for the medical conditions you previously claimed for is fully reinstated. The conditions continue to be covered throughout your pet's life as long as the policy is renewed.
What doesn't my pet insurance cover?
Pet insurance usually doesn't cover:
Behavioural issues
Vaccinations or neutering
Dental work
Routine check-ups
Pregnancy complications
Pre-existing conditions
What should I look out for?
Treatment costs vary significantly. Depending on the size of any claim, and the level of cover you select, you may have to contribute towards the cost of treatment.
If the vet bill comes to £2,500, and your cover limit is £3,000, then you should be fully covered – though you still need to pay some excess on the claim.
The typical excess on pet insurance policies can range from £90 to £125. It means you probably won't be using pet insurance for those minor ailments if the vet bill comes to only £70.
When you take out pet insurance, you can choose accidents only cover rather than insurance for both illness and accidents. While taking out accidents only cover may reduce your costs, it's worth remembering that many of the highest pet insurance claims costs are for illness.
Our advice is to always check the small print when you get a policy. Make sure you know exactly what's covered, and if you're in any doubt speak to your insurer.
Can I get help with vet bills?
Yes, if you get certain benefits such as Universal Credit, you can get help with vet bills.
For those who depend on state benefits, it's possible to get free or discounted pet treatment through certain animal charities, including the People's Dispensary for Sick Animals (PDSA) or Blue Cross.
How to complain about a vet bill
If you think your vet bill is unreasonable or inaccurate and you wish to complain, you should speak to someone from your vet practice.
If you're still unhappy and can't reach an amicable settlement, then you could ask the practice for details of their complaints procedure.
Assuming you've already spoken to someone from your vet surgery about the complaint, the next step is usually be to raise the matter in writing with the vet practice.
You might get help with your complaint through the Veterinary Client Mediation Service (VCMS), which is a voluntary, independent and free complaint mediation service.
What are the average vet costs for cats?
Vet costs for cats are generally a little lower than for dogs. However, vet bills for cats aren't to be sniffed at – average vet costs for cats can still run into several hundreds of pounds. Surgery for a cat costs £1,500 on average, according to Money Helper.
What are the average vet bills for dogs?
Vet bills for dogs can easily top the £1,000 mark. According to Animal Friends, the average vet bill for cysts and tumours in medium dogs was £902. And the average vet fee for problems related to the digestive system was £863.