Noise camera network could spell trouble for noisy drivers
Drivers of excessively noisy cars and motorbikes are facing an official crackdown after the government announced plans to introduce a network of new 'noise cameras' in the UK.
The Department for Transport (DfT) has this month unveiled a pilot scheme that will see the technology installed at a handful of locations around the country – with a full roll-out on the cards if the trial proves successful.
But with traffic cameras already tracking so much of our time on the road, there is some confusion about why this scheme is in place.
What is a noise camera?
Noise cameras – also known as acoustic cameras – work in two ways:
Using audio sensors designed to record when vehicles are breaking legal noise limits.

Equipped with automated number plate recognition (ANPR) so that lawbreakers can be identified.
Similar trials were conducted in Abu Dhabi and Edmonton, Canada. Part of Edmonton's pilot scheme had to be shut down when drivers were purposefully revving their engines to set off sound monitoring display boards.
READ MORE: Drivers risk fines as speed camera tolerances revealed
Noise pollution 'making lives a misery'
Ministers say that the technology is necessary to curb problems caused by drivers with noisy exhausts revving car or bike engines, particularly in rural and residential areas.
"Noise pollution makes the lives of people in communities across Britain an absolute misery and has very serious health impacts," explains transport secretary Chris Grayling.
"This is why I'm determined to crack down on the nuisance drivers who blight our streets. New technology will help us lead the way in making our towns and cities quieter, and I look forward to seeing how these exciting new cameras could work."
Campaigners have in recent years put pressure on the government to take action and stamp out the noise problems caused by 'souped-up' engines and exhausts.
These pressure groups say that although current noise pollution laws are adequate, there are simply not enough police officers on our streets to enforce them effectively - especially given this issue is felt more acutely during anti-social hours.
READ MORE: Traffic cameras - what they do and how to spot them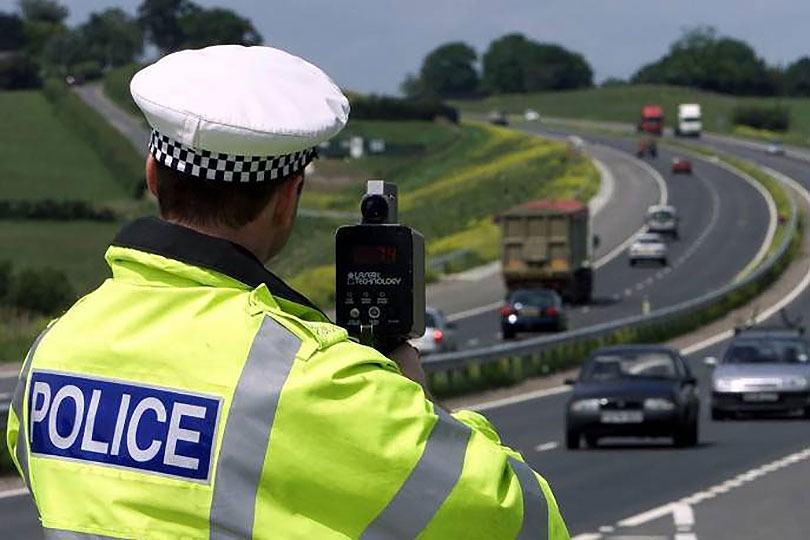 How will the new scheme work?
At present, any driver who is caught with an exhaust that makes 'excessive' noise can face an on-the-spot fine of £50. Their vehicle could also be barred from the road until any required modifications are made to ensure noise levels remain within an acceptable level.
Across Europe – including in the UK – the legal noise limit is 74 decibels. But police officers in this country are expected to rely on their own judgement when considering action against drivers for excessive noise. That could change when the new network of noise cameras comes into effect, although minsters have not yet revealed the actual noise limit that the cameras will be programmed to enforce.
According to the DfT, research has shown that exposure to noise can have a severely damaging impact on people's health, both physical and mental. The likes of heart attacks, high blood pressure, stress and type-two diabetes have been linked to excessively noisy environments, officials say.
A small minority of motorbike owners have been identified by campaigners as being responsible for a substantial amount of the noise pollution they are calling on the government to address.
Tony Campbell, chief executive of the Motorcycle Industry Association (MIA), says:
"With growing pressure on the environment, including noise pollution, illegal exhausts fitted by some riders attract unwanted attention to the motorcycle community and do nothing to promote the many benefits motorcycles can offer."
Campbell adds that the MIA is supportive of the DfT trials.
"All manufacturers produce new motorcycles that follow strict regulations regarding noise and emissions and we welcome these trials as a potential way of detecting excessive noise in our community."
Impact on insurance for noisy cars
As well as potentially being illegal, fitting a souped-up exhaust to a car or motorbike could have significant implications for insurance.
Vehicle owners who make modifications such as adding spoilers or body kits run the risk of being unable to make a claim on their insurance policy if they fail to inform their provider of the changes.
From an insurer's point of view, many modifications have the potential to increase the risk of an accident, or make the vehicle more valuable – and more attractive to thieves.
In such cases, the existing insurance policy may not offer a sufficiently high level of cover. Most types of policy include a clause which states the customer must inform the provider of any significant changes so that the premium level can be reassessed.
READ MORE: Insurance for modified cars