Proposed Highway Code changes focus on controversial smart motorways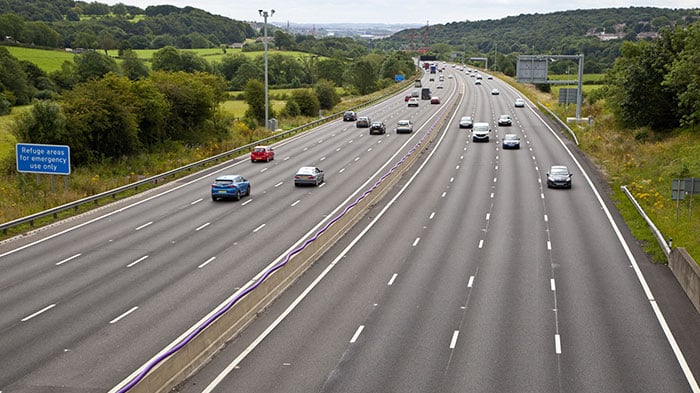 Highways England is holding a consultation to make changes to the Highway Code that it hopes will improve safety.
Motorway safety has come under increasing scrutiny over the past few years. After some fatal collisions on smart motorways, campaigners have urged officials to rethink the scheme.
To increase awareness and safety on high-speed roads, Highways England has proposed a number of changes to the Highway Code.
The proposed update also covers advice on documentation and staying safe when you break down.
Jump to a section:
The guide will remove the rule of thumb that says 30 mph zones generally have street lighting.
There's also an update to emphasise that road signs are what should help you know the speed limit, not the general road type.
This is in response to the increasing number of roads that have signed 20 mph zones in built-up areas.
READ MORE: Speeding confusions explained
A proposed amendment to the section on stopping distances will explain how tailgating works and what you can do to avoid it.
The new section will also emphasise that tailgating is an offence and is enforced by the police.
READ MORE: How to deal with tailgaters
In the section on 'what to do before you set off', a proposed amendment will remind drivers to have the right documents:
Valid driving licence

Car insurance policy

Up-to-date tax

Recent MOT certificate.
The amendment also advises to take a fully-charged mobile phone with you for emergencies.
READ MORE: Tax, insurance, MOTs and the law
There are many additions and changes proposed in the section on motorways. These changes seem to focus on improving safety on smart motorways.
The proposed changes include:
How to recognise different motorway signs e.g. temporary speed limits, lane closures

Emphasising that signs are the primary way to know the speed limit on the motorway – it's not a blanket 70 mph

When to drive on the hard shoulder.
READ MORE: Highways England urged to abandon smart motorways
The updated Highway Code will have a new rule to show drivers what counts as a 'relative place of safety' if you break down on a busy road.
The rule will also describe how to use emergency refuge areas if you break down on a motorway. Highways England has coupled this with its 'Go Left!' campaign.
The campaign tells drivers to move left when they run into difficulties. This could be into an emergency area, hard shoulder, motorway service area or lay-by.
On a smart motorway without a hard shoulder, the advice says to look for an emergency area, which should appear frequently enough for most drivers.
READ MORE: What should you do if your car breaks down?
Safety advice 'integral'
Speaking about the 'Go Left!' campaign, Highways England Acting Chief Executive Nick Harris said:
"Everyone wants a safe journey and raising awareness is a vital part of helping to make sure that happens.
"This campaign is just one of the many steps we are taking to invest in our network with safety as our number one priority."
The move is supported by safety campaigner Meera Naran:
"Having successfully campaigned for the implementation of the 18-point safety plan – this education campaign is an integral step in the right direction to support motorists.
"I'm pleased to see it is being supported by so many key road safety organisations and my only hope is that it will help save lives."