Modified motorcycle insurance can be a minefield. Some insurance companies might charge extra for mods while other players could include them in your policy. But some mods could even lower your premium.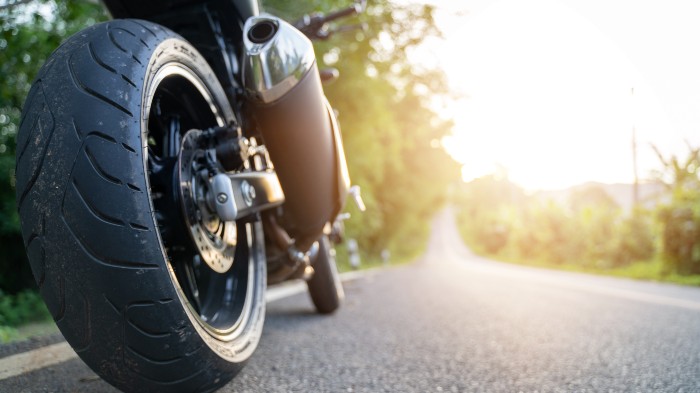 What counts as a bike modification?
You don't need to join a biker gang to modify your bike.
Any change that alters your bike from its factory state could be considered a modification.
From funky graphics to loud exhausts, they could all fall under the same umbrella. While it could be the case that some mods might lower your premium, most mods likely do the opposite.
So, it's vital you let your insurer know of any modifications you've made - from mild to wild and everything in between.
If you don't tell your insurer they could refuse to pay out if you make a motorbike insurance claim.
So, perhaps talk to them before you make any changes. Will a mod such as a paint job add to your premium – or make it cheaper?
Let's consider:
Disclosing a mod is being clear about what you've spent and the exact specification. It also means you've the reassurance of this mod being repaired to its original condition in the event of a claim.
Some mods could add value to your machine, which might affect their theft risk or re-sale value. So, it's only fair that your insurer's made aware of them.
Insurance policies could vary – a lot. Some might have tighter limits on what they'll insure when you pimp your ride. Other policies might be more generous. And some changes could make your policy cheaper.
It's far more common for bikes to be customised or modded than cars. There are also no established defined industry standards to go by. So, insurance companies do pay close attention to modding.
Broadly, any change that improves the security and safety of your machine might not see a premium price hike.
While some modifications can be permanent, other changes or accessories can be nicked if not securely fixed – think of some panniers or pieces of touring gear here.
Compare motorbike insurance quotes
Do modifications affect motorcycle insurance?
When an insurer looks at your bike they'll be looking for things that could increase your bike's risk of theft. Or anything that makes it go faster or could make it pricier to repair.
They'll be also looking for any mod that means your bike's safer or less easy to steal.
Some modifications might not result in a price hike. That's because these mods aren't seen as heightening financial risk to the insurer.
The exact list of acceptable mods might vary between insurance companies, but generally they could include:
Air filter changes
Bar ends
Braided hoses
Heated grips
Huggers
Seat replacements
Scottoilers
Sissy bars (or longer back rest)
Screen changes
Tank pads.
This isn't the full list by any means. So, if your motorcycle insurer thinks any of these might hike your premium, it might be worth considering finding cover elsewhere.
Some insurers might offer you further free modifications up to a limited number. But be careful of going beyond this limit, and do check the exact policy small print first.
The difference in attitude around modifications can be huge. If the insurer you're talking to is at all fazed, check your options.
The UK insurance market is big and other insurers might welcome you with open arms.
What's the difference between a motorcycle modification and an accessory?
If it's an approved manufacturer accessory your insurer should include it as 'standard'.
Many accessories protect the condition of your machine. Having these tells the insurer you're paying attention to your bike's condition – and also paying extra for the privilege!
Bike bar ends or chain guards, for example, are often viewed as accessories. Bar ends help protect your machine from damage. A chain guard could help protect you and your bike while riding.
The same goes for fork protectors or scottoilers, usually. In other words, accessories that help protect your bike's condition shouldn't mean a lift in your premium.
In contrast, upping your bike's power is more likely to be seen as a modification. Or a quick shifter that helps you change gear faster. The same goes for tuning boxes that remap the fuel injection system.
Motorcycling culture is steeped in modifications and a specialist insurer should be able to give you a clear answer on where you stand.
What doesn't count as a motorcycle modification?
If you're using like-for-like replacement parts and ordinary consumables – think fuel and oil filters – your insurer usually doesn't need to know.
Air filter changes are a good example of a mod that can slip 'under the radar'.
Upgraded ones, for example, can force extra air into the engine, increasing performance and economy. They can also last longer.
Some turn signal changes also might not affect your policy. Upgraded ones might be LED-based and make you more visible at night.
They're also more energy efficient. You might need to have them professionally installed for them to be valid. Again, check with your insurer.
Like many mass market products, standard-fit tyres are fairly multi-purpose. This means their on-road performance can be a bit underwhelming.
An upgrade to higher-quality tyres could be a better match for your riding style and day-to-day riding environment.
It's often said that you shouldn't skimp on the things that keep you connected to the ground. And a good set of motorbike tyres could fall into this category.
There's also the world of high-tech seats. Stock seats might be on the thin side.
If you're taller or shorter than average, you might want to look at the aftermarket products here. A new seat shouldn't change your insurance situation with your insurer, but check.
Will my motorcycle insurance premium go up?
Not always. If you've invested in motorbike security devices like an immobiliser or extra locks then you're hopefully slashing your insurer's risk. They might want to recognise that with a discount.
What you're buying is protection for your no-claims bonus. Plus, protection from the time-consuming faff of a theft or accident.
Think of the paperwork and phone calls, not to mention anxiety a claim can demand.
In other words, everything you do to cut the risk of an incident pays you back in time saved from time lost and trouble gained.
Especially if you rely on your wheels for getting to work. Or are just happy with how your bike makes you feel.
Some security options that could help lower your premium include:
Disc locks – they're also portable
Alarms and trackers – make sure any device is Thatcham-approved
Ground anchors – fixed to a wall or floor they allow a chain and lock to be attached. Consider professional installation here.
You can read our guide on how to get cheaper motorbike insurance for more tips.
Do I have to tell my insurer if I modify my motorcycle?
Yes, absolutely – it's non-negotiable! If you don't then your insurer has every right to cancel your policy. Or refuse to pay out if you make a claim.
If your insurance costs are calculated on incorrect information, it's unreasonable for the insurer to pay out. So, it's important you disclose.
Part of the reason why insurers are alert to bike mods is the ease of access with the machine itself – motorbikes are accessible!
This means modifications, often, are easy to do. More so than cars.
Even better, contact your insurer directly before you make any mods. You might actually be surprised about what they say.
Are Agreed Value insurance policies good for modified motorcycles?
Many modifications are valued at a standard value. If you feel your modifications are tricky to value, or if your bike is custom-made, then why not consider an Agreed Value quote?
If your dream machine's written off, the pay-out could fall some distance from all the cash, energy and graft you've directed at it. Especially if it's a big custom job.
So, you might ask for an Agreed Value policy at the outset.
This is where you send your insurer photographs and details of your bike. Your insurer might ask for receipts and other proof-of-purchase ID too, but not necessarily.
The insurer's valuer then gives you a quote after a chat with their own referral team. If mutually agreed, they'll issue an Agreed Valuation Certificate.
These policies tend to stand on their own rather than be an optional extra.
Do take care with who you talk to, especially when you've a debit or credit card to hand. At the minimum, your insurer needs to be FCA compliant and FCA registered.
If you're unsure you can check the FCA database.
How can I get cheaper modified motorcycle insurance?
There are a number of ways to get better value modified motorcycle insurance.
We've already mentioned trackers and chains but they bear repeating. If you opt for a tracker, consider how often you use your bike.
Some tracking systems will be on a subscription basis, connected to a 24/7 support centre.
Other systems might rely on a combination of battery and VHF tech. The advantage here is that some trackers have their own battery supply so they don't drain your bike's battery.
Premium tracking products feature Automatic Driver Recognition (ADR). So only approved riders (or drivers) are authorised to use your machine.
You can always improve your chances of getting cheaper insurance by limiting your annual mileage or taking advanced riding courses.
While advanced riding courses aren't free or even cheap, they could save you money long-term. And the skills you pick up might even safe your life.
Remember that the cheapest policy might be some distance from the best for you. And when it comes to renewing, keep shopping around.
Should I modify my bike?
Well, perhaps think ahead. If you're planning to sell your bike in the medium or long term then a standard-spec machine might be easier to sell on.
If you can't scratch the itch, why not hang onto your bike's standard parts and re-fit when you come to sell?
If you've an older machine or classic bike and it has potential to appreciate in value, modifying really isn't usually good idea. Original condition is usually much prized later on.
So go careful. The more tweaks you make the less amount of interest you'll might generate in a later sale.
And bear in mind if you make too many changes to your machine, you could change its character. Or make it less safe. It's not great to be injured, or worse.
So do make sure any mods are properly set up.