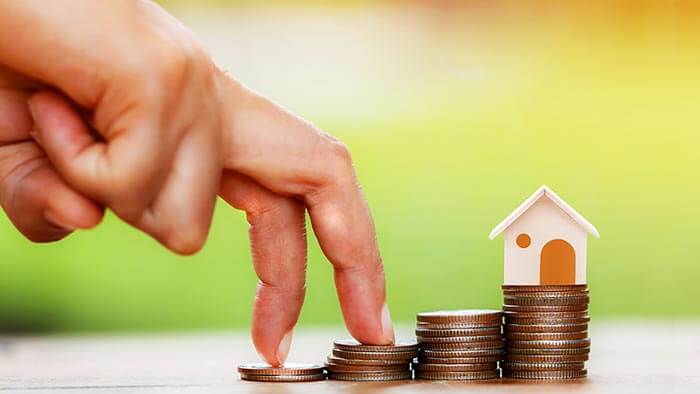 According to Zoopla, the average house price in the UK in the last 12 months is £356,195. If you've been unable to save a large enough deposit, it can be difficult to try and get onto the housing market.
The good news is, if you live in Wales the Help to Buy equity loan is still being offered to first-time buyers until 31 March 2025. Here's how it works.
What is the Help to Buy scheme?
The Help to Buy equity loan scheme is only available to Welsh residents until 31 March 2025. You can no longer apply for the scheme in England, Scotland or Northern Ireland.
Help to Buy - Wales offers a loan to first-time buyers on new-build homes registered with the scheme. This is an equity loan which means it's determined by the value of the property, so can go up or down with the property value.
Buyers only need to contribute a 5% deposit, and the government loan can be added to cover up to 20% of the property purchase price.
The Help to Buy scheme can only be used for properties with a maximum price of £300,000.
You then must take out a repayment mortgage to cover the remainder of the purchase price.
How does Help to Buy work?
For a Help to Buy mortgage on a property with the maximum purchase price of £300,000, your costs may look like this:
| For a property worth £300,000 | Percentage | Amount |
| --- | --- | --- |
| Your cash deposit | 5% | £15,000 |
| Government equity loan | 20% | £60,000 |
| Your mortgage | 75% | £225,000 |
The government loan helps you put down a larger deposit towards your home, which would then reduce your loan to value (LTV) ratio on a mortgage. This usually helps you get access to better mortgage rates, as lenders see lower LTV deals as less risky.
But, as with any loan, you must pay off the government loan which you borrowed as part of your deposit.
You need to pay back the loan within 25 years, and the repayments are interest-free for the first 5 years.
From year 6, you're charged an interest of 1.75% on the remaining amount of the loan. According to the Help to Buy guide from the Welsh government, for the following years after the interest rate rises annually by the increase (if any) in the Retail Prices Index (RPI) plus 1%. So by year 7, the interest rate will be calculated as 1.75% + RPI + 1%.
But you can fully pay back the government equity loan at any point within the 25 year period.
Can you still get a mortgage with the Help to Buy scheme?
Yes, you need to get a Help to Buy mortgage to use the scheme from a participating lender.
You must put down a minimum of a 5% deposit, and you can borrow up to 20% of the value of the property from the government (known as an equity loan). You'd then need to take out a mortgage to pay the remaining amount of the property value at the time of purchase.
Compare Help to Buy mortgages with Mojo Mortgages, whose brokers can help you find providers that work with the scheme.
Pros and cons of Help to Buy
Pros
It helps you get onto the housing ladder and buy a brand-new home, without having to save up a big deposit.
You get an interest-free loan for the first 5 years. During this time you could pay less than you would have done with a normal mortgage.
Instead of using your money to pay rent, you are building up equity in a home of your own.
Cons
It's only available for new builds, so your options of properties to buy are a little limited.
After the first 5 years, the loan becomes more expensive the longer you live in the property. And if the rate of inflation goes up a lot, so will the interest on your loan.
As it's an equity loan, if your property goes up or down in value, so does the amount you owe.
Who is eligible for Help to Buy?
To be eligible for the Help to Buy mortgage equity loan scheme, you must:
Live in Wales

Buy a home from participating builders who are registered with the scheme

Buy a home with a maximum purchase price of £300,000

Contribute a minimum deposit of 5%

Be able to fund at least 80% of the property through the combination of a repayment mortgage and a deposit

Not sub-let any part of the house
Alternatives to Help to Buy
Other alternatives to Help to Buy mortgage include:
Shared ownership
In a shared ownership mortgage, the government lets you buy a share of your home. You then pay rent on the rest of the property.
You can buy anything between 25% and 75% of the property. And you can keep on buying bigger shares of the property until you own all of it.
As soon as you own 100% of the property, you can sell it to whoever you like. Otherwise, when you want to sell, the housing association can choose to buy it back from you.
Your household income must be less than £80,000 – or £90,000 in London.
Guarantor mortgages
A guarantor mortgage may be an option if you have little to no deposit and don't earn enough to be approved for a mortgage on your own.
You typically have close family members, such as your parents, to act as mortgage guarantors. So if you fall behind on your repayments they are legally responsible for the debt.
You might pay a higher mortgage rate than normal, but it could help you get on the property ladder in the first place.
Deposit Unlock Scheme
This scheme helps first-time buyers and home movers buy a new-build home with just a 5% deposit.
To participate in this scheme, you must buy a home from a builder associated in the Deposit Unlock scheme.
You must also use a mortgage offered from a participating lender. There are only a few lenders that will offer mortgages to people who buy through the scheme, and they are only available through a mortgage broker.
First Homes Scheme (England)
The First Homes Scheme is only available in England where you can buy a home from 30% to 50% below the market value.
The home can't cost more than £250,000 (£420,000 in London), and you can only sell your home to someone else who is eligible to buy a First Home.
LIFT Scheme (Scotland)
LIFT stands for Low-cost initiative for First-time buyers and help buyers in Scotland get on the property ladder. There are two types of LIFT schemes:
The Open Market Shared Equity (OMSE) scheme
The New Supply Shared Equity (NSSE) scheme
To find out about the policy for these schemes, you can read more on gov.scot.
Are there any fees involved in Help to Buy?
Yes, you need to pay an interest rate on your loan after 5 years. You must also pay a monthly management fee of £1 from when you take out the loan until the loan is fully paid off.
You may also attract admin fees when repaying the equity loan.
Are Help to Buy mortgages hard to get?
Only specific lenders offer Help to Buy mortgage deals, so you'd need to meet the eligibility criteria of that lender.
Remortgaging with a Help to Buy can sometimes be difficult. This is because there are limited lenders who offer Help to Buy remortgage deals if you still have to pay off your equity loan. You might need to pay higher remortgage rates as a result.
This is why it's important to use a mortgage broker for advice, who can find the right lenders for you during mortgaging and remortgaging with a Help to Buy home.
Can I sell my house after using Help to Buy?
Yes, you can sell your home at any point but you must repay the equity loan if you haven't already paid it back.
But due to the Help to Buy scheme being an equity loan, you may need to repay back more of your loan if your house is worth more than when you bought it (or less if the property value has decreased).