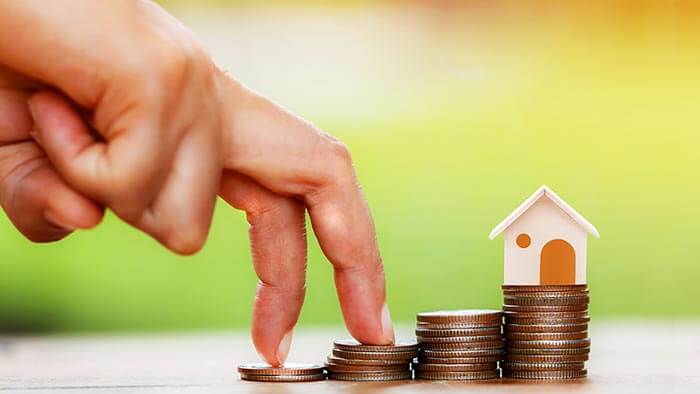 Struggling to get onto the housing market? Help may be at hand. Let's clear up the confusion about Help to Buy mortgage schemes.

In November 2020, Zoopla said the average house price in the UK was a whopping £315,150. That might be good news if you're a home owner, but not so good if you're trying to get onto the property ladder.
But there are ways you can still get your own place. The government offers two Help to Buy schemes to help get you started. Let's look at each in turn.
We don't compare this type of mortgage - this guide is for informational purposes only. But you can compare remortgages.
Help to Buy: Equity Loan
This is a low-interest loan for part of the property. It's available to first-time buyers and people looking to move. From 1 April 2021, it will only be available to first-time buyers.
The Help to Buy scheme will end on 31 March 2023. For move info, visit GOV.UK
The government lends you a percentage of the property price, and it's interest-free for the first five years of your mortgage.
The specific percentage you can borrow depends on where you live in the UK. We'll come to that in a minute.
There are some catches though. The government loan is only available for new-build properties of a certain value. And you'll need to have a 5% deposit already saved up.
The government has said this scheme will end on 31 March 2021.
How the equity loan works
Let's say you're looking at a £200,000 property. You'll need a 5% deposit, which is £10,000.
If you live in England, the government could lend you up to 20% of the purchase price. That's £40,000.
You then have to borrow the remaining 75% from a mortgage lender. This is the final £150,000.
You make monthly repayments to pay off the mortgage. But you don't have to pay back the loan from the government for 25 years or until you sell the property (whichever comes first).
When you sell, you'll have to repay the government loan plus a share of any increase in the property value.
Interest on your loan
For the first five years of the mortgage, you won't be charged any interest on the government loan.
On the sixth year, you'll be charged 1.75% interest. After that, the interest will rise every year, based on the rate of inflation. Specifically, the Retail Prices Index (RPI) plus 1% each year.
Year 1 to Year 5: no interest

Year 6: 1.75% interest

Year 7: 1.75% + RPI + 1% interest
Regional differences for Help to Buy
| REGION | MAX PROPERTY VALUE | MIN DEPOSIT | MAX GOVERNMENT CONTRIBUTION |
| --- | --- | --- | --- |
| England (ex. London) | £600,000 | 5% | 20% |
| London | £600,000 | 5% | 40% |
| Scotland | £200,000 | 5% | 15% |
| Wales | £300,000 | 5% | 20% |
There's no Equity Loan scheme in Northern Ireland. But you could take advantage of Shared Ownership. You can find out more below.
The pros and cons of Help to Buy: Equity Loan
Pros
It's an easy way to get onto the housing ladder and buy a brand-new home, without having to save up a huge deposit.

You'll get an interest-free loan for the first five years. During this time you could pay less than you would have done with a normal mortgage.

Instead of using your money to pay rent, you'll be building up equity in a home of your own.
Cons
It's only available for new builds, so your options are a little limited. Some people say you actually end up paying more for new build homes.

After the first five years, the loan will become more expensive the longer you live in the property. And if the rate of inflation goes up a lot, so will the interest on your loan.

If your property goes up in value, so will the amount you owe.

You may find it difficult to re-mortgage when the initial five-year period comes to an end. Some borrowers have struggled with this during the Covid-19 pandemic, as lenders are offering fewer mortgage deals.
Help to Buy: Shared Ownership
With this scheme, the government lets you buy a share of your home. You then pay rent on the rest of the property.
You can buy anything between 25% and 75% of the property. And you can keep on buying bigger shares of the property until you own all of it.
As soon as you own 100% of the property, you can sell it to whoever you like. Otherwise, when you want to sell, the housing association can choose to buy it back from you.
Your household income must be less than £80,000 – or £90,000 in London.
The pros and cons of Help to Buy: Shared Ownership
Pros
You can get onto the property ladder more easily than if you had to save up a big deposit.

You might be able to buy a bigger home than you would have been able to afford before.

You can build up equity in your home, which you can then free up to use as a deposit, if and when you sell.
Cons
If you own only a share of your home, the housing association can have first refusal and may try and find their own buyer. This could mean it takes longer to sell.

There might be other costs too. For example, if you're buying a flat, you might have to pay service charges.

As you don't fully own your home, you might have to ask the housing association if you want to do any repairs or refurbishment.
What about Help to Buy ISAs?
Help to Buy ISAs are no longer available. But if you've already got one, well done! The government will pay you a 25% bonus on your savings, as long as you use them to buy a property.
So for every £200 you save, the government will give you a bonus of £50. This is up to a maximum total bonus of £3,000.
But it's worth noting that you'll only get the bonus once the property purchase is complete. So you can't use that handy bonus as a deposit on a place.
How do I apply?
House builders that are registered with the Help to Buy scheme will advertise properties that are available.
If you see a place you like, put down a fee to reserve it. This should be no more than £500. Then get in touch with a Help to Buy agent who will help you apply for a loan.
Where can I find out more?