Nearly 800,000 households in the UK own a second home. But whether its a holiday home by the coast, or a flat in London, the rules for insuring a second home can be confusing.
You've likely spent a lot of money on buying it and then on furnishing it. So you want to be sure that your second home is insured just as much as your main house.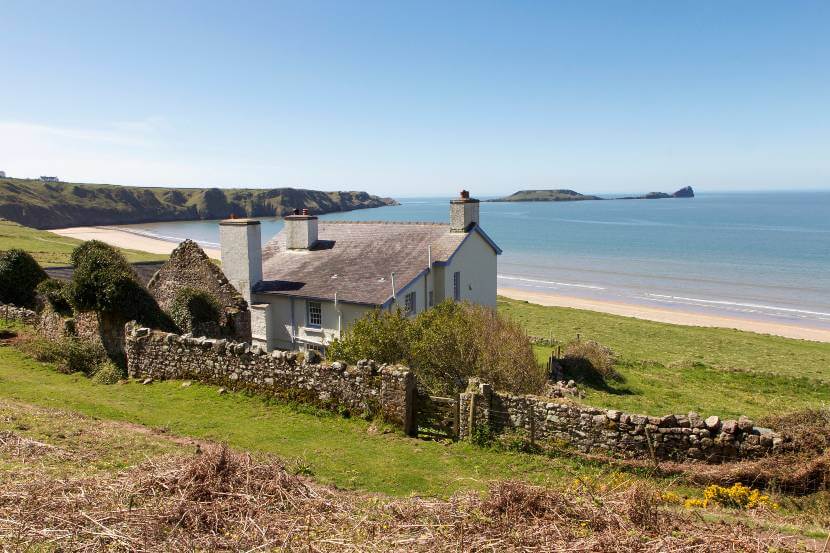 What is second home insurance?
Second homes are treated differently under law in terms of council tax and capital gains tax, for example, and the same applies to home insurance.
Depending on your circumstances, a standard home insurance policy is often not suitable for a second home.
But there are types of insurance specifically designed to cover second home owners and the ways they use their properties.
You can get second home insurance to cover you if you:
Let or lend out your second home as a holiday home
Leave your property unoccupied for long periods
Rent out your second home long-term
Some second home owners get a standard home insurance policy and just don't inform the insurer that it's a second home. This can come back to bite them when they attempt to make a claim, as the terms and conditions of the policy aren't met.
This means the insurer is likely to reject your insurance claim, and possibly even cancel your policy. This can make it harder to get insurance in the future.
Why is second home insurance different from regular home insurance?
Second home insurance is different because the ways in which a second home is used is normally different.
This means there are unique levels of risk:
An unoccupied property could be more at risk of burglary or vandalism
A water leak might be undiscovered for weeks resulting in extensive damage
Storm damage to the roof could end up causing water ingress damage to the buildings and contents
Why do I need a different type of policy for second home insurance?
A regular home insurance policy sometimes isn't suitable for your second home, because you treat your second home differently to your main residence.
You might only use it at weekends or only during the week, or just in the summer or over Christmas.
You might let it out as a holiday home, or you might rent it out on a more long-term basis.
All of these circumstances could invalidate the terms of a standard buildings or contents insurance policy.
What type of second home insurance do I need?
Second home insurance for holiday homes
If you let out your second home as a holiday home, you need to get holiday let insurance. This is a specific type of policy that covers you for having other people stay in your property, and should also include public liability insurance.
You need to read the terms and conditions carefully as certain things may not be covered that might be included in a standard home insurance policy.
If you have a standard home insurance policy and you're found to be letting out your holiday home, your insurance might be invalid if you try to claim. Your insurer could even cancel your insurance policy making it harder to get cover in the future.
Home insurance for unoccupied second homes
Most standard home insurance policies restrict the amount of time a house can be left unoccupied. Some insurers limit this to 30 days and others to 60 days.
If you don't rent out your second home and don't stay there more often than every 60 days, you might need to consider unoccupied property insurance.
Second home insurance for rental properties
If you're renting your second property out long term then you're likely to want landlord insurance. This insurance is designed to cover you for specific risks that you face as a landlord.
It might give you cover for lost rental income or for damage caused by your tenants.
Can I have 2 home insurance policies?
You should have as many home insurance policies as you have properties, but you should only have 1 buildings and 1 contents policy (or 1 combined buildings and contents policy) per property.
If you had 2 policies on the same property and made a claim on 1 but not the other, you could be considered to be committing insurance fraud.
Can I insure a house I don't live in?
Yes you can insure a house you don't live in.
Holiday let insurance and landlord insurance are both examples of where you insure a property that you don't live in personally.
Do I need special insurance for listed buildings?
Listed buildings have a lot of specific rules about what you can and can't do with them. But you don't need any different insurance to cover them - although the insurance might cost you more. This is because a listed building can be more costly to repair and maintain.
What makes somewhere a 'main residence'?
'Main residence' is a legal term. By law everyone is required to have a main residence where they're registered to vote and pay tax.
It's usually the house where you and your family live for the most time, and where most of your possessions are kept.
Is it more expensive to insure an empty house?
Yes because the insurance risk is greater.
Because no-one lives there, any problems might go unnoticed for much longer.
So a leak or a broken window could cause a lot more damage if you don't see it for weeks or even months.
Second home insurance for overseas properties
If you're lucky enough to have a second home abroad then you can use a specialist insurer in the UK or you could use a property insurance provider in the country where your house is.
If you choose the second option, unless you're fluent in the language, make sure you pick a provider that provides the policy documents in English. This isn't something you want to rely on Google Translate for!
If you aren't fluent in the local language, it might also be worth finding an insurer with an English-speaking call centre if you need to make a claim.
You can't compare second home insurance for overseas properties with Confused.com, but there are insurance providers that offer it.