Landlord boiler cover explained
According to Which?, a fifth of homes suffered a boiler breakdown in the past year. Boiler repair costs were around £270, on average, but they went as high as £1,250.
As a landlord, you have a number of responsibilities, including all boiler repairs, servicing and maintenance.

So, to avoid expensive repairs, should you invest in boiler cover?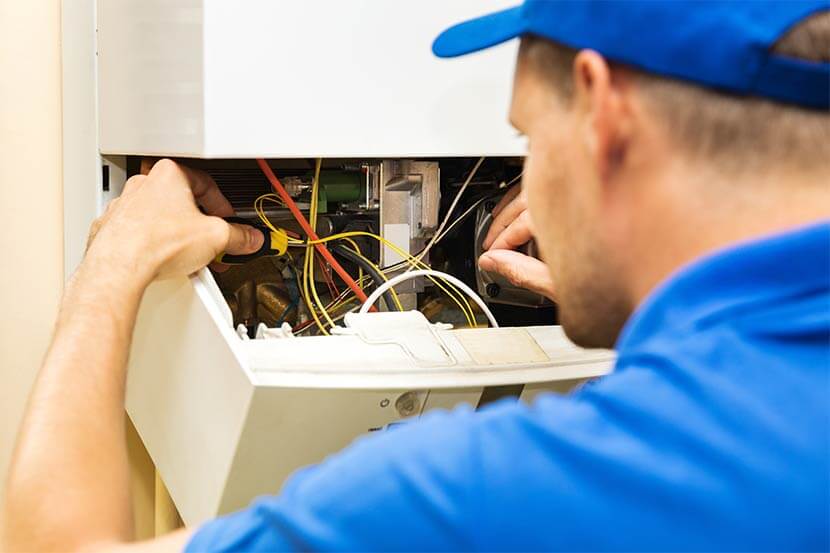 What is landlord boiler cover?
Landlord boiler cover aims to cover the cost of repairing or replacing your boiler if it breaks down. It's designed for landlords who rent out properties, usually covering the boiler and the central heating system if they were to go wrong or break.
What does landlord boiler cover include?
Every policy is different but most will include the following:
Engineer call-out fees
Parts and labour for repairs
Costs of replacing the boiler
What isn't included in landlord boiler cover?
Landlord boiler insurance doesn't include any damage made by wear and tear. Your boiler might also not be included if it's old or hasn't been well maintained - some providers have a limit for seven years.
Some providers may offer extras to keep your tenants happy. For example, they could offer portable heaters while the boiler is being repaired.
What types of boiler cover are available?
There are three main types of landlord boiler cover:
Boiler-only cover: just the boiler and controls are included
Boiler and central heating cover: the boiler and all pipes and radiators are covered
Home emergency cover: cover for part of the boiler cost as well as heating, electrics and home security issues.
Do landlords need boiler cover?
Boiler cover for landlords is not a legal requirement. It's an add-on that gives you peace of mind and takes some of the stress out of being a landlord if something goes wrong.
However, you could always organise and pay for any emergency repairs yourself.
For more information on what you're required to do as a landlord, see our guide to safety requirements for tenants.
What are the benefits of boiler cover?
If you're worried about the costs involved, it might be worth considering boiler cover.
It could also give your tenants peace of mind to know something's in place should the boiler stop working.
Higher levels of cover could also mean you're covered for emergency situations. This adds extra peace of mind for both you and your tenants.
You might also be able to cover boilers across many properties, saving you time and hassle.
Are there any boiler grants available for landlords?
There are no grants available for landlords or private tenants for replacement boilers.
There was a scheme in 2018 called the Energy Company Obligation (ECO) that allowed low-income tenants to get a grant. That scheme has since ended.
Does my landlord insurance cover the boiler?
It's unlikely that a standard landlord insurance policy would cover your boiler.
You might find that boiler cover is an add-on to your existing policy, though. Get in touch with your insurer to see if they offer it.
When you compare landlord insurance with us, you get the option to add home emergency cover. This offers some protection for your boiler as well as 24-hour assistance for emergency situations.
Compare landlord insurance quotes
Does my boiler warranty do the same as boiler cover?
Boiler warranties are also called guarantees by some companies.
The specifics will depend on the company. But in general, warranties tend to offer a similar level of cover – repairs and replacements.
The length of the warranty also depends on the company. They can be as short as two years or as long as a decade.
The main difference is that warranties tend to come with extra conditions. For example, you might need to get your boiler serviced every year by a Gas Safe-registered engineer.
Also, a boiler warranty would be for the boiler itself and the controls only. It wouldn't cover your central heating like you could with a higher-level boiler cover policy.
For more information on renting a property, see our guide to a landlord's responsibilities.
How much is landlord boiler cover?
The cost of your cover depends on the policy and the insurer but you can usually pay a flat monthly or annual fee for the insurance. It's always worth doing a boiler cover comparison to make sure you find the best policy for you, at the right price.
Always check before you buy a new policy that you're not already covered. Boiler cover might be included in your standard home insurance as part of a home emergency policy.
How can I get cheaper boiler cover?
You might see that the price of boiler cover varies quite a bit. To make sure you're getting a good deal, you'll need to compare boiler cover policies.
Compare quotes from different companies and see what suits you. Also compare the quotes you get with adding boiler or home emergency cover onto a landlord insurance policy.