Christmas market road trip
Tap to enlarge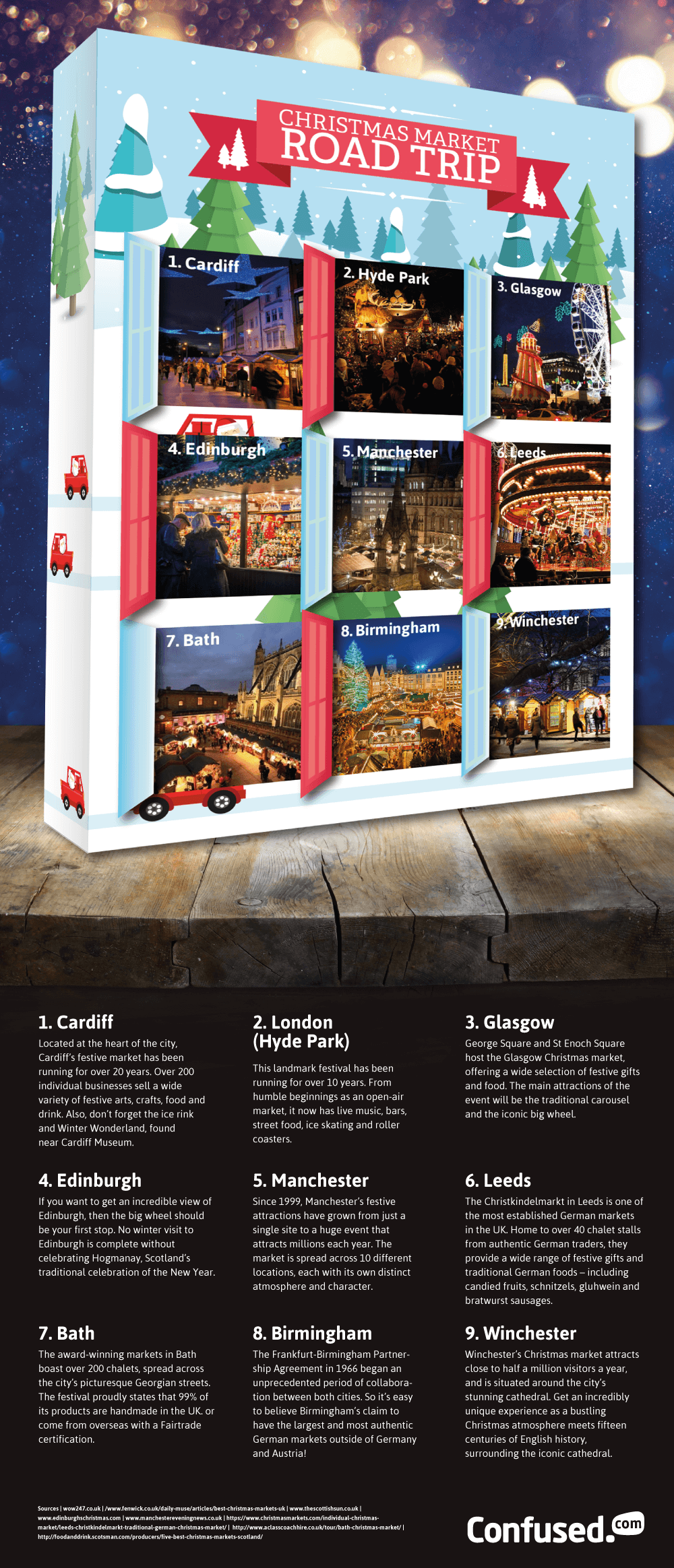 Cardiff
Located at the heart of the city, Cardiff's festive market has been running for over 20 years. Over 200 individual businesses sell a wide variety of festive arts, crafts, food and drink. Also, don't forget the ice rink and Winter Wonderland, found near Cardiff Museum.
London (Hyde Park)
This landmark festival has been running for over 10 years. From humble beginnings as an open-air market, it now has live music, bars, street food, ice skating and roller coasters.
Glasgow
George Square and St Enoch Square host the Glasgow Christmas market, offering a wide selection of festive gifts and food. The main attractions of the event will be the traditional carousel and the iconic big wheel.
Edinburgh
If you want to get an incredible view of Edinburgh, then the big wheel should be your first stop. No winter visit to Edinburgh is complete without celebrating Hogmanay, Scotland's traditional celebration of the New Year.
Manchester
Since 1999, Manchester's festive attractions have grown from just a single site to a huge event that attracts millions each year. The market is spread across 10 different locations, each with its own distinct atmosphere and character.
Leeds
The Christkindelmarkt in Leeds is one of the most established German markets in the UK. Home to over 40 chalet stalls from authentic German traders, they provide a wide range of festive gifts and traditional German foods - including candied fruits, schnitzels, gluhwein and bratwurst sausages.
Bath
The award-winning markets in Bath boast over 200 chalets, spread across the city's picturesque Georgian streets. The festival proudly states that 99% of its products are handmade in the UK, or come from overseas with a Fairtrade certification.
Birmingham
The Frankfurt-Birmingham Partnership Agreement in 1966 began an unprecedented period of collaboration between both cities. So it's easy to believe Birmingham's claim to have the largest and most authentic German markets outside of Germany and Austria.
Winchester
Winchester's Christmas market attracts close to half a million visitors a year, and is situated around the city's stunning cathedral. Get an incredibly unique experience as a bustling Christmas atmosphere meets fifteen centuries of English history, surrounding the iconic cathedral.