The last thing you want when buying a used car is to be duped into a dodgy deal. Our checklist can help you avoid a costly mistake.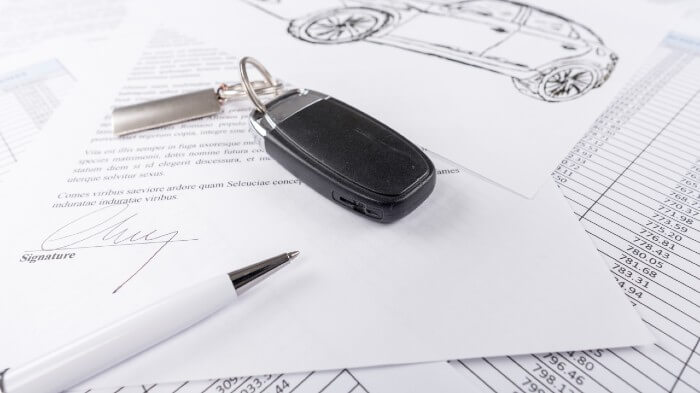 Buying a used car can save you a lot of money. And if you like whittling down a price and haggling, there can be few better feelings than getting yourself a bargain.
But there are risks – and they could come back to bite you.
We've put together a list of the documents you need to check and verify before parting with your hard-earned cash.
Compare nearly-new & used cars
Registration document or V5C
This is the most important document you need to check.
It's sometimes called the registration document or log book.
The V5C holds details of the car and the person it's registered to.
What you need to check:
First, look out for a 'DVL' watermark.
The V5C should be watermarked with lines of 'DVL' from top to bottom.
If you hold it to the light, you should be able to see it. If it's not there, it could be a forgery.
Then check the serial number. If the seller has a blue V5C with a serial number between BG8229501 to BG9999030 or B12305501 to B12800000, then it might be stolen.
This is due to a significant number of blank, blue V5Cs being stolen in 2006.
The vehicle identification number (VIN) should also match.
You can usually find the VIN on a small plaque under the bonnet.
The seller has to be the registered keeper. That means their name and address must be the same as written in the V5C.
If anything doesn't add up, you should ask for proof of identity.
Sometimes, a seller may have moved address and forgotten to update their V5C.
If this is the case, you should also ask for proof of their previous address.
If the details continue to mismatch, it's probably time to walk away.
MOT certificate
Every car over three years old must pass a MOT and have a valid test certificate.
You can check whether a car's MOT is valid using our free tool, or alternatively check its MOT history online at GOV.UK.
What you need to check:
You should check the certificate's expiry date.
And it's a good idea to read the advisory notes left by the mechanic – if there are any.
These will be problems that won't have prevented the car from passing its MOT but need sorting.
It's good to be aware of these to avoid having any costly shocks a few months down the line.
READ MORE: Your rights when buying a used car
Service and full car history
A well-detailed service history is always a good sign when buying a used car.
You want to be sure that your new car has been well lookeda after.
And a service book is a quick way to determine that.
This next one will cost you – but a full history check could save you a lot of hassle and money in the future.
It will tell you:
Write off and damage history
Tax status
MOT status
Yearly fuel and tax cost
Valuation and mileage estimate
Stolen, export and import check
Outstanding finance
Economy and environmental data
You can check all that with a vehicle history check.
Buying a write-off
A write-off is when an insurance company thinks a car has been so badly damaged that it is cheaper to declare it a total loss than make it roadworthy again.
When a car is beyond repair, insurance companies will often declare it a write off. It's often cheaper for them to do this rather than making the car roadworthy again.
Each write-off is put into a category, based on the extent of the damage. They're marked as either:
Category A:

Scrap only.
Category B: Should never re-appear on the road, although reclaimed parts can be used.
Category S (used to be Category C): The car has suffered structural damage and needs to be professionally repaired before being driven again.
Category N (used to be Category D): The car has sustained non-structural damage and can be put on the road without re-registering with the DVLA.
The markers are removed from when the DVLA tests the vehicle and says it's roadworthy again.
What this means for you
Some sellers may try to hide the car's past and sell it as non-damaged.
Which means you should always check the history of the vehicle.
You can do this by:
Checking the history of the vehicle
Checking to see if the Vehicle Identification Number (VIN) matches the VIN on the V5C
Ask to see a full-service history
Avoid buying a cloned car
Car cloning is like identity theft.
Fraudsters change the number plates, falsify the VIN and forge documents to give the car a clean history.
They do this by using number plates taken from a car with similar specifications.
What you need to check:
One way to combat this trick is to meet at the seller's address – which should be shown on the V5C document.
To avoid being duped by a falsified VIN, try to find all VIN numbers on the car.
They must all match each other and those in the V5C.
If one doesn't match, they you're probably looking at a cloned car.
As mentioned earlier, a vehicle history check can show you whether the car has been stolen.
And if the price seems too good to be true, it probably is.