The best electric vans for 2020

Want to take the plunge into the brave new world of electric vans? We've got you covered.
It's easy to understand why electric vans are enjoying a surge in popularity.

Not only are there attractive tax advantages and low running costs, you could save even more by comparing van insurance quotes for the best deal.

For the nation's army of van drivers – particularly those making numerous daily deliveries in congested towns and cities – this is very welcome news.

A string of household name manufacturers have already entered what is becoming a fiercely competitive market, including Peugeot, Nissan, Renault, Citroen and Iveco.

Here we highlight some of the best electric vans available – and look ahead to what could be coming our way in the future.


Renault Twizy Cargo
Starting from: £7,690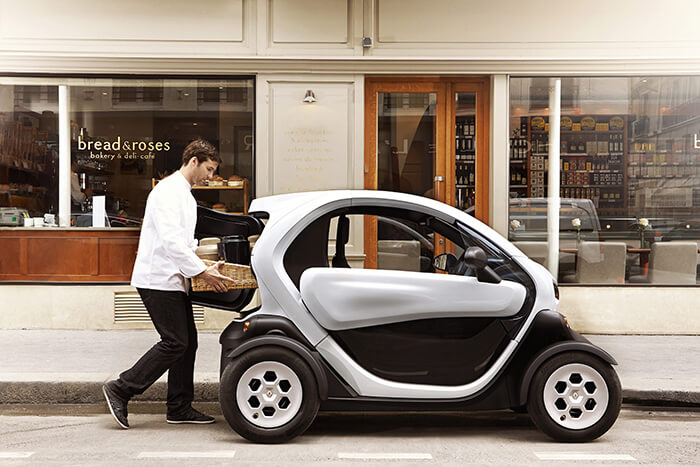 The baby of the bunch starts us off. Clearly this isn't the right choice if you need to transport huge parcels but it's worth considering if you're delivering food or other smaller items.
In the Cargo version of the Twizy, the second seat is replaced with a useful storage area, providing a volume of 180L and maximum payload of 115kg.
This cute quadricycle is also very eye-catching – perfect when you're trying to get a new business noticed – and a great asset when tackling busy city centres.
Costs start from a modest £7,690, which excludes the mandatory battery hire. This is available over different time periods and mileage bands.
Read more: Electric vans
Nissan e-NV200
Starting from £20,005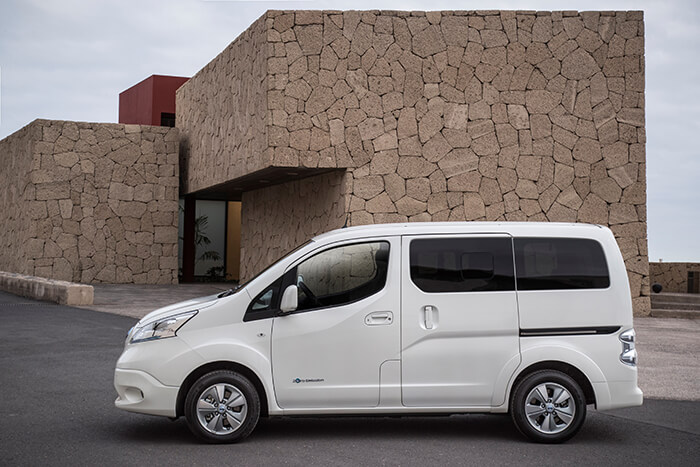 These vans use the same basic electric powertrain as the popular Nissan Leaf. Nissan has sold thousands of them across Europe over the past five years.
One of the biggest improvements has been the introduction of a 40kWh battery that, according to Nissan, means it can cover 124 miles.
Other benefits include 4.2m³ of load space – enough for 705kg of cargo, with wide opening 60:40 split rear doors and sliding side panel doors.
There are also a number of different versions, depending on the needs of your business. These include five and seven seater versions if you carry more people than goods.
Read more: Black box van insurance
Peugeot Partner Electric
Starting from £22,850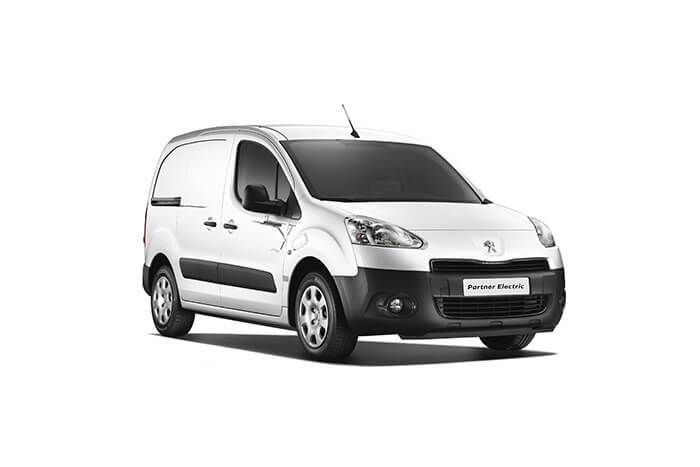 Peugeot are no strangers to the concept of producing electric vehicles. In fact, their first one was launched back in 1941 as a wartime solution to petrol rationing.
This model has a maximum range of 106 miles on a full charge and a top speed of 68 mph.
Peugeot is keen to point out that the battery is included in the price and comes with an eight year warranty.
The van has three seats. However, the passenger seat can fold flat, allowing you to load through to the front of the vehicle when required.
There are two lengths available.
The first has a load volume up to 3.3m³, load length of 1.8m and payload of up to 636kg. The second boasts a load volume of 3.7m³, load length of 2.05m and up to 552kg payload.
Read more: Should I convert my van to LPG?
Citroen Berlingo Electric
Starting from £15,577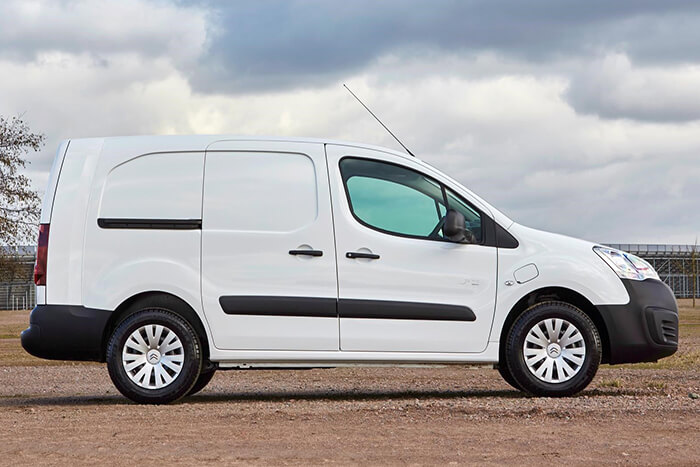 The chances are that if you like the Peugeot Partner Electric, then this Citroen version will also catch your eye. They are, in many ways, twins.
Citroen is particularly proud of the van's storage facilities, highlighting how the central seat can fold flat for use as a mobile desk.
Average energy costs run at less than £2 per 40 miles, although it's capable of reaching 68mph and has a maximum operating range of 106 miles.
It can also be recharged in different ways, including via a DC rapid charge which restores 80% of the battery's power in just half an hour.
Read more: Top tips to enhance your van security
Renault Kango Z.E. 33
Starting from: £23,472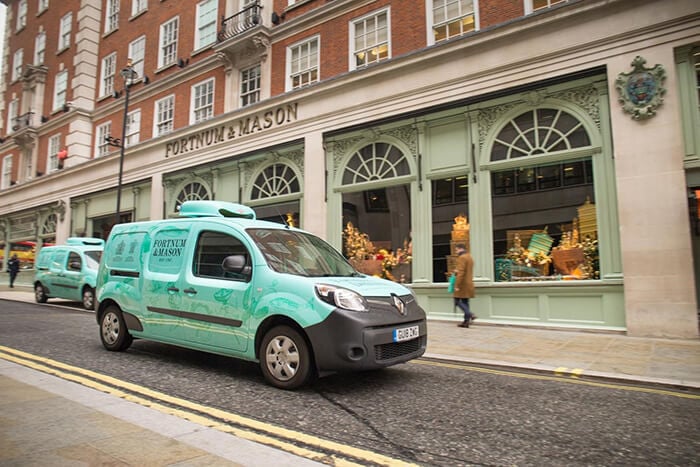 This van provides the same load capacity of the equivalent Kango diesel versions – but with the added bonus of very low running costs.
The Z.E. 33 battery gives a real life estimated range of 124 miles in the summer and 75 in the winter, while it can be recharged at home or at a public charging point.
However, you won't get caught out as Renault has installed a real-time range calculator behind the steering wheel which shows whether you're consuming or recovering energy.
This battery now comes included with all Kango Z.E. 33s, along with a guarantee of either five years or 60,000 miles, whichever comes first.
Read more: Modified van insurance
Renault Master Z.E.
Starting from: £57,040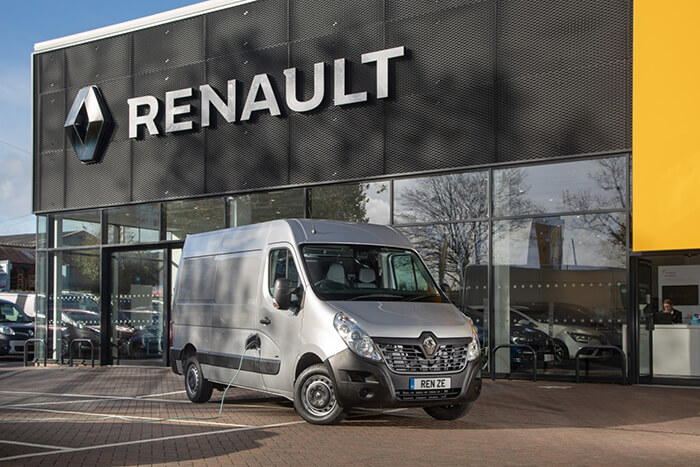 This large panel van comes in three lengths, two heights and two body types – panel van or platform cab – so there is plenty of flexibility.
It has a load capacity of up to 13m³ and a payload that goes up to 1,128kg. It also has around 75 miles driving range, albeit less in the winter, and can be recharged in six hours.
Innovations include regenerative braking, in which the battery recharges when you take your foot off the accelerator or when you press the brake.
There is also 'Eco mode'. When activated, the vehicle's power output is reduced so you can travel further, although with more modest acceleration and a maximum speed of 50mph.
IVECO Daily Electric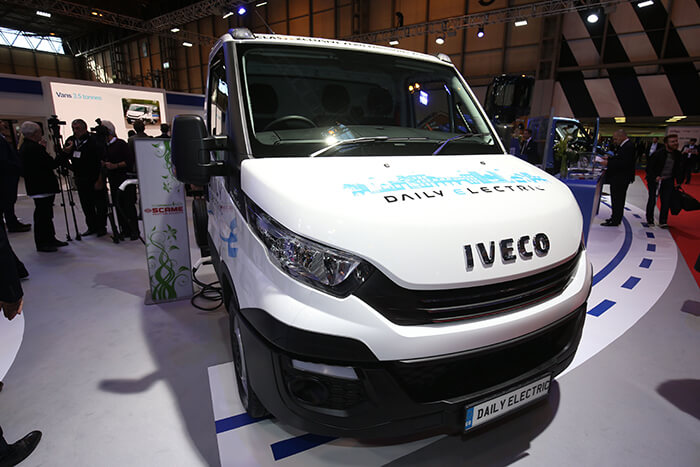 This is a light commercial option that's designed, built, sold and serviced entirely by IVECO, which put its first electric vehicle together more than 30 years ago.
A display on the dashboard provides information such as the battery's state of charge, voltage, temperature, and current, as well as monitoring of the electric drive system.
IVECO states it has an extended range of up to 200km in real urban conditions, with the battery taking two hours to recharge in fast mode.
Also, depending on the version, it can be equipped with a regenerative braking system for recharging the batteries and boosting mileage.
An updated version of the Daily Electric is scheduled for re-launch during Q4 2020 and should be available to order in the UK in 2021.
On their way
The market is expected to become even more congested over the next few years with a slew of electric vans becoming available in the UK.
This list includes the Volkswagen e-Crafter, Fiat Ducato Electric and the Mercedes-Benz e-Vito.
VW ID. Buzz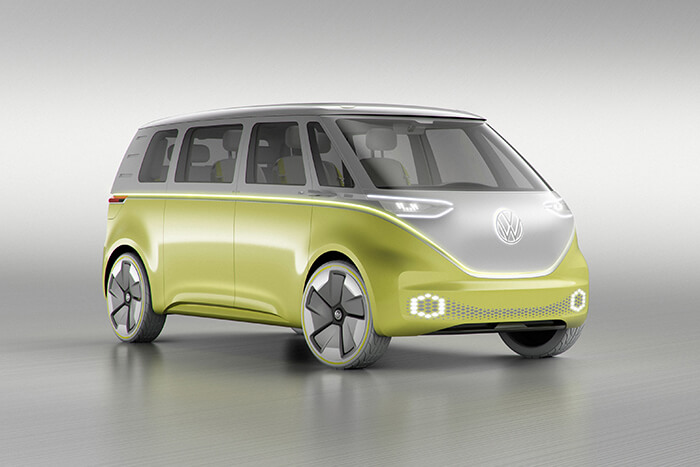 Of course, not every van is a workhorse. There are also camper vans – and the first manufacturer in this area that comes to mind is likely to be Volkswagen.
The marque has been the most synonymous name in this marketplace for decades and the favoured steed for holidaymakers and surfers alike.
The ID. Buzz is the company's camper van for a new generation. Unfortunately, it's still a concept car so it could be some time before it becomes available.
However, it's likely to be worth the wait.
Stylish, sleek and fresh looking – aside from the rather odd wheels – it promises to be packed full of innovations, such as a touchpad on the steering wheel.
You can find out more on driving greener in our electric van guide.