Black box van insurance, or telematics van insurance, could help you save money and become a better driver.
Telematics devices monitor your driving and could reduce your van insurance costs, if you consistently drive well.
But are they worth it? And do they really cut the cost of your van insurance? Let's take a look.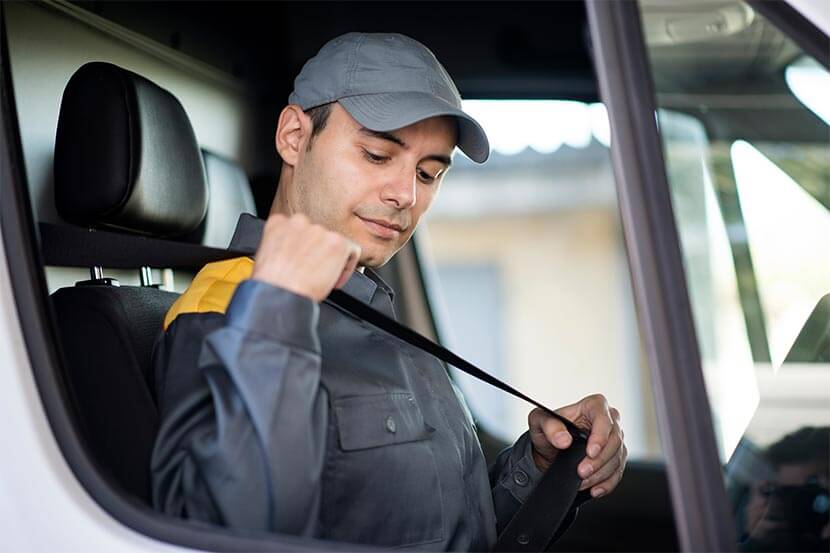 What is black box van insurance?
Black box insurance for vans could lower your insurance costs. With one of these policies a black box is installed into your van and it monitors how you drive.
Your driving, including your speed, mileage, and location, is then used to calculate how much you pay for your van insurance.
When you sign up to a black box policy, your insurance company usually sends you the actual box to attach to your van. Most insurers also have a mobile phone app that works alongside the box and sends data to your insurer.
If there's already a black box on your van, or another type of telematics technology installed, your insurer might be able to use that instead of you fitting a new box.
Telematics van insurance not only monitors your driving, it might also be able to track your van, which can be useful if it's stolen. Most policies include theft tracking as standard, which your insurer could use to try and find your van.
Who is black box van insurance suited for?
Anyone can buy black box van insurance, although it's been traditionally targeted at younger, inexperienced drivers who face the highest insurance bills.
Young drivers are seen by many insurers to be the most at risk of having an accident and making a claim. This is why their insurance costs are usually so high.
But lots of different factors affect the price you pay for insurance. These include:
Your driving experience
The type of van you drive
Where you live
Your profession
With a black box policy, an insurer is better able to see exactly how you drive and charge you a policy that reflects this.
This is instead of you paying over-the-odds for a policy based on average claims statistics.
New drivers also don't have the benefit of a no-claims bonus to reduce their insurance costs. Black box technology could help bring them down.
As well as the cost, there are other benefits of black box van insurance.
If you drive a van for work, or use vans as part of a fleet, the technology in the black box could help you plan delivery routes and avoid traffic jams.
The technology also features first notification of loss (FNOL) data. This means if there's an accident your insurer should be notified immediately.
This might speed up the time it takes to process and resolve your claim.
What are the different levels of black box insurance for van drivers?
Black box insurance for vans works in the same way as regular van insurance. You need to pick the policy based on how you use the van:
Social only - useful for trips to the shops, school runs, hobbies
Social and commuting - one for those who travel to a single place of work
Carriage of own goods - this is for business purposes and where you're carrying your own tools
Haulage - this one is for delivery drivers and couriers who transport other people's goods
Once you've found the policy for your van, there are then 3 different levels of cover to choose from to suit your circumstances and your budget.
Third-party only
This provides the lowest level of cover. Damage or injury to a third party is covered, but you have to front the cost of repairs to your own van.
Third party, fire, and theft
You get the same protection as third-party only policies, and you're also be covered if your van is stolen or damaged by fire.
Comprehensive
This is the top level of cover available because you, your van, any third party and their vehicle are all covered.
There might also be extras such as cover when you're out of the country or a replacement van if you can't drive yours.
It's always worth taking the time to compare van insurance so you can find a policy that works for you. There are lots of insurers in the market, so don't go for the first one you find and always read the small print.
You can buy black box insurance for most vans but there may be restrictions. For example, if your van is over a certain age, worth under a certain amount, or if you have a low annual mileage.
How do I get black box van insurance?
It couldn't be easier.
All you need to do is compare van insurance quotes as normal. When you see the list of prices, any black box van insurance policies are included by default. We'll mention in the summary of the quote if it's a black box van insurance policy.
It only takes a few minutes to compare van insurance quotes, but if you want to speed things up, have this information to hand:
The make, model and reg of your van
Your occupation
Roughly how many miles you drive a year
Details of any claims or motoring convictions
How many years' no-claims bonus you have
[$article-van-insurace-cta]
What happens if I change my van?
If you change your van during the policy term you need to tell your insurance company so that it can update your policy.
It's likely that you need to have a new device fitted to your new van.
Alternatively, you can cancel your insurance and shop around for a new black box insurance policy. However there's likely to be a fee for cancelling your old policy.
Can I remove the black box from my van?
If you reach a point where you no longer want, or need, a telematics insurance policy, you may want to remove the black box from your van.
This is straightforward if you fitted the black box yourself. All you do is unplug the black box when your policy ends.
However, if an engineer fitted your black box device, you likely need one to remove it. There's usually a fee for doing this, but you don't have to have it removed. Your insurance company should deactivate the device as soon as your policy ends, so you can carry on driving your van, sell your van, or even scrap it with the device in place.
Will the black box interfere with my van?
A black box device shouldn't interfere with your van, your driving or any of its systems. Although it does report information on your driving back to your insurance company, the idea is you shouldn't be aware of it while you're on the road.
Where is a black box fitted on a van?
The location of the black box depends on the insurer you've chosen. But they're usually placed within the interior of the van, so you won't actually see it.
If this is the case it should to be fitted by a trained mechanic. When you cancel the policy, if you want the box removed you might have to pay for this.
Some insurers, however, use black boxes that fit to your dashboard or window. If this is the case, you could install it yourself.
Either way, you should be told before you buy the policy exactly how it works.
What are the pros and cons of black box van insurance?
Black box technology is still relatively new. So, van drivers are bound to have questions about how it works before buying a policy.
Here we look at some of the main pros and cons of this type of insurance.
The pros of black box van insurance
The main advantage of black box van insurance is the way it helps to cut the cost of your insurance
Young van drivers, or those with no previous experience, could benefit even more from a bespoke insurance policy
If a policy can help to cut these costs, and make you a better driver, it might be worth considering
It's also a handy way for drivers to be more efficient as it could help them to plan their routes and avoid traffic hold ups
If it's stolen, you have more luck getting your van back with the black box tracker technology
The cons of black box van insurance
Technology has come a long way in the past decade, but many drivers might still be a little wary of being tracked at all times.
The thought of your driving being monitored by an insurance company might be a little disconcerting to some drivers.
This type of technology isn't suited to all vans. If you have an older vehicle or one that isn't worth much, you might not be able to find black box insurance for it in the first place.
Black boxes prefer drivers that drive during the day when the risk of an accident is lower. If your job requires you to regularly drive at night you might not benefit from this type of insurance.
It's also worth remembering that with a black box policy, if you're driving carelessly, your costs could go up.
For some drivers, such as those with a lot of experience on the road, a regular policy could be cheaper than one with telematics technology included.
What's the difference between black box and regular van insurance?
If you have black box van insurance, your driving is monitored and the cost of your insurance could be cut.
The black box usually records your:
It might also record the time you usually drive and the type of roads you travel on.
With a regular insurance policy, you're charged an annual amount for your insurance based on factors such as your age, profession, and driving experience. This traditional system uses these statistics to get an average price for drivers like you.
Will fitting a black box make my van insurance cheaper?
If you're faced with sky-high insurance costs, or even if they're more than you'd like to pay, it's worth taking a look at black box van insurance.
While it might not work for everyone, if it could cut your insurance costs, it's worth considering. This is especially the case for younger and less experienced van drivers.
However, if the price you're quoted is higher than you'd pay for regular van insurance, a standard policy is likely to be a better option.
Similarly if you have black box van insurance and the price hasn't changed, it's time to compare prices and see if you can switch to a cheaper policy.
For more information, check out our guide on how to make your van insurance cheaper.