Driving in Spain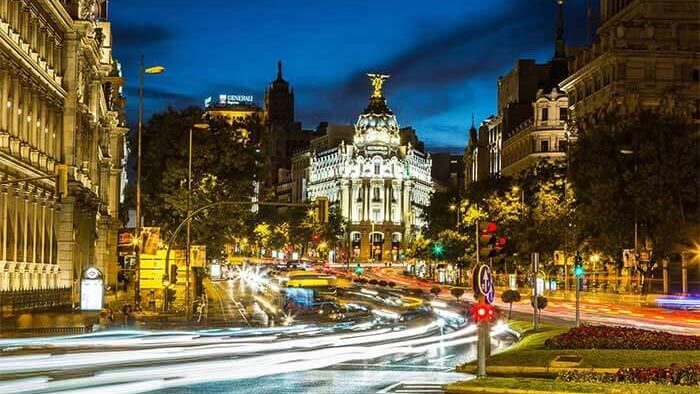 Here's what you need to know before you head out to sunny Spain.
Fancy some sun, sand, sea and sangria (when you're not driving, of course)? A driving holiday in Spain is a great way to see all that the country has to offer beyond the package holiday.
Before you head out, here are some tips on making sure you're fully prepared for driving in Spain.
Coronavirus
International travel is restricted due to the coronavirus pandemic. Before making any plans to travel to Spain, check the GOV.UK website for the latest on travel restrictions to Spain.
Impact of Brexit on driving to Spain
The UK is no longer part of the EU.
To drive in Spain, you'll need:
A 'green card' from your insurer that proves you have valid insurance

A GB sticker for your car

A car insurance policy that allows travel to Europe
If you have a valid photocard driving licence, you won't need an International Driving Permit (IDP) to drive in Spain.
READ MORE: European travel in 2021 and beyond: what you need to know

What are the requirements for driving in Spain?
Like other countries in the EU, you can drive in Spain using your full UK driving licence, but you must be at least 18 years old.
If you have an International Driving Permit, take it with you. While it's not a requirement, IDPs are recognised in Spain.
Here's a handy checklist of what you should have in the car with you too:
proof of insurance

passport as proof of ID

your V5C certificate

warning triangle

GB sticker or Europlates

headlamp adjustment

high-vis jacket

spare pair of glasses (if you wear them, of course)
Just like in France, radar and speed camera detectors are illegal in Spain. But, if your sat nav includes speed camera information as standard, you should be okay.
In fact, the Spanish Transport Department are pretty good at making the public aware of the location of speed cameras. Most cameras are signposted and there's even an app that shows you where they are.
Spanish rules of the road
Drink-driving
The Spanish drink-drive limit is 0.5 mg/ml of blood, down to 0.3 mg/ml for people with fewer than three years' driving experience.
Fuel
It's against the law to carry spare petrol in the car in Spain. But you can also be fined for running out of petrol on certain main roads.
Roundabouts
When you're driving on a Spanish roundabout, remember that cars already on the roundabout have priority over cars that don't.
Spanish motorways and tolls
The motorways in Spain – the autopistas – are usually quite light on traffic. This is because the motorways are littered with toll booths, meaning you could rack up quite a bill if you're travelling a fair distance.
The amount you pay per toll depends on the length of the road and in which area you're driving. For example, driving from Barcelona to Calella – a distance of 56km – would cost around 7€.
Rather than paying the tolls, many of the locals opt for the back roads, which can get quite busy. If you're after a fast, smooth but potentially expensive drive, take the autopistas.
It's worth remembering that you must use your indicators when coming on or off the autopistas. You should also use your indicators whenever you change lanes. If you're caught not doing so, you could end up with a fine.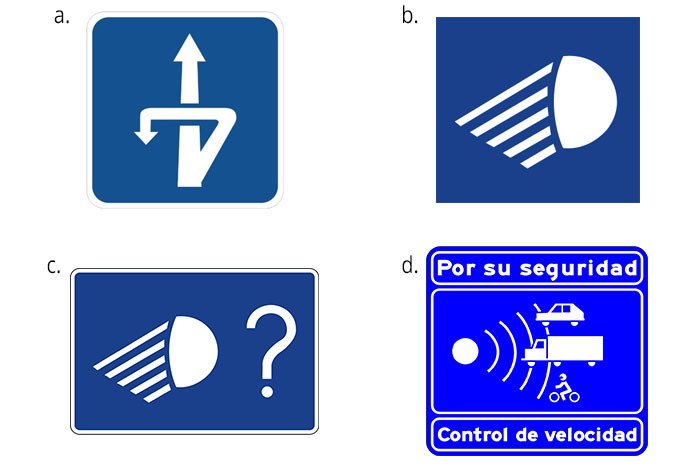 Spanish road signs you should be aware of
Most road signs are fairly consistent across the continent, and they're fairly easy to decipher.
However, there are a few signs in Spain that you might not be too familiar with:
a. If you need to make a U-Turn, take the next right and turn around on the next level
b. Drivers should switch on their headlights now
c. Drivers should check their headlights and switch off if necessary
d. Speed cameras ahead.
Spanish speed limits for cars
Road types
Speed limit

Road types

Built-up areas

Speed limit

50 km/h - 31 mph

Road types

Single carriageways

Speed limit

90 km/h - 55 mph

Road types

Dual carriageways

Speed limit

100 km/h - 62 mph

Road types

Motorways

Speed limit

120 km/h - 74 mph
It's also worth bearing in mind that there's a 60 km/h (37 mph) minimum speed on the motorway.