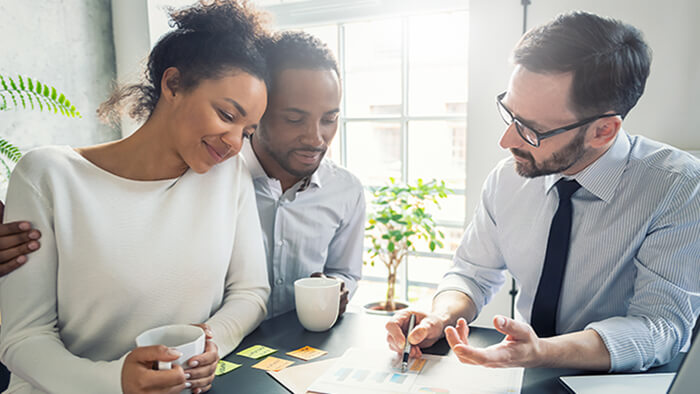 Porting a mortgage means taking your mortgage with you when you move. But is it always the best option?
Mortgages are confusing. And once you've got one you might be reluctant to switch – especially if you've got a good deal on it.
One option is porting your mortgage. We look at what this means, and weigh up the pros and cons. Let's take a look.
What does 'porting a mortgage' mean?
Most mortgages are portable. It simply means you can move your current mortgage deal to a new property.
Porting comes in handy if you have a good mortgage rate and you want to hold on to it.
They're also useful if your mortgage has an early repayment charge attached to it.
This is applied if you overpay on your mortgage within a certain period on your initial deal – for example, a fixed rate mortgage for 2 years.
Instead of incurring the early repayment charge, you can transfer or 'port' the mortgage to a new property. Potentially saving you a fair chunk of money.
The downside is that the lender isn't legally obliged to port your mortgage, and on some occasions it's easier to remortgage.
How does porting a mortgage work?
If you want to port your mortgage, you'll need to reapply for the mortgage you already have.
Then you'll have to pass the lender's affordability criteria. They'll consider your income, outgoings, debt and credit history before lending to you.
If you don't pass their affordability checks, they may refuse to port your mortgage. Even if you're still meeting your monthly mortgage payments.
If your lender refuses, you need to weigh up whether it's worth remortgaging to a new deal, or whether to wait out your current mortgage deal.
If your lender does approve you porting your mortgage, you'll need to fork out for a valuation on a new property.
Porting a mortgage to a more expensive property
When you're porting your mortgage to a new property that's more expensive, you're borrowing more money. So you'll be subject to the lender's affordability checks.
You might have to pay more fees too. There may be a fee to increase your loan and an arrangement fee if you're taking on another mortgage product.
You'll also have to pay a valuation fee to ensure the house you're moving to is a worthwhile investment for the lender.
Porting a mortgage to a cheaper property
One way a portable mortgage could come in handy is if you're downsizing.
Again, you'll have to undergo your lender's affordability checks, even though the house is cheaper.
You'll have to pay some fees too. For example, a valuation fee for the new property.
What is a mortgage prisoner?
If you can't change your mortgage for some reason, you might be a mortgage prisoner.
This means you don't pass the affordability checks carried out by the lender – so your only option is to stick with your current deal.
You may not pass the affordability rates because your circumstances have changed. For example, you're now on a lower income.
But there are some ways you can free yourself from mortgage prison:
Over-pay your mortgage – check with your lender how much you can pay without the early repayment charge

Increase your equity – the portion of the home you own – as it raises your chances of qualifying for better mortgage rates

Ask for a pay rise – this is easier said than done, but income is one of the key factors when it comes to calculating mortgages

Reduce your debts and outgoings

Downsize to a smaller home.
Porting a mortgage vs remortgaging
Even if your new property is cheaper, it might be worth shopping around to see what mortgage deals are available.
You'll have more equity on your current mortgage since you first took it out, so you might see better interest rates when remortgaging.
Also, the mortgage market is always changing. Even if your original mortgage had good rates when you first took it out, you might be able to find something more competitive elsewhere.
You might have good introductory rates if you remortgage too. You'll notice more of a saving if your fixed-rate or discount mortgage deal is coming to an end soon.
But even a new deal with a good interest rate could work out more expensive. As you may have to pay exit fees from your current mortgage and arrangement fees for the new one.
If you're in doubt, chat to an independent mortgage broker for advice.