Matthew joined us in 2013 after having gained experience of insurance as a claims handler at Admiral.
Since Matthew joined the business, he's spent time as a product analyst on home insurance and product manager on car insurance, worked on several projects including developing our comparison-as-a-service offering before taking up his current role as a senior product manager for energy.
With a background in mathematics, Matthew is passionate about using data and insights to find the best ways to help customers.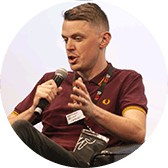 Matthew's energy tip:
"With energy prices going up and up, switching to a new deal would normally be the best way to save yourself some money. However, due to the unprecedented market conditions, the majority of providers aren't offering deals at the moment.
It's difficult to predict when deals will return or where energy prices will go next, but you can get yourself ready to switch for when the time comes."