When you visit a hardware shop, it's easy to get bewildered by all those flat-head screwdrivers and claw hammers. There can be too much choice.
So what tools should everyone have at home? What should every toolkit contain?
We've simplified it for you. Here's our list of basic tools and equipment that you should have.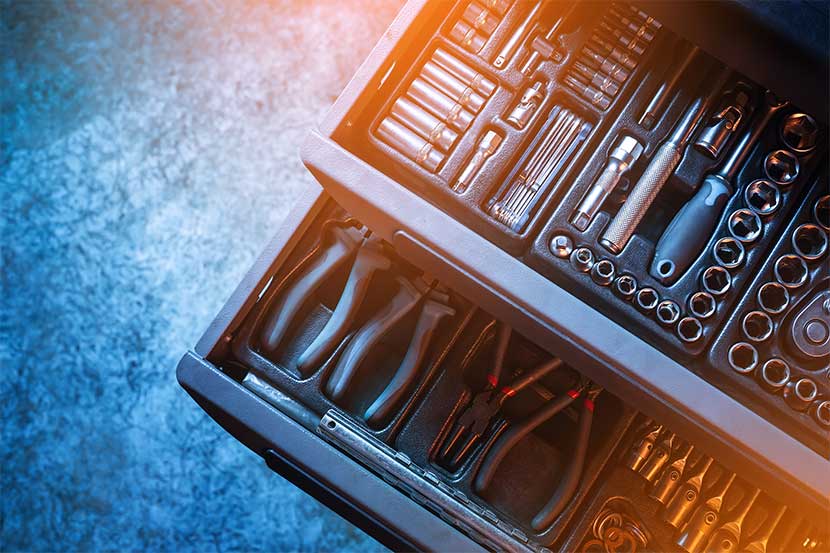 This article contains affiliate links. If you buy any products via these links, we may earn a small commission at no cost to you.
Bear in mind that any DIY mishaps could result in an expensive home insurance claim. So, rather than being the bad worker who blames their tools, it might be worth getting the right kit.
Compare home insurance quotes
Essential tools for the home
At a glance, your must-have tools should include:
A claw hammer

Pliers

A cordless drill

A flat-head and a Phillips-head screwdriver

A spirit level

Nails and screws

A tape measure

Tape

A ladder
Claw hammer
This is useful for, well, hammering. But a claw hammer might also be used to pry out old nails or ease things open.
It's best to go for a hammer that's got 'one-piece construction' in the product description. These models are sturdier and unlikely to break in half, mid-hammer.
Check prices for claw hammers on Amazon
Pliers
Pliers are useful for tightening nuts, bolts and removing nails that your claw hammer can't get to. They're great for cutting and bending wire, too.
There are a few different types of pliers but a standard set of cutting pliers should be fine for basic tasks.
If you want to go the whole hog, you can pick up sets of different pliers relatively cheaply.
Check prices for pliers on Amazon
Cordless drill
If you have only 1 power tool, make it this one. A cordless drill is a quadruple treat. As well as drilling, it can buff, grind and sand.
You can get models that have a power cord but cordless drills – although slightly more expensive – are much easier to use.
Check prices for cordless drills on Amazon
Flat-head and Phillips-head screwdrivers
Both these screwdrivers are useful for tasks around the home, particularly for furniture fixes and changing fuses.
The Phillips-head screwdriver is cross-shaped, sometimes referred to as the cross-head screwdriver. The flat-head screwdriver is straight.
You can buy them individually, but you can pick up a set with a variety of shapes and sizes relatively cheaply.
Check prices for screwdrivers on Amazon
Spirit level
This is a key item when you're putting up shelves or assembling units. It stops your ornaments from falling to their doom.
A spirit level with different orientations should find accurate horizontal and vertical angles.
Check prices for spirit levels on Amazon
Nails and screws
You can get assorted sets of nails from any good DIY store. It's handy to have these so you have screws or nails for your DIY projects.
Check prices for nails and screws on Amazon
Tape measure
One of the more essential items on the list. It's useful in all areas of the home for measuring units, furniture or replacement parts.
Check prices for tape measures on Amazon
Tape
Having a couple of types of tape in your toolbox is handy.
Duct tape is useful for temporarily sealing any leaky pipes while you wait for the plumber.
If you're painting your skirting boards and need to mask off an area of wall, invest in painter's tape.
It doesn't damage any existing paintwork or leave a residue when you remove it.
Gaffer tape is good for sticking down any rogue cables that could cause someone to trip. Like with painter's tape, this shouldn't leave a residue.
Check prices for tape on Amazon
Ladder
This is not useful just for DIY – if you need to change a light bulb or need to get to a fuse box, a ladder is a must.
It's particularly useful for your monthly maintenance tasks around the home, too.
A standard 5-step (or tread) ladder should work for most jobs.
Check prices for ladders on Amazon
What's the best basic tool kit?
There are lots of options when it comes to tool kits, and a quick internet search should show you many of the options.
On Amazon, a kit that comes with good reviews is the BLOSTM 39-Piece Tools Set, which gets top marks for value-for-money and ease-of-use, and also rates highly for durability.
Useful extras to add to your home tool kit
Stud detector
Studs are wooden supports that plasterboard is attached to.
If you're putting up a shelf or a picture, use a stud detector to find these supports. It should be much more secure if it's put up on studs, rather than on plasterboard.
Shovel
This is a good investment if you have a garden. Shovels are useful for clearing up debris, digging and general gardening work.
Hand saw
Great in the garden for branches or general maintenance tasks. Usually you can get an inexpensive one with interchangeable blades.
Set of 5 paint brushes
These are useful not just for big jobs but also for when you need to do a little touching up of scuff marks around the home.
A paint roller and tray
Again, this can prove handy for when you need to apply a fresh lick of paint. It's useful whether you're doing a complete room or you just want to cover up some wear-and-tear marks.
How to upgrade your basic tool kit
The exact selection of tools that are in any given basic tool kit might vary. You might want to make the odd addition to your must-have tools to make the kit more complete.
Some extras you might consider include:
A utility knife

A torch

An adjustable wrench

A circular saw

A socket set
Confused.com is a participant in the Amazon EU Associates Program, an affiliate advertising program designed to provide a means for sites to earn commission incomes by advertising and linking to Amazon.co.uk.