Motor insurance databases
CUE, MIB and MIAFTR are motor insurance databases that hold data on claims. We look into what they're for and what's stored on them.
Here are the main motor insurance databases and what they do, at a glance:
MIB – The Motor Insurance Bureau helps drivers who've been hit by uninsured motorists
MID - The Motor Insurance Database holds data on insured drivers. This is managed by the MIB.
CUE- The Claims Underwriting Exchange holds data for motor, home, personal injury and travel insurance claims.
MIAFTR - The Motor Insurance Anti-fraud Anti-theft Register holds records of written-off and stolen vehicles.
MyLicence - My licence acts a middle man between the MIB and the ABI (Association of British insurers) to give insurers details on an individual's driving licence.
To help reduce fraudulent claims, and keep a record on insurance data, The Motor Insurers' Bureau (MIB) was created.
Part of the MIB's responsibility is to stop people driving without insurance, which is costly to law-abiding motorists.
It's made up of two other databases - the Claims Underwriting Exchange (CUE) and the Motor Insurance Anti-Fraud and Theft Register (MIAFTR).
CUE holds records on claims, whereas MIAFTR holds records on vehicles that have been written off.
What is the Motor Insurers' Bureau?
The MIB itself specifically tackles uninsured drivers (not aliens). It's a non-profit organisation that is funded by insurance companies.
When an uninsured driver hits a motorist, the MIB pays the reimbursement. This is funded by the insurance premiums of law-abiding motorists. Unfortunately, this issue costs motorists millions of pounds every year.
The MID (the motor insurance database) stores data relating to insured vehicles in the UK. This is managed by the MIB.
It can be accessed by third parties, but a user agreement must be accepted in order to become an "authorised party".
The MIB works closely with the police and the DVLA to find out this information.
Working in partnership with insurers, Police and DVLA, the level of uninsured driving has dropped by some 50% in the last 10 years. This has economic and social benefits - the honest motorist carries less of the cost burden through motor premiums and our roads are safer
Ashton West, Chief Executive at MIB
What is the Claims Underwriting Exchange?
CUE was established in 1994 to keep a record of claims. It's also the UK's general insurance and industry claims register. Its members include major insurers and self-insured organisations like local authorities.
The idea behind it was to manage the level of fraudulent claims by tracking data sent to them by insurers.
By allowing insurers access to details of incidents, it makes it harder for people to commit fraud or lie about their claims history.
CUE hold data on three main policies - these are motor, home and personal injury. But it has recently expanded to deal with travel insurance too.
What's stored on CUE?
The data relates to incidents reported to insurers that may or may not give rise to a claim. As well as accidents, this includes theft, break-ins, or personal injury.
These make up a database of "incidents" that are reported to insurance companies which assist with the reduction of fraudulent claims.
According to the CUE website, there are 34.2 million records and 64.3 million search enquiries per year.
By using CUE, insurers can be more accurate with pricing as it can provide data validation for insurers.
This means insurers can deal with customers more efficiently by using a consistent record of their claims history.
You can view the data they hold on you by submitting a subject access request form. New laws coming into place in May this year mean that you will no longer have to pay for this.
What is the Motor Insurance Anti-Fraud and Theft Register?
MIAFTR was created in 1987, and holds records of written-off and stolen vehicles.
It monitors whether a vehicle was written-off for insurance purposes, and can help trace and recover stolen vehicles. As with the other organisations mentioned, they also aim to reduce fraudulent claims.
The data stored in MIAFTR relates to written off and stolen vehicles. A match can then be made between claimants and vehicles, as well as provide information about a vehicle's history.
Access to MIAFTR is limited to subscribers (approximately 300). These subscribers are consulted regularly to ensure that MIAFTR is enhanced, remains efficient and continues to reduce fraud.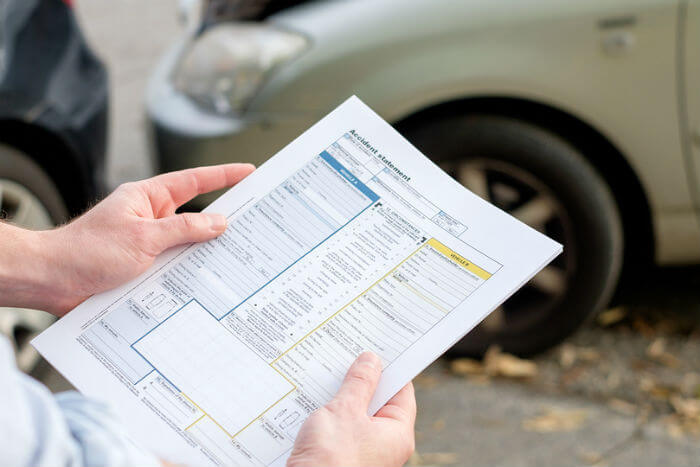 MyLicence - also known as the Insurance Industry Access to Driver Data (IIADD) programme
MyLicence is an initiative by the DVLA and the Department for Transport and the insurance industry.
This organisation works with the MIB, and the Association of British Insurers (ABI) to give insurers details on an individual's driving licence. These include driving entitlements, penalty points, and convictions.
When a driver is applying for insurance, they provide their driving licence number. This is automatically checked with the DVLA which will return information on the driving licence.
This includes:
Endorsement codes

Penalty points

Amount of any fines

Conviction dates

Disqualifications

Type of licence held and length of time

What the holder is entitled to drive (Manual/automatic/motorcycle/HGV)
The ABI estimates that not disclosing motoring convictions adds about £15 a year per law-abiding motorists' premiums. Occasionally, motorists mistakenly disclose convictions that are spent, and sometimes face much higher premiums. Using this data helps to amend this.