Need to insure a truck, lorry or heavy goods vehicle as a lone operator or as part of a fleet?
If you drive a large haulage vehicle, you need to make sure it's properly covered before you hit the road.
The policy you need could be described as truck, lorry or heavy goods vehicle (HGV) insurance. But these all refer to pretty much the same thing. Here's what you'll need to know to get the right deal to meet your needs.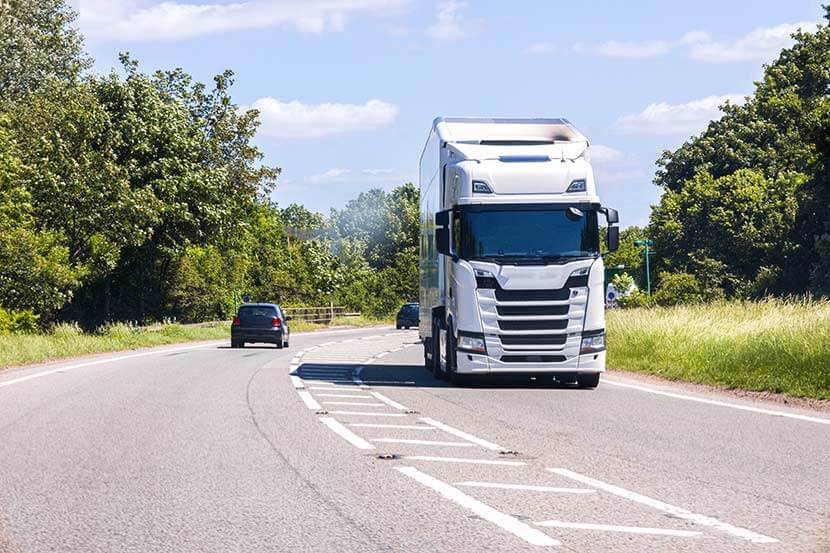 What is truck insurance?
At the most basic level, truck insurance is the policy you need to take a truck or other HGV onto the road.
It ensures that in the event of an accident that's your fault, you're protected against claims from other road users for damage or even personal injury.
Truck or HGV insurance is similar to van insurance, in that it's aimed at the commercial sector and as such should be tailored to business vehicle use.
In many cases you might be able to get a discount with HGV fleet insurance, which insures multiple trucks on the same policy.
As well as potentially saving you money, this could mean considerably less administrative work as renewals come up at the same time each year.
What does truck insurance cover?
As is the case with your standard car insurance policy, there are two main types of cover when it comes to lorry insurance. These are third-party, fire and theft, and comprehensive cover.
Third-party, fire and theft (TPFT) is essentially the bare minimum requirement when you're insuring a vehicle of any kind.
TPFT provides cover in the following situations:
If another vehicle is damaged or written off in an accident where you shoulder at least some of the blame.
In a situation where property is damaged – note that there's a statutory minimum limit of £1.2 million for property claims. So this is the lowest level of cover that insurers are allowed to offer. Some policies might provide a greater level of cover.
In the event that someone other than the driver is injured. TPFT could cover personal injury claims in such circumstances.
If the truck is damaged or destroyed by fire.
If the truck is stolen or if it's damaged as a result of theft.
Comprehensive truck insurance policies, on the other hand, might also include cover for damage to your own vehicle as well as to the driver. That's even if this damage is the driver's fault.
If you only have TPFT, you might still be able to make a claim against another motorist. This could be for damage to your vehicle or personal injury if the accident was their fault.
There are also a number of policy extras that you could add to your truck insurance, or which come as standard depending on the insurer.
These include:
The ability to choose which repairer you use in the event of any damage
Assistance with the removal of debris after an accident
Covering the costs of towing a broken-down or undriveable truck following an accident
Changing or replacing locks and keys
Getting the truck back to you after it has been stolen.
Not every insurance provider offers the same extras. So, it's essential you check the terms and conditions of your policy to make sure you understand exactly what you're covered for.
There are also some extras that you usually have to choose as an optional extra, but might increase the cost of your policy.
These include:
Additional cover for trips to mainland Europe or the Republic of Ireland
HGV breakdown cover
Cover for the goods you're transporting
Legal protection cover, which could help cover legal and court fees in the event you need to take court action against another road user
Hazardous goods cover for businesses that transport dangerous loads
Public liability protection, which covers the cost of defending claims from members of the public or customers
Visit our specialist truck insurance provider Quote Me Today for a quote
Get a quote
Or call 01227 285564 to speak to a member of their team