Deciding whether to take your car to university is a big decision to make - especially if you've not long passed your driving test. But depending on where you plan to go university, having a car might be more of a burden than a blessing.
Let's take a look at the pros and cons to taking your car to uni, and what alternatives are available to you.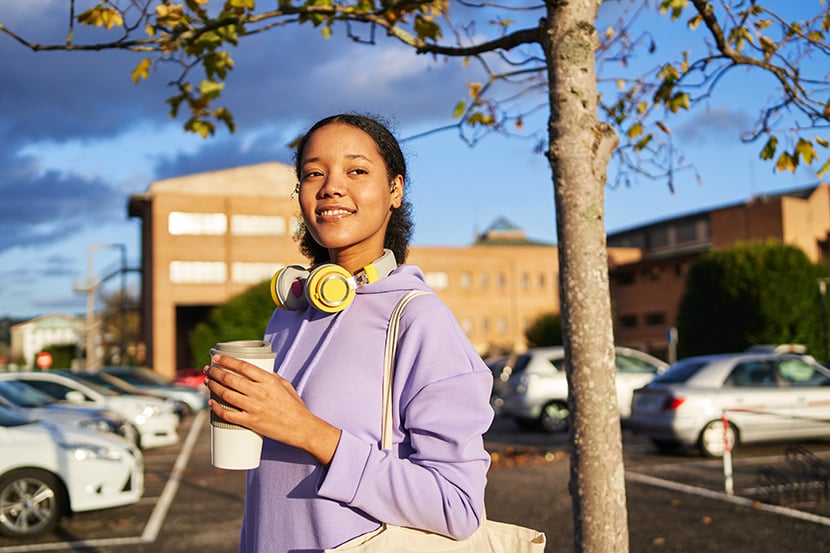 Pros of taking your car to uni
We'll admit that having a car at uni has its perks. As well as that sense of freedom and independence you also get:
Convenient travel between university and home
If your parents live far away, going home from the holidays usually involves several hours of public transport. Not to mention many, many bus and train connections. And if one of those connections is delayed, your whole trip could suddenly become an epic journey. Having a car with you means a relatively easy drive home whenever you feel like it. Much less stress, and probably costs a lot less.
Easy access to shops and student events
If your university is in a big city, you should have everything you need without needing to travel far. But if you're in a smaller area with less going on, having a car means it's easier to run errands. And if there are any student trips, you don't have to worry about getting there.
Commuting is taken care of
If you have a part-time job while you're studying, you might not be within a convenient bus ride to work. Being able to drive there and back puts less pressure on you and should be faster, giving you more study time.
Cons of taking your car to uni
Having your car with you at uni might be a bit of a burden in many ways:
It's going to be expensive
Owning a car is expensive enough when you're a young driver. Taking your car to uni with you might make it even more expensive.
According to our data, student car insurance costs £1,229 for students living away from home*. That means you'd need to work 164 hours at minimum wage** to pay for it.
And that's just the insurance costs. You also need to factor in:
Car tax
Fuel
MOT
Parking costs
If you don't end up using your car all that much during term time, it could be a waste of money.
Parking troubles
Don't assume that you'll have convenient parking on campus. If parking is available, chances are it's expensive. It costs around £180 for an annual parking permit on campus, but campuses in larger cities are likely to charge more.
Many universities don't allow campus parking at all, or may restrict it to off-peak hours. Check your university's parking rules to see how much it might cost you.
You'll be the 'go-to' driver
Taking your car to uni increases the chance of you becoming your friend group's unofficial Uber and constant designated driver (which, in our opinion, is a noble profession - especially if you're the only one with a car on campus).
The freedom that comes with having a car feels less free when your friends keep asking for lifts.
What to consider when taking your car to uni
If you decide that having your car with you is the right option, here are some things to keep in mind:
Add your car running costs to your budget: Your student loan will only go so far. And if you need to pay for a sudden repair bill or a parking fine, you might end up in your overdraft sooner than you thought.
Change your address with your insurer: Your insurer needs to know that you're keeping the car at a different location. This changes its risk, which is likely to impact your insurance costs. Check out our guide on how to change your insurance policy for more info.
Parking options: Check with your university if you can to apply for a campus parking permit. If they don't allow parking on campus they should be able to suggest alternative places to park.
Keep your car secure: If you don't already have them, consider adding an alarm or immobiliser to your car. It's also worth considering visual deterrents like a steering wheel lock. For more information, take a look at our guide on car security.
If I drive to university, does that count as commuting?
No - if you're using your car to go to uni and not a job, you don't need to put 'commuting' on your policy.
When we ask you about classes of use, commuting refers to a single, permanent place of work. And although uni can often feel like it, it's not considered a place of work for insurance purposes.
So you can select 'social only' as your class of use when you get a quote.
What are the alternatives to taking my car to uni?
If you own a car and decide not to take it with you to uni, it still might be expensive to keep on the road. Here are a few options available to you:
Take your car off the road
If you're not using your car for long periods of time, you can give your car a statutory off road notification (SORN). With a SORN, you can't drive your car or keep it on a public road. But you don't have to pay insurance, tax or MOT on it.
But if you want to use it again, you need to tax it, insure it and check the MOT is still valid. This might not be the option for you if you want to use your car when you're back home when each term finishes.
Get temporary car insurance for your parents' car
Your holiday time is limited, so you know you won't be needing to drive all that much when you're home. So it's worth considering getting a temporary car insurance policy that lets you drive your parents' or a friend's car while you're home.
On average, it costs £183 to get temporary student car insurance for a week***.
You can get cover straight away and it doesn't impact the other person's existing insurance policy. So if you have an accident while driving their car, their no-claims bonus isn't affected. If you want to drive occasionally, this is worth considering
This might not be the right option if you plan on spending all your holiday time on the road. Uni students get around 20 weeks of holiday time throughout the year. So the cost of temporary cover would likely be much more than paying for an annual car insurance policy.
Become a named driver on another insurance policy
Being a named driver on another policy - for example, your parents' - lets you use the car occasionally. Since they'd be adding a younger driver to their policy, it's likely that their car insurance costs will go up.
Our data shows the average cost of car insurance* for adding children to a policy are:
Son - £1,113
Daughter - £641
And if you have an accident while driving their car, it's likely to affect their no-claims bonus too. Remember that named drivers are only meant to drive the car occasionally. If you do most of the driving, you should be the main driver. Otherwise you're committing a kind of insurance fraud called fronting.
* Confused.com data. July 2022 - June 2023. Comprehensive policies only
** Minimum wage for 18-20 years old is £7.49. Source: GOV.UK
*** Median price for drivers aged 17-24, Tempcover data April 2023.