What do you need if you're driving abroad?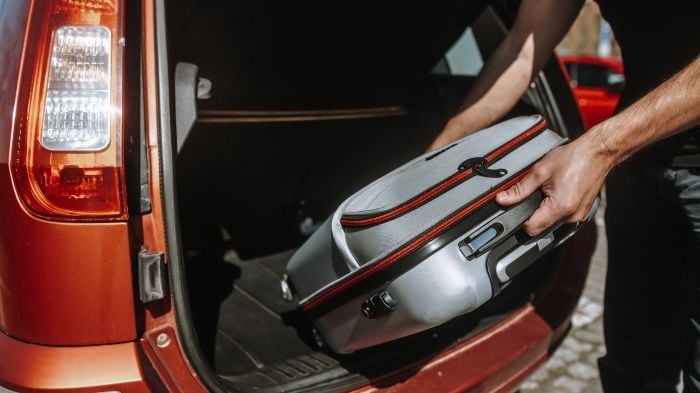 If you're heading abroad, make sure you have the right insurance and other road essentials for your trip.
Many of us are hoping to get away this year, but how easy is it to take your car with you?
We look at the important documents you need to gather before you drive abroad. As well as some key pieces of kit to keep in the car.
Jump to a section:
A Green Card is an internationally-recognised document that acts as proof of insurance in Europe and other countries abroad.
Taking a Green Card will make it easier if you need to make a claim or exchange details with another driver or the police.
You can get a Green Card from your insurer for free, but make sure you leave plenty of time to get one before you travel.
Outside of Europe, countries that still need a Green Card are: Albania, Belarus, Bosnia and Herzegovina, Iran, Israel, Macedonia, Moldova, Montenegro, Morocco, Russia, Tunisia, Turkey and Ukraine.
It's always best to check the travel advice for the country you're visiting, as you might need extra insurance as well as a Green Card.
Visit the Motor Insurance Bureau for more information about the Green Card.
The UK is no longer part of the EU.
To travel to Europe, you'll need a Green Card, a GB sticker and, in some cases, an international driving permit (IDP). For more information visit GOV.UK.
If you're driving to the EU in a van for work, you'll also need a valid Driver Certificate of Professional Competence (CPC) card, a passport and your healthcare documents. Find out more on GOV.UK.
If you live in the EU and you have a UK driving license you should swap it for an EU license. You won't be able to renew it in the UK. For more information, visit GOV.UK.
Wherever you travel, you'll need to take your UK driving licence with you.
In some circumstances you'll need an international driving permit (IDP).
If you've got a UK driving licence, you won't need an IDP if you're travelling to an EU country, Norway, Iceland or Liechtenstein.
If you've got a paper licence, or a licence issued in Gibraltar, Guernsey, Jersey or the Isle of Man, you'll need an IDP to travel to Norway and other EU countries.
Outside of Europe, the type of IDP you need varies, take a look at our guide for more information.
An IDP costs £5.50 and you can buy one from the Post Office. You must be over 18 with a full driving licence to get one.
Although the minimum age for driving a car in the UK is 17, other countries may have their own rules so it's worth checking. For more information, visit GOV.UK
To drive in another country, you need to make sure your insurance covers you outside the UK.
So before leaving, let your insurer know that you're travelling overseas, and check if your existing policy covers you.
For a higher level of protection, get in touch with your insurer to see if they'll upgrade your existing comprehensive policy to be covered abroad.You may have to pay extra for this.
If you're travelling to Europe, you might be able to add European cover as an optional extra, which usually covers you for up to 30 days.
Don't forget to check the small print for any exclusions on your policy, as some will put a cap on the number of days you're fully insured while you're abroad.
Once you're happy with your level of insurance, you can ask your insurer for a Green Card.
A GB sticker informs officials that your car is from the UK.
It attaches magnetically to your number plate, and it's vital if you're travelling to Europe.
You may receive a fine if you're caught driving a car in Europe without one.
If you're taking your own car abroad for less than 12 months, you'll need to take the V5C logbook with you.
If you need to update your logbook, make sure you leave plenty of time for this before you travel.
If you're taking a hired or leased car abroad for less than 12 months, make sure to get a VE103 certificate. This'll prove you're allowed to use the car abroad.
You can get one of these for free. For more information, visit GOV.UK.
Breakdown cover can be important, especially on long trips. It's worth checking whether you already have European breakdown cover with your policy, or if you can get an upgrade.
You might be tempted to cut corners and go without breakdown cover. But this could be a false economy, given that the cost of repair and repatriation can be quite high.
Before you go on your trip it's worth:
Checking the water, oil and coolant level

Checking the tyre pressures and tread

Placing your GB sticker somewhere visible, preferably on your number plate.
You may also need to convert your headlights. This will stop oncoming drivers being dazzled while you're driving on the opposite side of the road.
You can do this with a beam converter kit, which you simply stick over your headlight. Just remember to remove the stickers when you return to the UK.
You can purchase pre-prepared travel kits online.
Check prices for pre-prepared travel kits on Amazon
It's also worth keeping these items in your car when you're travelling too:
First-aid kit

Tool kit

Red warning triangle

Reflective jacket

Torch

Fire extinguisher.