How do you choose which motorcycle to buy? With so many bikes available it's difficult to know where to start.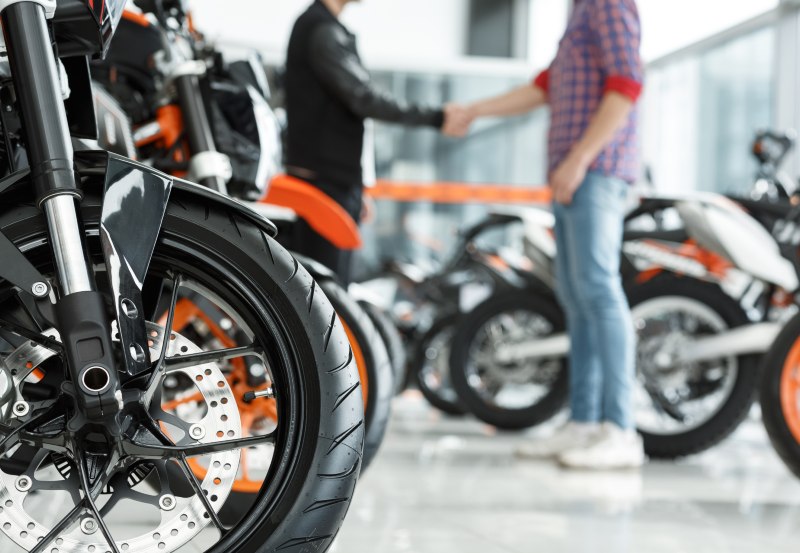 There are a number of things to consider before you get out on the open road and start exploring the best biking routes in the UK. Like, what are you allowed to ride and what can you afford to buy?
What motorbike can I ride?
This will depend on a number of factors such as your age and when you got your car driving licence, if you've got one.
If you're a keen 16 year-old with a provisional driving licence you can do the compulsory basic training (CBT) and ride a 50cc moped on L plates. The CBT will last for two years.
If you passed your driving test before February 2001 and only want to ride a 50cc moped then you're already fine without doing anything else. You'll be able to set off without L plates and without having to do the CBT.
If you passed your driving test from February 2001 onwards you'll need to do the CBT to be able to ride a 50cc moped.
If you haven't passed your driving test, doing the CBT will let you ride a 50cc moped for two years with L plates. After two years you'll have to do the CBT again.
To lose the L plates you'll need to pass the standard driving or AM test.
For bigger bikes, doing the CBT then passing the A1 testallows you to ride a 125cc motorbike if you're 17 or over.
If you're 19 or older, you can do the A2 test which will let you ride bikes with engines over 395cc that don't exceed 35 kW (47 bhp).
You can get a full motorbike licence – an A licence – in two ways. It depends on your age and riding experience.
If you're at least 24 you can do the CBT and then the A licence test.
If you're 21 to 23 and have had a full A2 licence for two years you're allowed to do the A test and so get your full licence a bit younger.
The DVSA sets it all out here in a handy diagram.
What motorbike should I get?
What motorbike type you should get depends on what you want to use it for. You should also make an honest appraisal of your riding ability and experience.
You won't need a two-up tourer with luggage if you're making extra money working for a takeaway delivery company. A 50cc moped should do just fine.
And just because you can afford a 1,000cc sportsbike as your first bike, doesn't mean you should get it, however good it looks.
There's a lot to be said for gaining some solid riding experience before getting the bike of your dreams. So consider getting a bike with a smaller engine to start with.
And electric motorbikes are now on the scene. Do you fancy being an early adopter and getting one of them?
Then there are practical considerations. If you're shorter than average you may find some bikes are simply too big and the seat too high to be practical.
Will you regularly want to have a pillion on the bike? If so, it'd be nice to let them try sitting on the bike before you get it. Is it comfortable for them? Can they get on and off the bike easily?
And then of course, there's the cost of insurance. You may be able to afford the bike but can you afford to insure it?
Once you've narrowed it down a bit, a good starting point can be what has been selling well recently. Popular bikes are popular for a reason.
Best-selling motorbikes
Sales of new bikes in 2019 – the last typical year – show that over half the motorbikes registered fell into one of two bands for engine size.
Bikes with engines of up to 125cc sold the best – not surprising as you can ride these on an A1 licence.
Riders with a full licence find big-engined bikes appealing and bikes over 900cc saw the second-best sales. The perennial best seller is the BMW R1250GS, a sports tourer bike.
To give you an idea of what other people have been buying, bikes that sold well in 2020 include:
Lexmoto LXR125
Honda CB125F
Honda PCX125
Royal Enfield Interceptor 650
Yamaha Ténéré 700
Triumph Tiger 900 GT Pro
BMW S1000RR
Kawasaki Z1000SX
BMW R1250RT
BMW R1250GS
How much do motorbikes cost?
New, a Lexmoto LXR125 will set you back £2,199.99 while for a new BMW R1250GS you'll have to fork out around £15,000.
A luxury tourer like a Honda Gold Wing could set you back the best part of £30,000 new.
While if you really want to splash the cash, the Combat Motors Wraith retails for more than £100,000.
At the other end of the scale, you can pick up a new 50cc moped for less than £1,000.
While a bigger engine will generally mean a more expensive bike, other things ramp up the cost as well. So with the higher-end bikes you're paying for gadgets like electronically adjustable suspension and TFT touchscreen displays.
Should I buy a second-hand motorbike or a new one?
Of course, you don't have to buy your bike new. There are lots of used motorbikes to choose from.
So what are the pros and cons of buying new and second-hand?
A shiny new bike will have no miles on the clock. It won't have a history that you know nothing about - so there'll have been no dodgy repairs or accident damage.
It'll have the latest in motorbike technology and will come with a manufacturer's warranty.
It'll also comply with the latest emissions standards meaning you can ride it in an ultra low emission zone or ULEZ without charge.
Downsides to buying new are that as soon as you ride away from the showroom depreciation sets in. The bike will also cost more to insure.
Second-hand bikes will obviously be cheaper as they're not new and not necessarily shiny. And being cheaper, the insurance will be lower as they would cost less to replace.
But they'll come with a history, which may be a bit unsavoury. And being older, expensive parts such as the clutch may be on the way out and so need a costly repair.
A vehicle history check is your friend here to see what's gone on with the bike in the past.
And second-hand bikes may not have a warranty. Some dealers will offer them but you'll not get a warranty from a private seller on eBay.
You'll also need to check that the bike meets Euro 3 standards for NOx if you want to ride it in London without charge.
Our guide to buying a used motorbike can help you know what to look for in a second-hand bike.
Different ways to pay for your motorbike
A deciding factor in whether you get a new or second-hand bike could be the way you want to pay for it.
Many of the car finance options open to motorists are also available to bikers.
Personal Contract Purchase (PCP) has caught on in a big way in the motorbike world as a way of buying new bikes. It's coming in a bit now for second-hand bikes as well.
It's a bit like hire purchase in that you put down a deposit and then pay monthly. The usual period is three years and you don't own the bike until you've made the final payment.
But unlike hire purchase where you'll pay the same every month, with PCP the final payment is a big one.
If you decide you want to keep the bike you'll have to pay what is known as the guaranteed future value or balloon payment. This'll have been set at the beginning.
It's like an agreed second-hand price for your three-year-old bike. Bikes that have a good resale value will have a higher balloon payment and so lower monthly payments.
This means that something like a Harley-Davidson might work out cheaper a month than a nondescript Chinese bike.
If you fancy changing your motorbike after three years, you don't pay the balloon payment and the bike goes back.
PCP could be a good idea if you like to change your bike regularly. The downsides of PCP include having an agreed mileage with penalties if you exceed it and needing to keep the bike in good condition.
Other ways to pay for your bike include:
Cash
Dealer finance
Credit card
All methods of payment have their pros and cons so work out which one is best for you.
Insuring your motorbike
In London especially, it can be worth finding out whether you can get motorbike insurance at all before parting with your money for a particular bike.
Motorbike thieves love London and insurers are understandably wary of insuring high-performance bikes that will be parked on the street.
Parking your bike on the street, wherever you live, will always incur higher insurance costs. Try to park it on a drive or, better still, in a garage.
It may not have to be a traditional garage. Insurers could be happy with a something like a shed with a decent ground anchor inside.
As well as not leaving your bike where prospective thieves can get a good look at it, other things will affect your insurance premiums.
If you've only recently starting riding motorbikes you'll not have had a chance to build up a no-claims bonus (NCB). Once you've been riding a few years and built up your NCB your premium should come down.
And don't forget motorbike security. It's not just London where bikes go missing. Bikes in general are far more likely to be stolen than cars.
Other things that'll affect how much you'll pay will be the usual age, job, address and, of course, what bike you're looking to insure.
Read our guide on ways to save on motorbike insurance for more tips and tricks that could reduce your premiums.
Compare motorbike insurance quotes
What motorbike should I get?
The short answer is that you should get the bike that is best for you and for what you need it for. It should also come within your budget.
The right bike to speed up your commute will be different from the right bike to enjoy leisurely touring trips with a passenger and luggage.
Doing your research will make all the difference to how you enjoy your ride.