When someone dies, it can be emotional and stressful to sort through the paperwork. There's a lot to remember including registering the death, informing banks and claiming life insurance after death.
But it's possible that many of these tasks have already been planned out by the person who died, especially their life insurance policy.
Here, we look at everything you need to know about how to claim on someone's life insurance.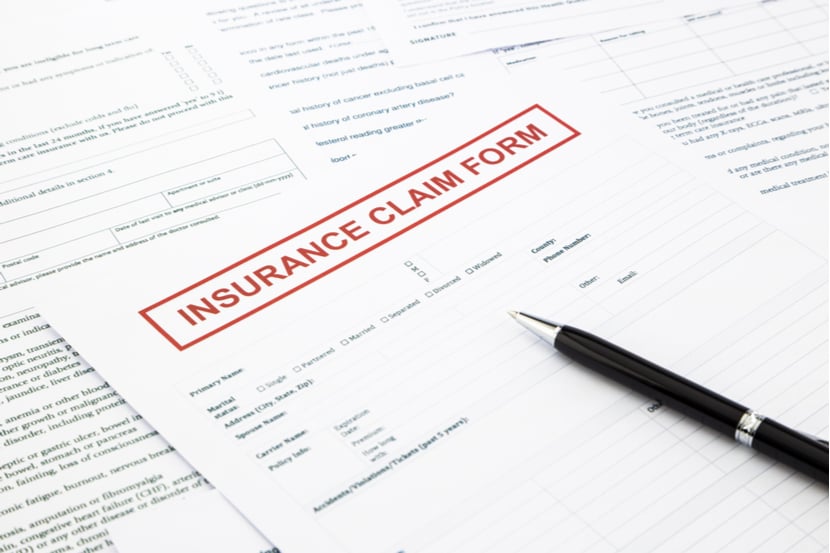 How do I claim on someone's life insurance?
1. Find out if the deceased had life insurance
To find out which insurer the deceased had a life insurance policy with, you could go through their bank account and credit card statements. You should be able to find regular life insurance payments and who they were going to.
If you already have a copy of the policy, all the details should be included in the document.
If the details are out of date, refer to the Association of British Insurers' (ABI) which has the current contact details for all its members.
If you're still unsure or can't find any details, you can also use Policy Detective to find out who the policy is with.
2. Gather the documents you need
The process of claiming on life insurance after death can be made easier if you gather the following details and documents:
The deceased's personal details - The full name, address and policy number of the person who died. They may also require evidence of their medical history from a GP or specialist.

Your personal details - Your full name, contact details and relationship to the deceased.

Death certificate - You can only get this once the death has been registered. You usually need to send the original document to an insurer, so get multiple copies if there's more than one insurance policy in place.

Insurance claim form - You should get this from the insurer, either as a paper copy or an online document.

Insurance policy - The life insurance policy document should be sent when the policy was first bought but it's usually available online as well. If you can't find it, you can request a replacement.
3. Contact the insurer and claim
The next step to claiming on a life insurance policy after someone has died is to contact the life insurance provider. Tell them you want to make a claim and they should give you all the details you need.
You should be able to find details of the insurer on any communications between them and the policyholder. This could be an annual statement sent in the post, via email or as a welcome pack.
The best way to contact the insurer should be in these policy documents but you can also find them on the insurer's website. You might be able to find one of the following:
A telephone number
Postal address
An online claim form
You can then file a life insurance claim and provide the necessary documents to support it.
Many insurers have changed the way they deal with life insurance claims after the coronavirus pandemic. You may be asked to complete the claim form online or via post. This is because insurers have seen staff shortages and a rise in the number of people contacting them, which has resulted in longer waiting times for phone calls.
Start a life insurance quote
Who can make a life insurance claim?
Anyone can start the process of making a life insurance claim. But only beneficiaries can claim the payout.
Life insurance beneficiaries are the people who legally inherit a lump sum of money when the policyholder dies. This is often a family member or loved one but can also include charities or anyone else of your choosing.
The beneficiaries should've been chosen by the deceased and named in the life insurance policy. They should also be clarified in the deceased's will.
How do I find out if I'm the beneficiary of a life insurance policy?
If you have the life insurance policy document, you can contact the insurer directly. They should be able to clarify who was named as the beneficiary and whether the policy is actually still running.
If you can't find any of the insurance documents, you can follow the steps outlined earlier to find the insurer's contact details. For example, go through the deceased's bank and credit card statements to find regular payments made to an insurer.
How long do I have to make a life insurance claim?
There's no legal deadline for making an insurance claim after someone has died. But it's generally better to do it as soon as possible. Life insurance claims can take time, especially if there are complicated circumstances.
In some cases, life insurance policies remain unclaimed. An example of this would be if someone hasn't told their family or friends there was a policy in place. But, there's generally no timeframe for an insurance claim. If money is due then it can be claimed at any point after a person has died.
But, finding the insurance policy might cause delays as life insurers don't keep policy documents forever. They usually keep them for around 2 years after they've been informed of a death.
How long does life insurance take to pay out?
Most life insurance companies aim to settle claims within 30 days. But there's no set timeframe for life insurance payments to be made as they all depend on the policy and the death.
You should be given a rough estimate of how long it might take when you make the claim. Having all the relevant documents and details in place should help speed up the process.
If there are no disputes over the circumstances of the death or the named beneficiaries, the money tends to be paid out fairly quickly. Sometimes in around a month or just 5 working days.
If an investigation needs to take place into the death or there are lots of beneficiaries, it could take longer.
How the insurance policy was written could also impact the timing of any payouts.
If the life insurance policy has been written in trust, the policy is looked after by a board of trustees. These could be the policyholder's friends, family members or a solicitor. If it's written in trust, this usually makes the process of life insurance payments quicker.
When might life insurance not pay out?
In some cases, life insurance claims are rejected and insurers don't pay out. The exact reasons depend upon the policy, but some insurers don't pay out if:
The person died because they took their own life within 12-18 months of buying the policy

The person died because of a drug or alcohol overdose

The person died from a pre-existing health condition that wasn't declared

The death was caused by a high-risk activity, such as an extreme sport

The policyholder stopped paying the insurance costs

You're missing vital documents

The policy term has ended
Luckily, life insurance payments generally have one of the highest rates of successful payments.
In 2022, 97% of life insurance payments were made, according to data from the ABI. The average amount of money paid for personal and company policies was £80,485.
How do I appeal if a claim is rejected?
If you make a life insurance claim and it's rejected, you can make a direct complaint to the insurer. It then has to investigate the complaint within 8 weeks.
If by the end of the 8 weeks, you haven't heard from the insurer or it hasn't changed its decision, you can escalate your complaint further.
The free Financial Ombudsman Service (FOS) is there to look into your complaint independently.
It should investigate the case and, if it decides the claim should have been paid, it can order the insurer to do so. It could also order the insurer to compensate you for any expenses you've incurred during the process.
Can I claim on my life insurance policy before I die?
There are some situations where you might be able to claim on your life insurance policy before you die. But it depends on:
The policy
The insurer
The specific circumstances
But, usually, this happens if you're diagnosed with a terminal illness and have less than 12 months to live.
There are many other types of protection policies that are designed to pay out before you die. They include critical illness cover, which pays out if you're diagnosed with a specific illness or condition, as listed on the policy.