Getting divorced is an emotional, stressful and complicated time. For many people it means untangling a lifetime of joint finances, sorting out child arrangements, and dealing with the emotional fallout of the split.
With all that going on, it's hardly surprisingly that life insurance policies get left by the wayside. But these policies could be valuable, and you probably want to make sure that any payouts aren't going to your ex when you die. If it's been years since the split, you might even have a new partner or children to consider.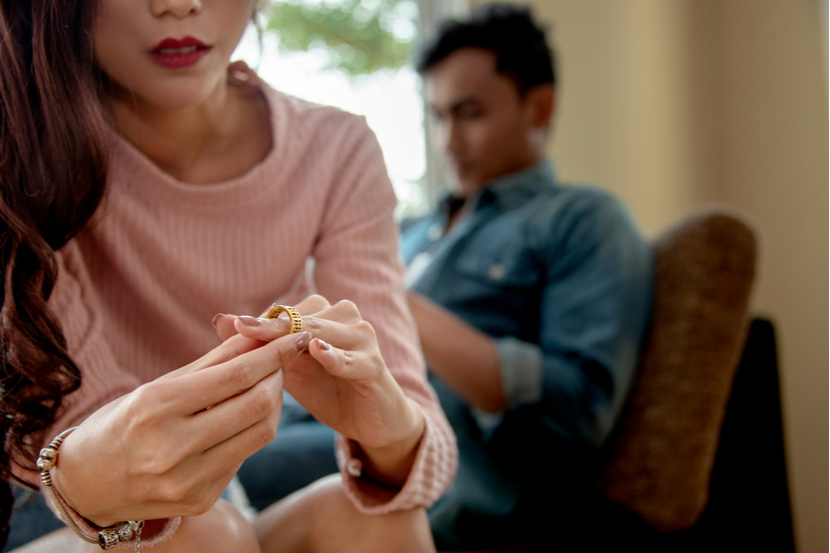 Sorting out life insurance after a divorce can be easy or difficult, depending on:
What sort of policy you have
When it was taken out
Who paid the premiums
When it expires
Here's what you need to know.
What happens to joint life insurance after divorce?
If you leave your joint life insurance policy as it is, you'll likely keep paying premiums. That means either you or your ex-spouse benefits depending on who dies first, according to the terms of the policy.
If you're getting divorced, there are a few options available to you.
Separation clause - Some insurers offer a separation clause that allows you to turn the joint life policy into two individual single-life policies. Not all insurers offer this option.
One person takes over the policy - You and your ex-spouse mutually agree who takes over the policy. It's then signed over to the chosen person via a legal document. They take over sole responsibility for paying the premiums and can choose the beneficiary.
Cancelling the policy - If you cancel a joint-life policy, both parties can then take out single life cover if they want to. But new policies might be more expensive, particularly if you're older or have pre-existing medical conditions.
What happens to individual life insurance after divorce?
If you or your ex has a single life insurance policy, this is much easier to navigate. The main thing to check is who the main beneficiary is.
If you set the policy up when you were married, it's likely you set the payout to go to your ex. You need to decide if you still want that to be the case.
You might prefer to change it to a new partner, a family member or your kids. If your children are young, you might decide to keep things as they are so your ex can use the money to look after them after you're gone.
If you decide to change the beneficiary, contact your insurer. You can usually select a new person just by filling in a form. This might also be a good time to make sure you change the terms of your will.
Your ex might wish to take a new insurance policy out on you, particularly if you pay spousal or child maintenance.
What happens to mortgage life insurance after divorce?
Mortgage life insurance is a policy you take out to make sure your house can be paid off in full after you die. Some lenders even insist you have this insurance before they offer you a mortgage.
When you divorce, you need to think about what happens to this policy. If you're selling up and splitting the proceeds, you might not want or need the policy anymore.
Equally, if one of you is buying the other out either with cash or a new mortgage, you won't need the original mortgage insurance policy anymore.
Of course, the individual keeping the house might want a new one to cover any further mortgage payments they need to make.
If you maintain joint ownership after the divorce, you might need to keep the policy in place while you're both still paying the mortgage.
What are the life insurance beneficiary rules after divorce?
Once you've divorced, you can change the beneficiary on single-life policies to whomever you want.
Options to consider are:
Your new spouse or partner, particularly if you buy a house together or have children
Your ex-spouse if they're the primary carer for your children
Your children, perhaps left in trust until they're older
Another family member or loved one
Start a life insurance quote
Is a life insurance policy valid after divorce?
Yes. All life insurance policies remain valid once you're divorced. The main thing to consider is who pays the premiums and who benefits.
For single-life policies you simply need to select your new beneficiary. For joint-policies you need to decide who gets the policy, split it or cancel it. For mortgage policies you usually cancel them unless you continue to own the home together.
If you do nothing, you keep paying premiums as you did when you were married and the beneficiary remains the same.
Can my ex-spouse collect my life insurance payout?
Yes. Your ex-spouse stays as the beneficiary of your life insurance policy unless you decide to change it.
That means if you die without updating your wishes, all the money goes to your ex.
If you want someone else to benefit, you must write to the insurance company and get the beneficiary updated.
What about death in service after divorce?
Death in service is a valuable benefit offered by insurers that pays out a multiple of your salary if you die while employed.
When you start your job, you're typically given a form to fill in, which explains where you want the money to go.
If you put your spouse when you were married and haven't changed it, they get the money when you die.
Updating this is easy. Usually, you can do it online through an intranet or benefits portal, but you can also ask your HR team.