Finding cheap car insurance as a student can be difficult. You may not need to drive all year round so an annual car insurance policy could add unnecessary costs.
Whether you're planning a road trip with friends or are driving home for Christmas, temporary student car insurance offers a more flexible solution. Lower the cost of driving while at university by only paying for the cover you need.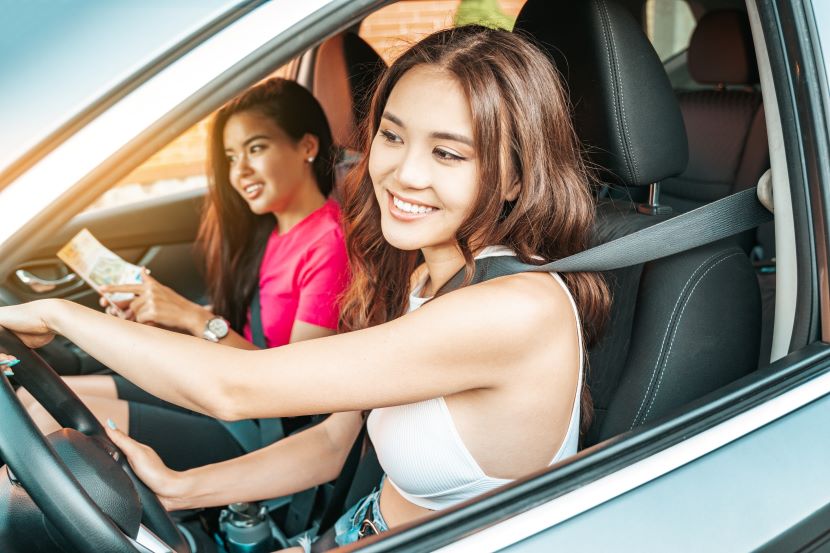 What is temporary student car insurance?
Short-term or temporary student car insurance is a type of temporary car insurance designed to meet the needs of students. It can offer you cover for another person's vehicle from 1 hour to 28 days.

You don't have to commit to a long-term insurance policy when choosing temporary car insurance. Instead, you can get a short-term policy to use another person's vehicle - for example, a parent's or friend's car.

By using temporary student car insurance, you don't have to add yourself as a named driver to another person's policy. This can sometimes work out cheaper and shouldn't affect the vehicle owner's no-claims bonus.
Who is temporary student insurance suitable for?
Different policies have different eligibility criteria. But, you should be able to get temporary student car insurance if you:
Are a registered student

Are aged between 18-27

Have a full, valid UK driving licence (issued in England, Wales or Scotland)

Have a permanent UK address

Have been driving for at least 6 months

Have permission from the owner of the vehicle you want to cover
If you're not a student, there are other temporary car insurance policies you can choose from.
What does temporary student car insurance cover?
This depends on your chosen policy and insurance provider.
Some insurers only cover vehicles valued from £1,500 to £25,000 or those that are up to 7 years old.
Many temporary car insurance policies for students include:
Comprehensive cover: Comprehensive cover as standard means you have the highest level of cover. This includes damage to the vehicle you're borrowing.

Legal expenses cover: Legal expenses cover means your legal costs should be covered during an accident. Depending on the insurer, there may be a maximum amount that can be paid out.

Personal accident cover: This means you can make a claim if you suffer from injuries during a car accident. Every insurer should have a maximum payout amount.

Medical expenses: Should a car accident result in medical costs, you can make a claim with your insurer.

Personal belongings cover: This includes cover for any lost, damaged or stolen personal belongings during an accident, fire or theft.
How much is temporary car insurance for students?
The cost of your temporary car insurance depends on a variety of factors. These include:
Your age
The length of time you need the policy for
Your driving experience
The car you're borrowing
Your location
By comparing temporary insurance, you could find cheaper options as you're only paying for the cover you need.
It can be especially helpful for new or learner drivers looking for car insurance, as their lack of experience could increase their insurance costs.
It's important that you're honest with the insurers when you compare quotes to get a more accurate policy. Withholding information could mean that your policy is at risk of being invalidated.
Compare temporary car insurance quotes
Why would I need short-term car insurance as a student?
Just about to move to university and need to use a friend's car? Want to share the driving with your parents over Christmas break? Temporary student car insurance could be worth considering.
Short-term car insurance is designed to help you keep your independence. So, students might need temporary car insurance when:
Moving their stuff to campus
Driving home from university
Driving during road trips or holidays
Borrowing their parent's or friend's car
Faced with an emergency
Benefits of temporary student car insurance
Short-term or temporary car insurance can be a quick and convenient option for students. You get fully comprehensive cover without the cost of an annual policy.
The main benefits of temporary car insurance include:
Flexibility and convenience: You can set up your temporary car insurance cover for as little as 1 hour or as many as 28 days. You can prearrange cover for future use or even organised last minute for an emergency.
It could save you time and money: You don't need to wait to apply for a new insurance policy or change an existing one. You only pay for the cover you need during the requested time you need it.
Protects no-claims discount: Some vehicle owners may be reluctant to let you drive their car as it could risk the no-claims discount they've built up. Temporary car insurance policies offer peace of mind as it doesn't affect the no-claims bonus of the person whose car you're borrowing.
What other options are available to students?
Other than temporary car insurance, students also have the following options when driving:
Annual car insurance
If you have your own car, you have the option of choosing an annual car insurance policy. This is especially helpful to students who drive often.
You have the option of choosing from 3 main types of car insurance:
Third-party: This is the lowest level of cover available to drive legally. It covers you if you damage someone else's property or injure them while driving. It also covers your passengers.
Third-party, fire and theft: This insures you against damage you might cause to someone else, their car or their property, including passengers. It also covers the repair or replacement of your car if it's stolen or damaged by fire.
Fully comprehensive: Also known as 'fully comp', this gives you the most protection. It covers you, your car and other people and their property.
Pay as you go car insurance
Pay as you go car insurance charges you based on the number of miles you drive.
To start, you pay a flat base rate for your cover. You then pay extra on top of this for each additional mile you drive. It could be a cheaper option for those who only drive every now and then. The flat base rate is often cheaper than what you might be expected to pay for a standard car insurance policy.
Adding yourself as a named driver
You can add yourself as a named driver to a friend's or parent's car insurance policy. This means you become an additional driver with the same cover as the vehicle's owner. You can then drive their car at any time.
Be careful of car insurance fronting when adding a named driver as it could invalidate your insurance.
Fronting is when someone claims a more experienced driver is the main driver of the vehicle when that's not the case. It's often done to get lower insurance costs, but it's a type of fraud that comes with risks such as invalid claims.
Be honest with your insurer to help avoid these risks.