Australia is a popular holiday location for Brits who are drawn by the amazing weather, friendly locals and abundance of culture and natural beauty spots.
Read our guide to learn what the rules are around travel to Australia from the UK, the latest coronavirus requirements, whether you need an Australia visa and how to find the best travel insurance deals.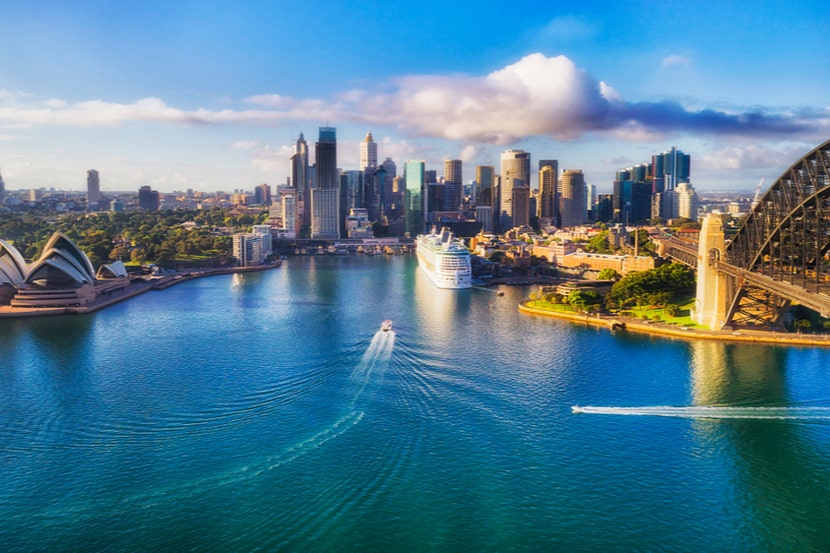 Before you rush and book your tickets, it's important to get all your documents in order. Flights can be expensive, so make sure you sort out your visas and travel insurance first. Australia is vast, so your needs depend on what kind of trip you have planned. This could be anything from skiing and snowboarding or water sports, to city breaks or remote locations.
Can I travel to Australia from the UK?
Generally, Brits are allowed to travel to Australia for holidays, but you need a valid visa. You also need to make sure your passport is valid for the entire trip.
The UK government advises checking with your transport provider or travel company to make sure travel documents meet their requirements.
You also want to make sure you have the right travel insurance policy in place. This needs to be geared towards exactly where you're going and what you'll do when there. For instance, if water sports are high on the agenda, you might need additional activity travel insurance.
Of course, the pandemic has complicated things, and there are other considerations before you travel. Australia sets its own coronavirus travel restrictions, and the rules are based on whether you're vaccinated or not.
Australia travel restrictions
If you're fully vaccinated, you can travel to Australia as normal without a travel exemption. You can check the definition of 'fully vaccinated' on the Australian Department of Home Affairs website. If you were vaccinated in the UK, you need to provide proof via a certificate. This must include:
Your name as it appears in your passport
Date of birth, passport number or national identity number
The vaccine brand name
The date of each dose or the date on which a full course of immunisation was completed.
You also need to show a negative Covid test.
This can either be a:
Negative PCR taken within 3 days of your scheduled departure,
Negative Rapid Antigen Test taken under medical supervision within 24 hours of departure.
You need to submit a Digital Passenger Declaration within 72 hours before departure. This asks for details about your vaccination records and negative test.
You might also need to comply with specific state or territory requirements. Check these carefully, as they could include border entry registration forms or quarantine. Many states also say you need to take a Covid test on arrival.
If you're unvaccinated, you might need an exemption. You can find out about possible exemptions on the Australia Home Affairs site.
Do I need travel insurance for Australia?
You're not required to have travel insurance to enter Australia, but it's worth considering. For starters, getting there involves long-haul flights often with multiple stops. This means there's lots of opportunity for things to go wrong, such as lost baggage.
Travel isn't just time-consuming, it's also expensive. Putting cover in place from the get-go means you're protected if the holiday is cancelled due to unforeseen circumstances.
While UK nationals get basic, subsidised medicare thanks to a reciprocal agreement between the two governments – there are exclusions. These include things like ambulance travel, which can be expensive. Travel insurance is important to make sure you're covered against illness and injury.
You might also need specific insurance for popular activities such as scuba diving, bungee jumping or shark diving.
Finding the right cover doesn't mean just choosing the cheapest policy. Going too basic may mean you don't have the right limits in place, so you end up out of pocket. Low premiums may also mean a higher excess, so you could be worse off if you claim.
A decent insurance policy should include medical expenses of at least £2million, which helps with repatriation if you need it. Make sure things like lost baggage cover are high enough to meet your needs and check the cancellation cover carefully.
Travel insurance for Australia
Here are the different types of insurance you might want to consider when travelling to Australia.
Winter sports or ski travel insurance is a must if you're planning on skiing or snowboarding while down under.
Cruise travel insurance covers activities and scenarios for a cruise holiday, such as missed port departures and excursions.
One-way travel insurance UK to Australia is designed for people moving abroad, or those who don't have a return ticket. It covers the outward journey.
Pre-existing medical conditions travel insurance is ideal for someone who has a medical condition that they want to cover under their policy.
Over-70 travel insurance is designed specifically for senior travellers
Multi trip insurance covers you for multiple trips over a 12-month period – good for regular globetrotters or those who travel for work.
Family travel insurance typically covers 1 or 2 adults who live at the same location as well as at least one child. Many insurers cover up to 8 children on one policy.
Backpackers' travel insurance covers you for longer trips and multiple locations.
Extreme sports cover is necessary if you're planning rock climbing, scuba diving or other sports and activities.
Why should I visit Australia?
Whether you're into extreme sports, exploring cities or lying on a beach, Australia has something for everyone. There's an abundance of natural beauty with coastlines stretching over 35,000 km. From farms to cities, waterfalls to skyscrapers, crocs to kangaroos, there's masses to do and see.
The cities are melting pots of different nationalities and cultures, which creates a unique Australian vibe. There's aboriginal art on every corner, not to mention some of the world's most famous landmarks and tourist attractions.
Do I need a visa for Australia?
It's important to make sure you have the right type of visa before entering Australia. Having the wrong documents could end in you being refused entry or sent home.
An eVisitor visa is free and lets you travel for up to 3 months at a time. While 75% of applications are granted within 4days, it can take longer. The Australian Home Affairs website says 90% of applications are processed within 30 days. It has warned of delays due to the global pandemic.
Alternatively, you can arrange an Electronic Travel Authority via a travel agent or airline. This also allows you to stay for up to 3 months. You need to pay a $20 service fee if you go down this route.
Other types of visas for Australia
Working or holiday working visas
If you want to work while in Australia – even if it's a working holiday - you need a specific visa. The Australian government says there are 44 different kinds that might apply, depending on your specific circumstances. You can use this handy tool to find the most appropriate visa option, costs and requirements.
Partner or family visas
There are various visas available, depending on whether you're joining a partner or spouse, children, other family members or caring for a sick relative. In total, there are 37 options.
If you're planning to study in Australia, you need either a student visa or a training visa. You can also get a student guardian visa if you want to support a child studying in Australia. You can find out all the costs and entry requirements on the home affairs website.
If you want to move to Australia permanently or stay longer, you need specialist visas, which you can explore further at GOV.AU.
When is the best time to visit Australia?
There are many climates, including tropical in the north-east, desert in the west, and temperate in the south-east. Temperatures range from below 0°C to anything above 30°C.
Australia is no stranger to freak weather, often affected by severe floods, cyclones and bushfires. It's a safe country to visit, as long as you pay heed to weather warnings from local authorities.
Determining the best time of year to go depends on which part of the country you're visiting and what you want to do. Skiers and scuba divers are likely to have different requirements, for instance.
The best places to visit in Australia
Australia is on almost everyone's list of places to visit and there's no wonder why. Some of the most popular places to visit include Daintree Rainforest, Whitsunday Islands, the Great Barrier Reef, Sydney Opera House, Uluru, and Hunter Valley.
More Australia travel advice
| Currency | The Australian dollar |
| --- | --- |
| Money info | Debit/credit cards are accepted all over Australia. But it's best to take a combination of cash, credit cards and/or prepaid cards (which can be topped up by anyone while you're away). Make sure you contact your bank before you travel, to avoid any restrictions being applied |
| Official language | English. Many variations of indigenous languages are spoken throughout the continent. |
| Capital | Canberra |
| Time difference | There are three time zones: (AEST) Australian Eastern Standard Time, (ACST) Australian Central Standard Time, (AWST) Australian Western Standard Time |
| Vaccinations | Aside from the coronavirus jab, there are no vaccinations required, but it's best to visit your GP a few weeks before you travel. They can assess what treatments you might need. |
| British embassy | You can find British consulates in Canberra, Sydney, Melbourne, Brisbane and Perth. |
| Driving in Australia | All vehicles in the country drive on the left. If you intend on driving during your visit you will need: |
| | |
| | |
| | For more information look at our guide to driving in Australia. |
| National dish | It may come as a surprise that roast lamb was voted as the national dish, with BBQ prawns ('shrimp on the barbie') coming in third place. Other favourites include kangaroo steaks and barramundi. |
| Local information site | |