Are you a pavement parker? If you are, you could face a fine.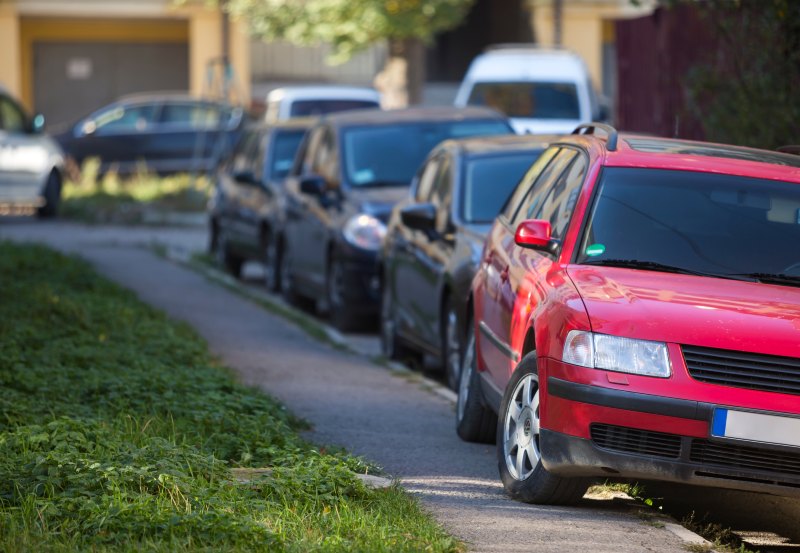 Pavement parking is a problem that peeves pedestrians.
We asked people across the UK, and more than half of them* (55%) have been affected by someone parking on the pavement.
In some areas with narrow streets, motorists don't have a choice but to park on paths, as their cars could hold up traffic or block emergency vehicles.
The rules surrounding parking are already something of a minefield, and a quarter (25%) of people are confused by pavement parking.
And it could become more confusing yet, as some parts of the UK are considering banning it entirely.
So what could change if they start to crack down?
Is it illegal to park on the pavement?
In most places, pavement parking bans are enforced by the local council.
But they can charge you only if you're parked on yellow lines or if signs say it's not permitted.
If you've been caught parking on the pavement by the police, you could be charged with "unnecessary obstruction of any part of the highway".
But, according to the Living Streets foundation, they rarely take action.
That's because the existing laws are unclear, and it can be difficult to prosecute.
Almost one in two (47%) people told us they had to park on the path because they didn't want to obstruct the road.
Just over half (53%) said they parked on the pavement because the road was too narrow.
Obstructing the road may mean drivers have to squeeze between cars, potentially causing damage to parked cars, resulting in car insurance claims.
Compare car insurance quotes
What are the changes to pavement parking?
Some of the UK's nations are now rallying to stop parking on the pavement. This'll be welcome news to UK residents, as almost a third (32%) would support a ban.
But each country is at a different stage with their plans.
Scotland
Scotland was the pioneer of launching a nationwide ban on pavement parking.
Once the details are ironed out, parking on any pavement in Scotland will be illegal.
Any motorists caught will receive a penalty charge notice (PCN).
The Scottish government announced the ban in 2019, but as it's nationwide, it's thought that it'll take five years to implement.
Wales
From the middle of next year, local authorities in Wales will have the authority to crack down on pavement parkers.
The Welsh government says it doesn't want to penalise people if they have no other choice but to park on the pavement.
By giving the responsibility to local councils, they can target hotspots and use their discretion to penalise pavement parking.
England
Currently in England it's illegal to park on the pavement only in London.
This could change, though, as the Westminster government last year ran a consultation on ways to solve the pavement parking issue.
One option was to follow Wales's lead and let local councils tackle pavement parking.
The government has also suggested improving the system that councils use to make parking restrictions, as it's time-consuming and labour-intensive.
But no legislative proposals have been introduced as a result of the consultation.
Northern Ireland
There's no blanket ban on parking in Northern Ireland.
In built-up areas – known as urban clearways – pavement parking is banned. It's also banned on yellow lines and wherever signs prevent it.
Why can't I always park on the pavement?
When you park on the pavement, you're blocking part of the footway.
As a result, pedestrians may have no choice but to walk round your car via the road – putting themselves at risk.
More than seven in 10 (72%) people told us they'd had to do this due to pavement parkers.
More than two in five (44%) told us they felt in danger because of this.
The issue is particularly worrying for people who have a disability, are elderly or have young children.
Stephen Edwards, director of policy and communications at Living Streets, said:
"We're regularly contacted by disabled and older people who feel trapped in their homes because there isn't enough room on the pavement for wheelchairs or mobility scooters.
"This has impacted more people during the pandemic, with blocked pavements affecting everyone's ability to physically distance."
Pavements aren't designed to be parked on, and over time the surface can become uneven or cracked, causing trip hazards.
What will happen if I'm caught parking on the pavement?
You'll receive a PCN if you're caught parking on a pavement where it's not permitted.
You may receive a charge that you have to pay within 28 days, this is usually reduced if you pay within 14 days.
This will depend on your local council's rules, though.
If you're caught by the police, you'll be charged with the "offence of obstruction" and be given a fixed penalty notice.
You could be charged up to £200 and get penalty points on your licence.
What can I do if someone parks on the pavement outside my house?
It depends on where in the UK it is, and what the local laws are. If, for example, you're in London, where it's not allowed, you can call the local authority and ask if they can send a traffic warden to have a look.
But if you live elsewhere, unless or until there is a blanket ban on the practice, you might find there's little you can do about it.
It could be worse, a motorist could park on your private driveway - a situation the police can do very little about.
*Figures taken from omnibus research carried out by OnePoll on behalf of Confused.com. This was a nationally-representative poll of 2,000 UK adults. The research was conducted between 11 November and 13 November 2020.