Parking rules and restrictions
From Bank Holidays to Blue Badges, here are the answers to your most burning parking questions.
Parking rules and the potential of incurring hefty fines are among the biggest annoyances and sources of confusion for motorists.

Regulations often vary from area to area and can differ depending on whether local councils or private companies are in charge.

We've answered some of the most common parking-related questions in a bid to give you a clearer picture of your rights and obligations.
Is parking free on bank holidays? Do traffic wardens even work during a bank holiday?
Not necessarily. Many signs only specify which days of the week parking restrictions apply, for example Monday to Saturday. While you might think that Sunday rules should apply to a Bank Holiday Monday, say, this is not always the case.

Unless the sign expressly says that restrictions don't apply on Bank Holidays, you should assume they do. In case of local authority car parks, you could check the relevant section of the council website in advance to see if regulations are suspended at any particular times.

Any council that does enforce parking rules on Bank Holidays is likely to make sure there are at least some traffic wardens working on those days to issue fines if necessary.
READ MORE: When can you park on the yellow lines?
Will I be fined if I overstay for a couple of minutes?
New rules were introduced in 2015 that allowed drivers a 10-minute "grace period" if they overstay their paid-for parking time.

But this only applies to spaces and car parks run by councils: there are no grace periods on private car parks, so you can still be fined even if you're just a minute or two late in returning to your car.

Bear in mind that the grace period doesn't apply if you've not paid for parking ie you're not at liberty to park for up to 10 minutes without buying a ticket.
What happens if I don't pay a parking fine?
This depends on who issued it. If you fail to pay a Penalty Charge Notice (PCN) from the local authority or police within 28 days, the fine can be increased by 50%. The amount of the fine is often reduced by 50% if you pay within 14 days.
If you don't pay after that, the issuing authority can take legal action to recover the money, which can involve a court order and, if necessary, bailiffs.
If your parking ticket is a Fixed Penalty Notice, typically issued by the police for more serious offences, failure to pay can lead to a criminal prosecution. This can result in a larger fine as well as having to foot the bill for court costs.
If your parking fine is imposed by a private company, they can take court action in order to recover what they think you owe them – although their fines should be "fair". If you disagree with a private parking ticket or the level of fine, you can challenge it.
READ MORE: How to fight your parking fine
Can Blue Badge holders park on double yellow lines?
Yes, holders of official disabled badges can, in certain circumstances. The official government guidelines state:
"Blue Badge holders may park on single or double yellow lines for up to three hours but in general not where there are restrictions on loading or unloading – indicated by yellow kerb dashes and/or signs on plates."
Loading restriction marks run across the kerb at right angles to the road: double yellow marks on the kerb mean no loading at any time, while single yellow marks mean loading is restricted at certain times. This should be shown on nearby signs.
What's the nearest you may park to a junction?
According to the Highway Code, motorists should not park "opposite or within 10 metres (32 feet) of a junction, except in an authorised parking space".
While the Highway Code isn't the law, it can be used to support decisions made by the police or other officials responsible for parking enforcement.
For example, if you park within 10 metres of a junction, a police officer may issue a ticket if they believe you're causing an obstruction – and their case could be given some support by this section of the Highway Code.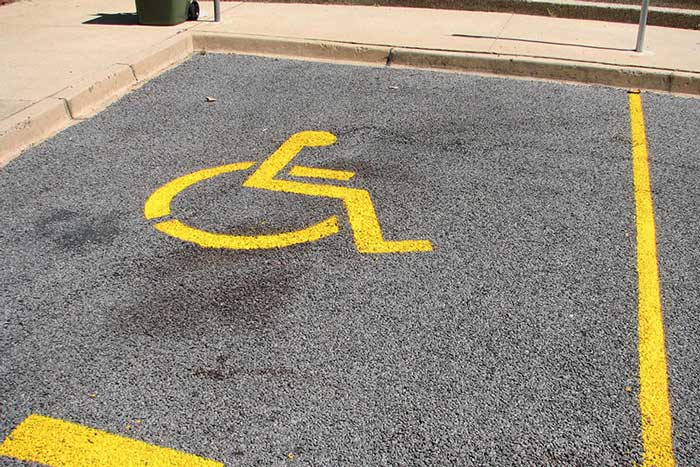 What is the penalty for parking in a disabled bay at the supermarket?
While parking in an official council-run disabled bay can result in a Fixed Penalty Notice (FPN) being issued, doing so in a privately run car park, such as at a supermarket, is more of a grey area.
Operators may ask motorists who wrongly use disabled bays to move and they can also issue fines. But these can be harder to enforce than FPNs – not least because the Blue Badge system does not officially apply in private car parks.
Nonetheless, drivers who abuse the disabled bay provision in private car parks can face significant penalties and the threat of legal action if they refuse to pay.
Is it legal for my car to be clamped?
Under rules introduced in 2012, wheel-clamping by companies on private land is now outlawed in England and Wales.
Until that point, many private parking companies had clamped vehicles they considered to be illegitimately parked – at the significant expense and frustration of motorists.
However, some organisations, including the police, local councils and the DVLA, can still clamp cars on private land as well as on the public highway.
This might be because a vehicle is not taxed or properly insured. If you are in debt to your local council, it has the right in some circumstances to instruct bailiffs to clamp your vehicle.
Clamping on private land has been an offence in Scotland for more than 25 years.
Parking permits
In some areas, road markings are used to create parking spaces for residents. To use these, residents have to apply for a parking permit.
There are three types of parking permit: Resident permits, visitor permits and visitor only permits.
These are limited to two resident permits and one visitor permit per property.
It's worth noting that some properties may not be entitled to a permit, as sometimes restrictions apply. Your local council will have more information on these restrictions.
If you're illegally parked in a residential area during the hours of operation you will face a penalty charge notice.
I was given a parking ticket but the road markings weren't clear. Do I have to pay?
This really depends on how unclear the road markings were. If you were fined for parking on double-yellow lines but they had been worn away to a considerable extent, this could help in an appeal against your ticket.
The key is to gather as much evidence as possible related to the alleged offence, so take pictures of the road markings as well as the positioning – or lack of – of any signs. The more evidence you have to support an appeal, the better.
First published 11 April 2017