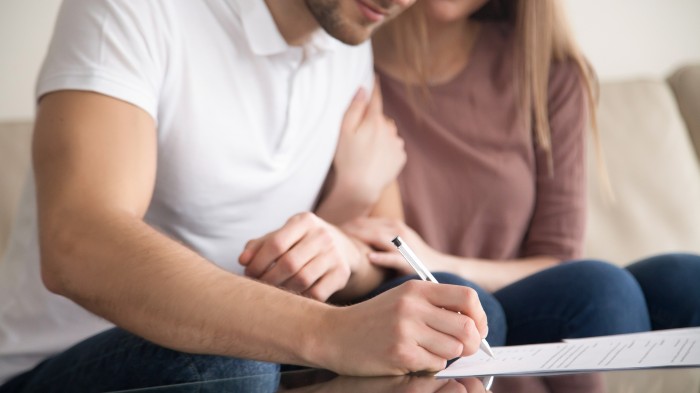 We look at the right to buy scheme, and how it could benefit you if you live in a council-owned property.
If you're a tenant in a council-owned property, you may be able to purchase your home at a substantial discount.
This is thanks to the Right to Buy scheme, which was originally introduced in the 1980s. But recently it's been re-launched.
How does Right to Buy work?
Right to Buy gives most council tenants – as well as some people who live in housing association homes – the opportunity to buy their house or flat from their landlord.
Sometimes, this can be at a price as much as 70% below the current market value.
To kick the process off, tenants submit an application form to their landlord. If the tenant is eligible for Right to Buy, the landlord should provide details of the discount and the sale price for the property.
Am I eligible for Right to Buy?
Now, the Right to Buy scheme is only running in England and, in a slightly different format, in Northern Ireland.
For more details of the Northern Ireland scheme, visit the Housing Rights Northern Ireland website. The information below relates to Right to Buy in England.
The scheme applies to secure local authority tenants who have spent at least three years living in a council-owned house or flat.
It's important to note, though, that this doesn't have to be the last three years.
You can still qualify if you've lived in council or public-sector owned accommodation for a total of three years spread over a much longer period.
But the home you're looking to buy should be your only or main residence.
Right to Buy isn't available on sheltered housing that's designed for disabled or elderly people.
You also won't be able to buy your home through Right to Buy if you have any serious debt problems. This includes being an undischarged bankrupt, having bankruptcy proceedings pending, or having entered into an Individual Voluntary Arrangement (IVA).
You won't be eligible if your landlord has started possession proceedings against you either. For example, for late payment of rent or a breach of your tenancy agreement.
What discount will I get?
The amount of discount you're entitled to depends on the type of property you rent – whether it's a house or a flat – as well as how long you've been a council or other public sector body tenant.
If you've been a council tenant for between three and five years, you could be in line for a 35% discount in a house, and 50% on a flat.
So you'd be able to buy a house worth £150,000, for £97,500 – a saving of £52,500. If you live in a flat valued at £100,000, you'd pay £50,000.
For houses, the discount increases by 1% every year after five years up to a maximum of 70%. The discount is capped, so the biggest discount you can get on a house is currently £84,600. Or £112,800 if you live in a London borough.
As an example, if you've been a council tenant in a house for 15 years, you could get a discount of 45%.
This is the initial 35% discount plus 1% for each of the extra 10 years.
The potential discount rises faster if you live in a flat: it goes up by an extra 2% a year after five years.
So a flat tenant who's lived in council-owned accommodation for 15 years could get the full 70% discount. This is 50% plus 2% a year for 10 years.
The discount on flats is capped at the same level as on houses – so £84,600 or £112,800 if you live in London. These upper limits are increased annually in line with inflation.
How much is my property worth?
If you're planning to take up the Right to Buy offer, you'll need to know how much your home is worth.
You can get some insight by seeing what similar properties in your area have recently sold for. Check with online estate agents for current or recent prices.
When you apply for Right to Buy, your landlord should assess the market value and let you know what this is.
But by doing some research in advance, you can get a better idea of whether the landlord's offer is fair or not.
Making a Right to Buy application
To apply, you need to fill out the official form which is available from ownyourhome.gov. This is known as the Right to Buy application form (RTB1 notice). You can apply jointly with:
Your spouse or civil partner

Someone who's on the tenancy agreement with you

Up to three family members who live with you for the past 12 months (even if they don't share your tenancy agreement)
The landlord usually has to reply in writing with a 'yes' or 'no' within four weeks. This rises to eight weeks if you've lived at your current address for less than three years. If they say no, they must tell you why.
If your landlord agrees to sell you your home, they must send you a separate offer notice - this is known as a section 125 notice. This should detail the price you have to pay and the terms and conditions of the sale.
You should get an offer sale price within eight weeks if you live in a freehold property and 12 weeks if you're in a leasehold property. Read our guide on freehold and leasehold properties for more information.
There are steps you can take if you think your landlord is being too slow to respond or if you are unhappy with their offer – you can find more advice on GOV.UK.
Getting a mortgage on a Right to Buy property
Unless you have a significant sum saved up, you'll need a mortgage in order to make your purchase.
Speak to potential mortgage lenders or brokers before you apply for Right to Buy to check you'll be able to get a loan.
Your ability to borrow, and the size of your potential mortgage, depends on your earnings and other income.
This could include benefits such as Universal Credit. You'll no longer be eligible for this as a homeowner.
Helpfully, some lenders will consider the Right to Buy discount as the deposit on the mortgage.
So you might not need to have thousands of pounds in savings to use as the down payment on your loan.
What are the pros and cons of Right to Buy?
If you buy your home through Right to Buy, you'll get the same advantages as any other property owner: you'll benefit from any rise in the value of your house or flat, and you won't have to worry about rent rises.
At the same time, you'll probably have more freedom to decorate or modernise your home than you might if you were renting.
But there are some potential drawbacks to consider. For a start, there's no guarantee house prices will only rise in future.
And as a property owner you'll be responsible for problems such as a broken-down boiler or general maintenance.
If you live in a flat, you're likely also to face leaseholder's costs like annual ground rent payments and service charges.
You also need to think about what could happen if you need to move.
If you sell within the first five years of ownership, you'll need to repay part of the discount you received – from the whole amount if you sell in the first year, to 20% in the fifth year.