Need a boost to pay for your big day? Here's what you need to know.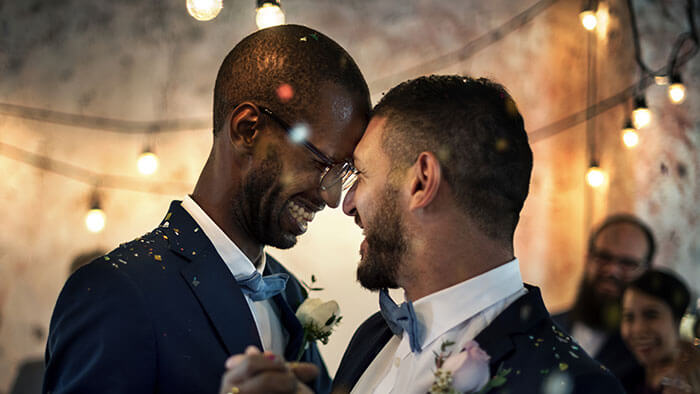 First off - congratulations! If you're reading this, chances are you're planning on getting hitched soon.
You likely know this already, but weddings can be expensive. The average cost of a UK wedding in 2019 was £30,000.
So, you might consider getting a wedding loan to tackle some of that cost. But is it worth it, and what else can you do to lower your costs?
How do wedding loans work?
Wedding loans tend to be personal loans - the same as you'd get for a car or some home improvement.
You can usually borrow between £1,000 and £50,000, and you've some flexibility over how long you take pay it back.
Why consider a wedding loan?
The main benefit is that you can plan your big day for when you want, rather than for 'when you can afford it'.
If you've a good credit rating, you might be able to get a decent interest rate. Taking the loan over a longer term means lower monthly repayments too.
If you're able to budget for it, it could be a quick boost to your wedding fund. That's so long as you don't mind paying it back over the next few years.
What are the drawbacks of a wedding loan?
Straight off the bat, you're starting out your married life with debt, which may put a dampener on your nuptials.
And if your relationship breaks down, settling the debt might become a bone of contention.
As with any kind of debt, if you can't make the repayments, you could damage your credit rating. This could harm your chances of borrowing money later.
What alternatives to wedding loans are there?
If you don't need a great deal of cash, you can use a credit card with 0% interest on purchases. You won't be able to borrow as much, but if your credit rating is good there could be less risk than with a loan.
Paying with a credit card gives you some extra protection under the Consumer Credit Act too. For more information, visit Experian.
You can ask friends and family to loan you some money. They're unlikely to charge you interest, but it could cause a strain on the relationship if you can't pay it back.
If the thought of borrowing in general makes you nervous, you can try to limit your costs instead.
How can I save money on my wedding?
Flex your haggling muscles
Many sellers could hike up their price as soon as you say the word 'wedding'. It won't hurt to try and negotiate and bring the price down a little.
Delay the honeymoon
Don't fall into the tradition of leaving the wedding to go straight to the honeymoon. Book off-season or far enough in advance that your costs are lower.
Cut the guest list
Resist family pressure to invite everyone and their auntie. It's your day – not theirs. Inviting obscure relatives could inflate your costs quite a bit.
Use a playlist instead of a DJ
If you don't want a live band, a Spotify playlist hooked up to some speakers will do the job. You save some cash on hiring a DJ and you don't get any of that awkward banter.
If you want a wedding dress, rent it
How many times do you plan on getting that wedding dress out after the day? Renting the dress rather than buying it could slash your costs a lot.