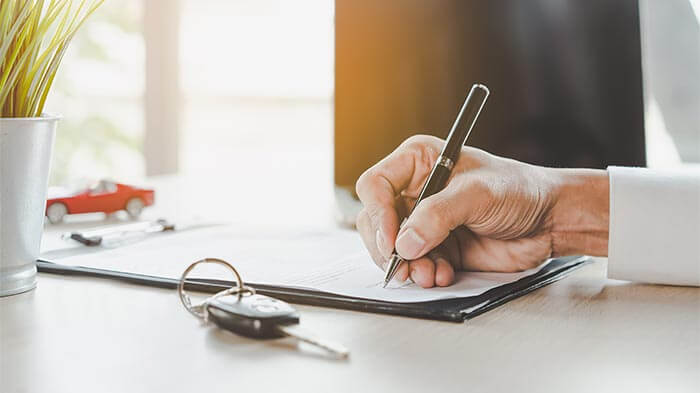 If you're strapped for cash, you might be tempted to put your car on the line to get a loan. But is it worth the risk?
Need to borrow some money, but aren't getting much luck with traditional lenders? One option you might be thinking of is a logbook loan.
But loans like these aren't without their risks, and it's worth treading carefully before you commit to anything. Let's take a look at what a logbook loan entails.
We don't offer this kind of loan – this guide is for informational purposes only. But if you want to compare personal loans, we've got you covered.
What is a logbook loan?
A logbook loan is a type of secured loan that's secured against your car. This means that the lender owns the car until you pay back the loan.
You can still drive the car during the loan term. But if you miss your repayments, the lender could repossess your car.
Logbook loans tend to have higher interest rates than other types of loan. With that in mind, it's not something to enter into lightly. If you've any concerns, it's worth considering independent financial advice before committing to anything.
Logbook loans as described here are available only in England, Wales, and Northern Ireland. In Scotland, lenders might use a different system.
If you're looking to borrow in Scotland, it's worth checking how it differs from the rest of the UK.
How does a logbook loan work?
When you take out a logbook loan, you put up your car as collateral. The lender keeps your car's logbook (V5C) – hence the name 'logbook' loan.
They'll give you a bill of sale certificate. This document says that ownership of the car has transferred from you to the lender during the loan.
Then, you keep making payments until the loan is cleared and you get your logbook back.
Some deals might have you make payments that only cover the interest on the loan. Then, at the end of the agreement, you'd pay off the amount you originally borrowed.
Although the lender keeps hold of your logbook, they don't keep the car itself. You still get to use and drive the car as normal.
How much can I borrow with a logbook loan?
The specific amounts may vary between lenders. According to the Money Advice Service, you could expect to borrow between £500 and £50,000.
The amount a lender is willing to give you depends on the value of your car. Some lenders may ask you to have your car independently valued before agreeing to let you borrow anything.
But, in general, the more valuable your car, the larger the amount you could borrow.
What criteria do I have to meet to get a logbook loan?
Each lender will likely have its own eligibility criteria for who can get a logbook loan. But, in general, you could get a logbook loan if:
You're over 18 years of age
You're the owner of the vehicle
You have your name on the logbook
You have no outstanding finance on the car
The car has valid tax, MOT, and car insurance
The car is roadworthy and in reasonable condition.
What documents do I need to get a logbook loan?
As the name implies, to get a logbook loan you'll need your logbook. This is the V5C document that shows the car is registered in your name.
Outside of that, each lender may have their own requirements for what you need. But as a general rule of thumb, it might be worth collecting the following:
Tax, MOT, and insurance documents – if you can't find these, you might be able to replace your missing paperwork
A spare key
Photo ID like a passport or driving licence
Proof of address like a bank statement or utility bill
The last few months' payslips to show a regular income.
Can I get a logbook loan with bad credit?
Logbook loan lenders tend not to do credit checks. This could make them a more appealing place to look if you have a bad credit history.
The lender should take steps to ensure that you can afford the repayments before offering you the loan. This should help minimise the risk that they'll have to repossess your car.
What are the risks of logbook loans?
The biggest risk when taking out a logbook loan is that you could lose your car if you don't keep up with the repayments.
Not only that, but logbook loans tend to have high interest rates. According to the Financial Conduct Authority, the average APR of a logbook loan is around 400%.
For comparison, the Money Advice Service says the average representative APR of an unsecured loan is around 12%.
This means that the overall cost of the logbook loan could be much higher than if you'd borrowed by other means.
It's worth mentioning that unsecured loans take your credit history into account when working out interest rates.
So, if you have bad credit, you may find the interest rates you get are higher than average with unsecured loans.
Will my car be repossessed if I miss payments?
If you stop making payments on the loan, the lender is entitled to sell the car in order to pay off the outstanding debt.
If the value of the car isn't enough to cover the entire loan, you could still be liable for the remaining amount.
But lenders don't tend to do this unless you've fallen behind on several repayments.
If they decide to seize your car, they have to send you a default notice first, and give you 14 days to respond.
What are the alternatives to logbook loans?
Logbook loans tend to have much higher interest rates than other types of loan. And, if you miss a payment, you risk losing your car.
The Money Advice Service advises that you should avoid using a logbook loan and look for an alternative.
Some options you might want to explore:
Unsecured personal loans
Personal loans aren't secured against your car or home, so there's less risk of repossession. If you have a bad credit history, though, you might find it difficult to get a loan with favourable interest rates.
Vehicle equity release
Rather than have your car under the threat of repossession, you could look at vehicle equity release.
This is where you sell your car to the lender, then buy it back on a hire purchase or personal contract purchase agreement.
This could also offer some protections under the Consumer Credit Act 1974. This also means that this type of borrowing could be available in Scotland.
Budgeting loans
If you need the cash to cover some unexpected costs, you might be able to get a budgeting loan from the government.
You could borrow between £100 and £812, depending on your circumstances. If you're looking for a relatively small amount, this could be an option.