On guard: the best home security devices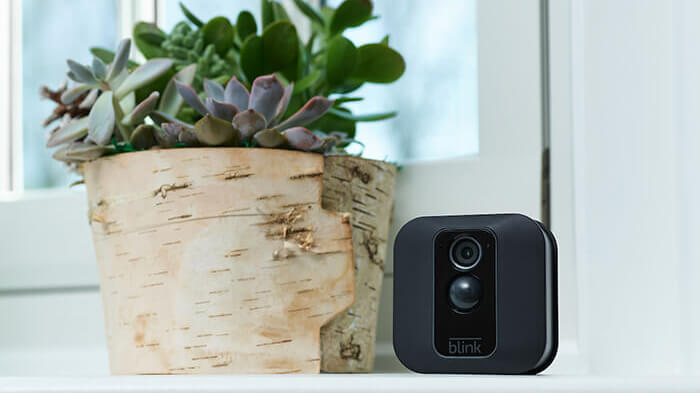 Confused by home security? Don't be. Here's what you need to know.
This article contains affiliate links. If you buy any products via these links, we may earn a small commission at no cost to you.
Are you looking to scare off intruders? Or perhaps you're just curious about what your cat gets up to while you're out? Luckily, devices exist that can do both.
But there's so much choice when it comes to home security and a lot to consider. So where do you start? Let's take a look.
What's in this guide?
What should I think about when getting home security?
First consider what you want the device to do. Do you want the inside and outside of your house monitored? Or one or the other? Do you need a camera or would an alarm system work?
For the best surveillance, you should also make sure the device you choose has some of these features:
Night vision

High-quality video recording

Two-way audio recording

Motion detection

A user-friendly app

Plenty of storage.
What are wireless and wire-free home security systems?
There are two different types of home security systems, either wireless or wire-free.
Wireless is a bit of a misnomer. In this case it means that the camera connects to your wireless network. Most wireless systems need to be plugged into the mains.
Wire-free security is completely wireless, and battery powered. It'll connect to your WiFi too.
Although the batteries will need replacing from time to time, they're usually much easier to position. Saving you time and perhaps money when it comes to installing the system.
Where is the footage from home security systems stored?
The footage for both systems is either stored on an SD card, an external drive or online in the cloud.
There are a couple of drawbacks to both.
If you store the footage on the SD card or drive, criminals could take the device, along with the footage.
The upside of this type of storage is that it's just a one-off payment for the card or drive.
If you're storing footage in the cloud it could be vulnerable to hackers. But you will still have access to the footage if your camera gets stolen.
Sometimes cloud storage comes free. If not, you may have to pay a monthly fee – up to £10 a month in some cases.
One of the upsides to cloud storage though is that there are ways to at least minimise the risk of hacking.
For example:
Upgrade the security system for your device

Make sure logins and passwords are secure and regularly changed

Use wireless encryption so no one can see what your camera sees via the internet.
Which models are the best for home security?
Indoor cameras
Amazon Blink XT2 WiFi Security System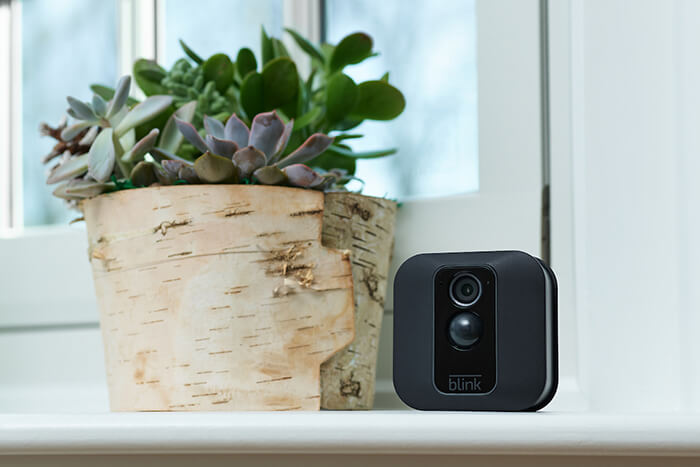 The Amazon Blink ticks all the essential boxes. It has motion detection, it's easy to install and it integrates with Alexa.
You can tell anyone who's not supposed to be there to "get lost" with the two-way audio function.
The Blink has free storage, so you won't be hit by any surprise charges down the line. And two AA batteries last up to two years in the camera.
You can also choose where you want the camera to focus. So you can watch your dog all day and keep an eye out for criminals. A win-win situation.
Although this camera is in the indoor section of this guide, it's completely weatherproof so it'll work outside.
You can view your footage from your smart phone or tablet, and it records in high definition.
Check prices at Currys PC world for Amazon Blink XT2 WiFi Security System
Neos SmartCam WiFi Security Camera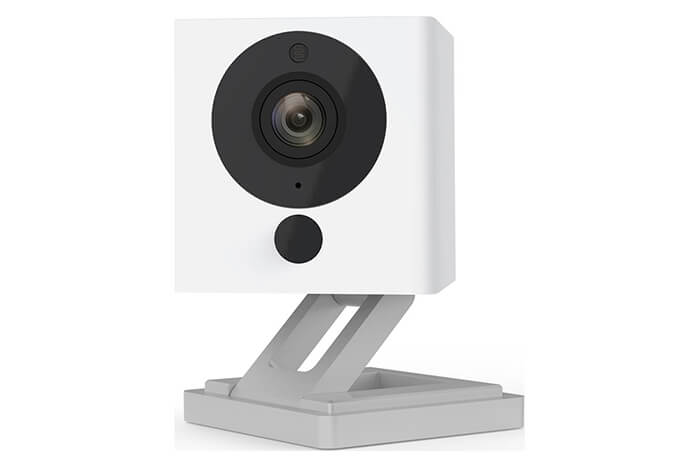 The Neos SmartCam has everything you need. It records in HD, has two-way audio, motion detection and night-vision for up to 9 metres.
Storage-wise you have the best of both worlds with the SmartCam.
Footage stores on the cloud free for up to two weeks. Old footage will automatically delete if you don't use it, freeing up the storage without you having to lift a finger.
It also comes with a micro SD card which automatically overwrites if you don't use the footage.
The SmartCam comes with its own app where you can view a live stream or clips.
If you have a firestick or Alexa display, you can ask Alexa to view the footage from your SmartCam. Perfect if you want to keep an eye on your nursery or look out for any escaped goldfish.
Check prices at Currys PC world for Neos SmartCam WiFi Security Cameras
Doorbell cameras
Ring Video Doorbell 3 Plus
Ring has lots of devices that can be paired to create a home security hub. But if you only want the doorbell camera, it works just as well on its own.
Using the handy app, you can hear, see and speak to visitors.
The Ring video doorbell pairs with Alexa too so you can activate it with voice control.
You can choose how you want to install the Ring cam. Either wire it into the mains or use batteries.
The batteries are quick release, so you don't need to remove the system to change them. Handy if you have the perfect angle.
Check prices at Currys PC world for the Ring Video Doorbell 3 Plus
Google Nest Hello video doorbell
The Google Nest has all the essentials like two-way audio communication, HD video and night vision.
If someone presses the doorbell, it alerts your device with a picture of who's ringing.
You can view the 24/7 stream on the Google Nest app. You can view stored footage here too.
It's not as easy to install as other models and needs professional installation. But an upside of this is that you don't need to spend money on batteries.
The Google Nest doorbell works with Alexa or Google Assistant so you can use your voice to activate the system.
Check prices at Currys PC world for the Google Nest Hello video doorbell
Outdoor cameras
Swann Smart Security system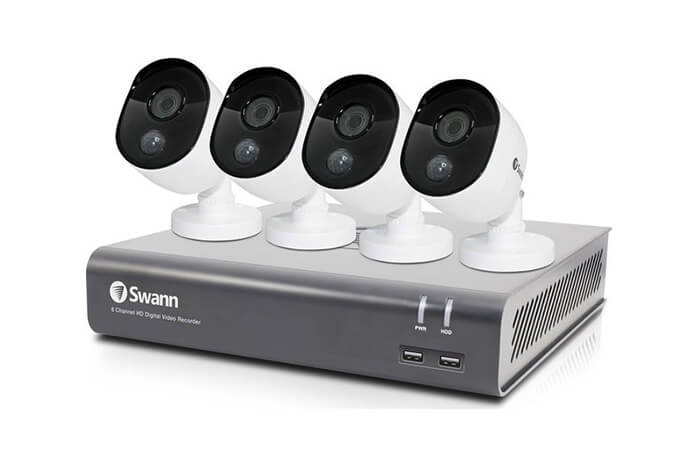 Looking for Fort Knox levels of security? This system could be the answer. The 4-piece camera set uses heat detection to activate its cameras.
Infrared night-vision will keep your home covered at night, with a range of up to 30 to 40 metres in ambient light.
It's weatherproof, so you can keep these cameras outside, but they work just as well inside too.
Swann boasts a 'set and forget' system. This drive records up to a year's worth of footage with no charge. It works with Google Assistant too so you can view live footage whenever you please.
It'll also send snapshots of the footage to your Dropbox account. Extra peace of mind in case the drive is stolen.
This is a wired system so you may need to get it professionally installed.
Check prices at Currys PC world for Swann Smart Security systems
Home security starter kits
Ring Alarm 5 Piece Security Kit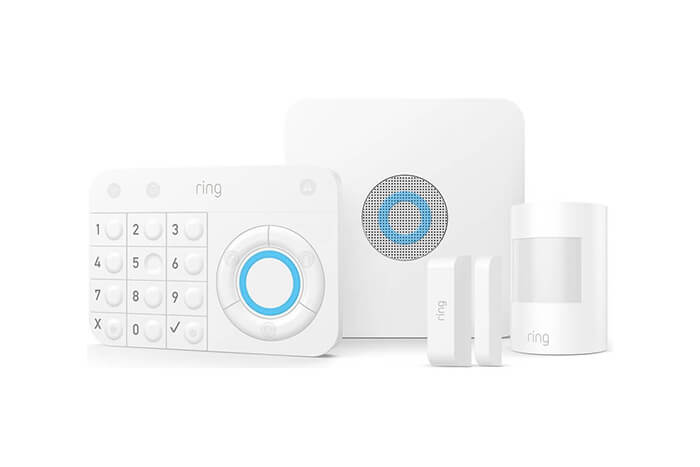 Ring is among brands like Arlo, Google Nest and Hive that integrate devices.
You can either buy these devices as a set – like this one from Ring – or gradually build your home security system bit by bit.
The wire-free system comes with:
A doorbell camera

A motion detector

A door or window sensor

A keypad base station

A remote control.
You can set your alarms even if you're out, using the Ring app. Or you can use the keypad base station to set them.
If any of the sensors are triggered, you'll receive a notification on your phone.
It'll also pair with Alexa, so you can voice activate the system as you leave.
Check prices at Currys PC world for the Ring Alarm 5 Piece Security Kit
YALE IA-320 Sync Smart Home Alarm Family Kit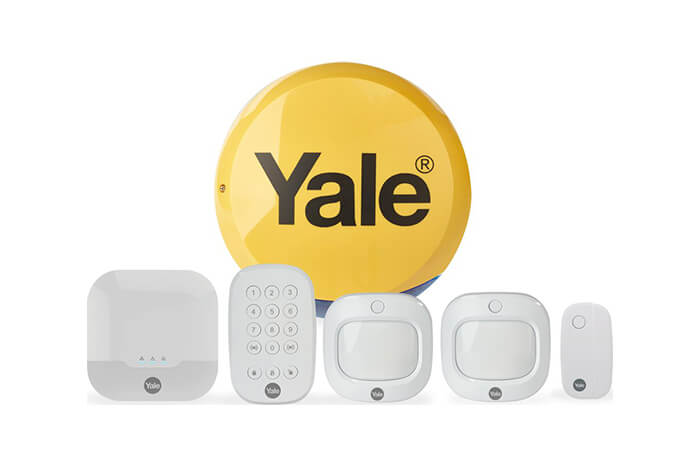 Security godfathers Yale have released a comprehensive family alarm kit.
It's wire-free, so installation is easy and it's fully app-controlled.
The kit includes a hub, siren, two motion detectors, a keypad and a door sensor.
You can change your security setting via the app, and it will send you alerts and reminders too. So you'll know exactly what's happening in your house while you're away.
The door and window detectors will set off the siren if they're triggered. Sending any burglars running for the hills.
There aren't any hidden fees as the system works independently. Plus there's a 200 metre range, so you can place some of the devices in a shed or garage if you need to.
The Yale family kit pairs with the Amazon Echo and Philips Hue Smart lighting. Using sound, light, and voice to ward off intruders.
Check prices at Currys PC world for the YALE IA-320 Alarm Kit