Here's everything you need to know about Dubai travel, including Dubai travel restrictions, travel to Dubai from UK, and whether you'll need a Dubai visa.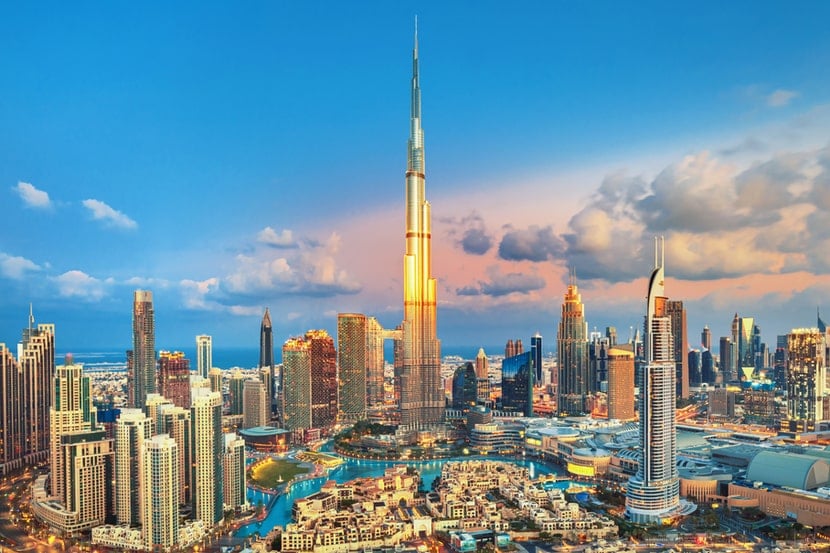 Can I travel to Dubai from the UK?
It's easy to travel to Dubai from the UK, with numerous direct flights, including from London, Birmingham, Manchester and Glasgow.
If you're fully vaccinated you shouldn't need a PCR test before you travel to Dubai, but you should take out travel insurance that includes Covid-19 cover.
Dubai travel restrictions
As of March 2022, you'll need to take a Covid-19 PCR test before you travel to Dubai unless you're:
Fully vaccinated
Hold a Covid-19 recovery certificate with a QR code dated within 30 days of departure
Under 12 years of age
Have severe disabilities
Otherwise you'll need to present a certificate at check in showing a negative Covid-19 PCR result from a test taken no more than 48 hours before departure.
Information/updates on Dubai Covid-19 requirements are available on the UAE Coronavirus updates webpage.
Do I need travel insurance for Dubai?
Yes, travel insurance is currently a mandatory requirement if you're travelling to Dubai and it must include Covid-19 cover. During the pandemic, the United Arab Emirates decided visitors must have travel insurance with medical cover in place for Covid-19 – medical care tends to be quite costly in Dubai.
As well as Covid-19, It's also important to make sure your travel insurance policy covers you for any sports or activities you intend to do while you're on holiday in Dubai, such as sand boarding, dirt biking on sand dunes and sky diving.
Prior to your trip and before you take out travel insurance, you should think about the activities you plan to do while you're away in Dubai and then make sure you have the right cover in place.
Otherwise you might not be covered for costs resulting from any accidents or injuries arising from such activities.
Travel insurance should also give you cover for theft, loss or accidental damage of personal belongings as well as cover for cancelations.
Why should I visit Dubai?
Dubai is one of the most popular and fascinating destinations in the Middle East. On the one hand, it's a sprawling city full of skyscrapers and home to the world's tallest building, the Burj Khalifa.
But it also has some magnificent beaches, including Jumeirah Beach, from where you can see the famous man-made Palm islands. You can also enjoy plenty of water sports on Jumeirah, including jet skiing and parasailing. Your kids might especially like to visit Aquaventure Waterpark on Palm Jumeirah island.
There's some great shopping to be had at Dubai Mall, which is one of the largest shopping centres in the world. As you would expect, there are lots of places to eat at Dubai Mall as well, and it's also a gateway to Burj Khalifa and an ice skating rink. On the subject of winter sports, you could also visit Ski Dubai, a phenomenal indoor ski and snow park that even has its own penguins!
Just remember to take out ski travel insurance if you do.
If you know how to snow board or surf for that matter, then why not give sandboarding on Dubai's sand dunes a go as well. Along with sandboarding, a desert safari will typically include things like camel riding and quad biking.
Soak in the culture of Dubai's old town and visit Dubai Museum, where you'll get a sense of the city's history. For concerts, ballet and opera, there's also the Dubai Opera theatre. You could also visit Abu Dhabi on a day trip, with its impressive Sheikh Zayed Mosque.
If food's your passion, then Dubai won't disappoint you. There's great variety so you should find whatever you're looking for, whether it be Lebanese or a Brazilian grill.
How long is the flight to Dubai from the UK?
A direct flight from London to Dubai takes 6 hours and 50 minutes. The flight time is just over 7 hours if you fly direct from Manchester or Birmingham, while it's 7 hours and 30 minutes from Glasgow.
Do I need a visa for Dubai?
If you're going on holiday to Dubai and a UK passport holder, then you don't need to apply for a Dubai visa before your trip. You'll get a 30-day visa on arrival free of charge. Those travelling to Dubai for work must get their employer to apply for a work visa before they travel.
Depending on the type of trip you plan to take, it's important to make sure you have the right type of visa before travelling to Dubai.
Business visa: This is a long-term visa for entrepreneurs and their families who plan to set up a business in Dubai/UAE.
Remote work visa: Valid for one year, this allows you to live in Dubai/UAE while working remotely for an employer based outside the UAE.
Tourist visa: Citizens of more than 50 countries, including the UK, don't need a pre-arranged tourist visa to enter Dubai.
Patient visa: This allows foreign patients to enter Dubai for private medical treatment – hospitals and medical establishments must apply for this on your behalf.
Transit visa: A transit visa is issued either for 48 hours or for 96 hours, so you can transit through UAE airports. Citizens of more than 50 countries, including the UK, don't need a pre-arranged transit visa to enter Dubai.
Student visa: This is a 5-year visa for an outstanding student and their family who'll be studying at a UAE university or college.
When is the best time to visit Dubai?
For most people, November to February is the best time to visit Dubai, with average temperatures being much cooler than in the summer.
There also tends to be quite a few cultural and sports events during this time of year. For example, the Dubai Shopping Festival takes place in December and January.
Is Dubai expensive?
Dubai isn't a cheap destination, but how much you spend really comes down to the level of luxury you choose, including your accommodation and where you eat out.
The city is commonly ranked as being broadly on par with cities like London, New York and Paris for costs.
The best places to visit in Dubai
Here are some of the most popular attractions in Dubai:
Burj Khalifa: Take in some great views from the world's tallest building.
Aquaventure waterpark: Family fun at one of the world's largest waterparks.
Dubai Marina: Take a yacht tour in between luxury shopping and dining at Dubai Marina.
Dubai Aquarium & Underwater Zoo: Get close to marine life and take a virtual dive.
Miracle Garden: Enjoy the gardens and the millions of flowers.
Extra information before you travel to Dubai
Currency: United Arab Emirates dirham.
Money: Credit/debit cards are accepted all over Dubai. ATMs can be found all across the city. Make sure to tell your bank before you go to avoid any restrictions being applied to your card. If you're bringing cash, it's best to wait and exchange currency in Dubai - you'll find the best rates in malls.
Official language: Arabic. Although English is widely spoken.
Population: 2.1 million.
Time difference: GMT +3
Charges apply for those who overstay their visas.
Vaccinations: There are no vaccinations required for Dubai. It's still best to check with a GP that your routine jabs are all up to date, like measles, mumps and rubella (MMR) and polio.
British embassy: The British Embassy can be found in the city centre of Dubai, on the south bank of the creek.
Driving in Dubai
If you plan on driving during your visit you will need:
For more information visit GOV.UK.
Extra information before travelling to Dubai
Climate: Tropical desert.
Average temp: 30°c - 41°c
National dish: Traditional dishes use a lot of meat, fish and spices, quite similar to Indian and middle eastern food. Be sure to try shawarma - chicken or lamb wrapped in a roti with garlic and spices. Or the more commonly known - hummus and tabbouleh.
Other things to consider: Although Dubai is accepting of cultural differences, you're still expected to be respectful of their culture. Drinking alcohol is only permitted in dedicated areas. These are chiefly hotel, bars and restaurants.
Clothing: Shoulders and legs above the knee should be covered up. Swimsuits can be worn at pools and beach resorts.
Dubai isn't for everyone. But if you've got a few quid to spare, enjoy shopping and sunny beaches, then Dubai should certainly float your dhow.