Having a second home you can use as a getaway from your everyday life can be great! But unlike your main property, you're likely to need holiday home insurance to keep it protected - especially when you're not there.
We explain everything you need to know about holiday home insurance, what it covers and whether you need it.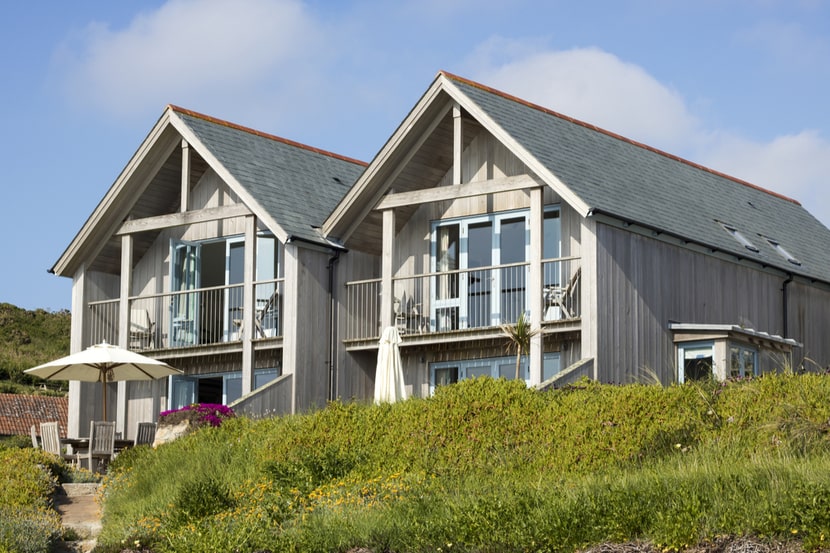 What counts as a holiday home?
A 'holiday home' means you also have a main address as your permanent residence, which can't be your holiday home.
And as the name suggests, holiday home insurance protects your holiday home property.
You may choose to use your holiday home for frequent breaks with your friends and family. Or, to rent it out for extra income.
If you want to use it as a holiday let, you must meet certain rules for a property to qualify as a holiday home. According to HMRC, your holiday home should be available for letting as a furnished holiday accommodation for at least 210 days in the year.
Do I need holiday home insurance?
It's not compulsory to have holiday home insurance, but in many cases holiday homeowners do buy it. This offers extra peace of mind that your holiday home is covered, especially when you're not there.
Do I need buildings insurance for a holiday home?
If you're paying a mortgage on your holiday home, your lender might insist you have buildings insurance. This is to cover the cost of any structural damage to your property.
When buying buildings insurance, make sure you accurately calculate its rebuild costs. If your home gets destroyed by fire or flood, you'd want to have enough cover to rebuild your home from scratch.
Don't forget to include any extensions you've created when calculating your rebuild costs. Also include any outdoor features, such as hot tubs or swimming pools.
Do I need contents insurance for a holiday home?
Contents insurance covers your belongings and is more optional, but it's a good idea if you keep anything of value.
You're not as likely to keep expensive jewellery or other high-value items at your holiday home. But these policies protect other items like furniture, TV or pictures from potential theft, flood or fire.
Why can't I just insure my UK holiday home with a standard home insurance?
A standard home insurance is unlikely to cover you for paying guests or for leaving a property unoccupied for more than 30 days, for example.
The risks are different for holiday homes. When holiday homes are vacant, it leaves the property more susceptible to damages from things like burglary or an unreported leak.
Holiday home insurance also takes into account other people who stay at the property.
This includes guests who might injure themselves while staying at your property. Or guests who damage the property either by accident or through neglect.
How long can I leave my holiday home empty for?
It depends on what's stated in your home insurance terms and conditions.
Unlike standard home insurance policies, holiday home insurance allows you to leave your home vacant for more than 30 days.
Some insurers can cover your unoccupied property for up to 90 consecutive days. While others might not have a limit.
What does holiday home insurance cover?
Your holiday home insurance covers you for situations that don't apply with a standard policy. This includes:
Cover for a holiday home that's empty for more than 30 consecutive days

Cover for friends and family, as well as paying guests

Loss of income if you can't let your home due to damages

Emergency travel to cover the cost of getting to your holiday home for an emergency, like a

burst pipe
Keep in mind all home insurance policies vary so it's well worth taking the time to read through the details.
What doesn't holiday home insurance cover?
Holiday home insurance might not cover the following:
Letting for hen and stag parties as they tend to be riskier occupants

Overseas properties, which need specialist insurance

Homes with more than a certain number of bedrooms, typically 7 or more

Holiday homes used for other reasons such as a halfway house or for social housing
How much is holiday home insurance?
Insurers base your insurance costs on factors like:
The size of your property
Your property's location
How often the property is occupied
The higher risk your property is, the more expensive your holiday home insurance is likely to be.
But you could benefit from tax breaks if your holiday home qualifies as a furnished holiday let. It becomes an allowable expense that's tax deductible.
What add-ons might I need for my holiday home insurance?
You might want to consider optional extras to your holiday home insurance. For instance:
When it comes to keys and locks, have a think about how secure your holiday home is – given that it might be unoccupied for long periods.
When you apply for any home insurance cover, insurers need to know what door locks and patio door locks you have.
In some cases, if you don't have adequate - or approved - locks on your holiday home, you might struggle to get cover at a reasonable price. You might be able to lower the cost if you have a burgular alarm installed.
How can I save on holiday home insurance?
Paying annually instead of monthly. If you pay for insurance monthly, you also have to pay interest, so it's cheaper to pay at once if you can.

Comparing prices and insurers. Never go with the first quote you're given and always shop around when looking for a new policy.

Using a single insurer for both buildings and contents policies. This can sometimes be cheaper than buying 2 separate policies.

Paying a higher excess.

This can lower your costs, although always make sure it's still affordable if you do need to make a claim.

Improving your home security. Fitting an alarm system and adequate locks on your doors and windows should help cut costs.

Keeping your holiday home regularly maintained.

Keeping up with maintenance can be high effort, but worth it in the longer run as it helps reduce the need to claim.
Here you can find more tips on reducing the cost of your home insurance.