What to do if you're hit by an uninsured driver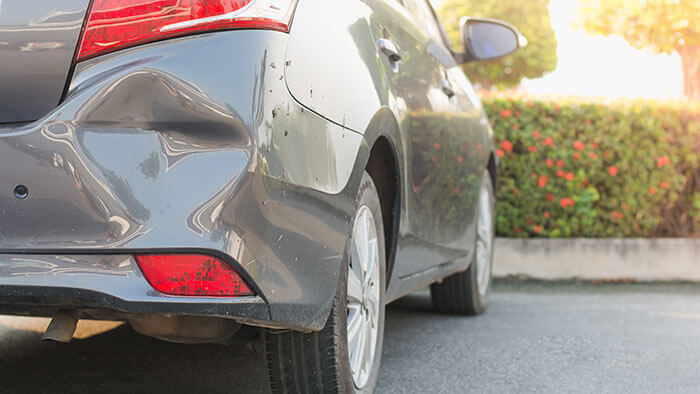 If you're the victim in a hit-and-run, there are still ways you can get support.
Around one in five road traffic collisions involve an uninsured or untraced driver, according to the Motor Insurers' Bureau (MIB).
And the costs of accidents from uninsured drivers adds around £30 to your insurance price.
So, what happens if you get a prang in a car park and the driver either takes off or doesn't have insurance?
All is not lost. Here's what you can do.
What do I do if an uninsured driver hits me?
The first thing to do is take as many details as you can, including:
The make, model and registration number of the other car

The other driver's name and address

Details of any nearby witnesses

Photos and details of any damage.
Get in touch with the police as soon as you can and let them know that the other driver doesn't have insurance.
If you're injured in the accident, you've got 14 days to talk to the police. If there's any damage to property, you need to do this within five days.
You should still get in touch with your insurance company and let them know about the accident. They may be able to help with getting extra details about the other driver.
You can also make a claim with the MIB. They specialise in handling cases where one driver doesn't have car insurance.
The MIB will try to reclaim the costs of the accident from the third party where possible.
READ MORE: When to claim on your car insurance
What do I do if I hit an uninsured driver?
If you're at fault in this scenario, the other driver should be able to claim from your insurance policy. The fact that they're uninsured shouldn't change that.
If you have a comprehensive car insurance policy, you could also claim to cover damage to your car.
You could still report them to the police for not having insurance, though.
What do I do if the other car drives off after hitting me?
In situations like these, the other person is an untraceable driver.
This is a bit more difficult, since you have no details to take to your insurer.
You should still get in touch with the police and your insurer.
The MIB is there to handle claims where there's an untraceable driver. You can make a claim against an untraceable driver on the MIB website.
You'll need to make any claims for property damage within nine months of the accident. There'll be a £300 excess on these claims.
Claims for personal injury need to be made within three years.
Before the MIB can accept your claim, you have to prove that the other driver's negligence caused the accident.
Will my claim be successful?
The MIB will work with your insurance company and the police to work out who's at fault for the accident.
If they find that you were at fault – either wholly or partially – they might reject or reduce the amount of your claim.
But they won't throw out a claim purely because you can't find the other driver.
There are some situations where the MIB might be more likely to reject a claim:
If you were a passenger in a car that you knew wasn't insured

If you were a passenger in a car driven by a drunk-driver

The accident happened on a private road or area that doesn't have full public access.
How do I know if I'm insured?
Driving without insurance is illegal. You could get a £300 fine and six penalty points on your licence.
If it goes to court, the fine could be unlimited, and you could be banned from driving.
So, if you're not sure, you might want to check if your car has valid insurance. The easiest way is to put your reg into the Motor Insurance Database (MID). It'll tell you straight away whether the car has a valid insurance policy.
READ MORE: Is my car insured? How to check your car insurance