The Ultra Low Emission Zone has been expanded beyond central London to cover much of the capital. And drivers who are caught unawares face additional charges. Here's what you need to know about the scheme.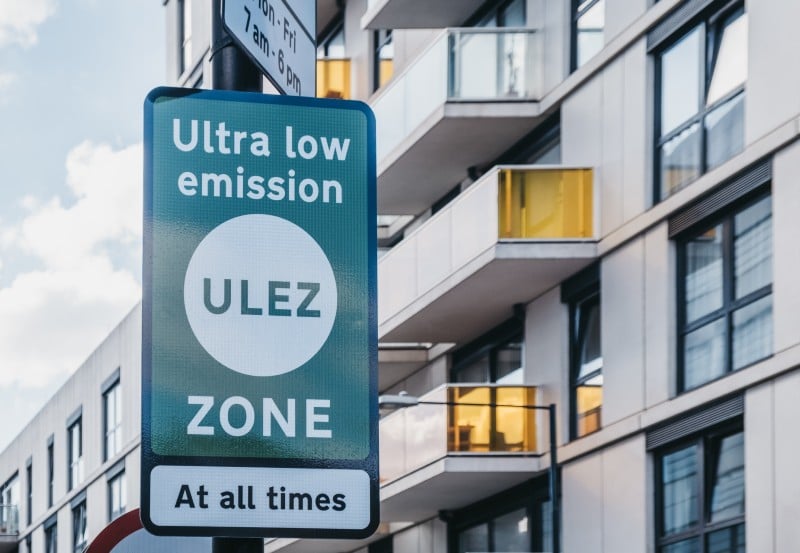 What does ULEZ mean?
ULEZ means that if you drive a car with high levels of emissions, you face an extra charge to enter the designated area.
Transport for London (TfL) introduced the Ultra Low Emission Zone in April 2019 to encourage people to use greener methods of transport in the capital.
In October 2021 it was expanded to cover inner London. The new ULEZ zone is roughly within the boundary of the North and South Orbital roads.
Since the announcement, motorists have been left confused as to why they need to pay ULEZ on top of the congestion charge.
Why is there a ULEZ?
According to Transport for London, road transport is the biggest source of harmful emissions.
The most damaging pollutants are generated by road transport in central London, where the congestion zone operates.
TfL believes that the charge will reduce the number of cars that cause pollution in the capital and improve air quality for its residents.
It estimates that around 40,000 vehicles will be affected every day, as they don't meet the new emissions standards.
Is my car ULEZ compliant?
If your vehicle doesn't meet the low emissions standards you might be charged £12.50 to enter the ULEZ. Heavier vehicles, including lorries over 3.5 tonnes, are charged £100.
TfL has an online checker that you can use to see if you need to pay to drive your vehicle in the ULEZ.
At a glance, the main vehicles that aren't ULEZ compliant are:
All motorbikes, including mopeds, motorised tricycles and quadricycles (L category) that don't meet Euro 3 emissions standards

Euro 4 petrol cars and vans

Euro 6 diesel cars and vans

All heavy vehicles, for example lorries, buses, or coaches that don't meet Euro 6 emissions standards
You can also check where the zone operates using TfL's postcode tool.
Can I make my car ULEZ compliant?
Depending on the vehicle you drive, you might be able to make it ULEZ compliant by retrofitting it with emissions reduction technology.
You can find out more about the retrofit process and get a list of approved suppliers. However these technologies focus on vans and HGVs and are unlikely to be an option for regular car drivers.
For most drivers the most straightforward way of making their car ULEZ compliant would be to replace it with one that does meet the criteria.
One of the options open to motorists is an electric car.
Insurers are also offering specialist electric car insurance policies for EV models. However, you don't strictly need a specialist insurance policy for an electric car. Most car insurance policies should cover a car regardless of its fuel or energy type.
Compare car insurance quotes
Do I need to pay for the ULEZ?
Unlike the congestion charge, the ULEZ charge applies 24 hours a day, 7 days a week except for Christmas Day.
The charge runs from midnight to midnight. If you drive in the ULEZ area before midnight and then again after midnight, you have to pay the charge twice. This is on top of the regular congestion charge.
If you fail to pay the charge, you have to pay a penalty of £160. It's reduced to £80 if paid within 14 days though.
TFL has also put measures in place to accommodate drivers who are looking into alternative ways of travel. Some of these include a bus fare freeze and encouraging cycling or walking.
A full list of discounts and exemptions can be found on the TfL website.
How do I pay for the ULEZ?
There's a variety of ways you can pay the ULEZ, including:
Auto pay – Auto pay and Fleet Auto Pay take payment for the ULEZ automatically. Fleet Auto Pay is useful for business owners as you can register more than 5 vehicles within the charging zone. You should also get a reduced daily charge for using this service.

Pay manually – Pay online on the TfL website.

By phone - You can call 03432 222 222 (TfL call charges apply) and make the payment over the phone.

By app – The TfL Pay to drive in London app helps you to pay your congestion charge, ULEZ and Low emission zone charge. You can pay any penalties through the app too.
How long do I have to pay the ULEZ charge?
If you've driven in the ULEZ you don't have to pay the charge immediately. TfL gives drivers until midnight on the third day following the journey. Fail to make payment in time and you may be given a penalty charge notice (PCN).
Alternatively, if you know you are going to be driving through the ULEZ you can pay up to 90 days in advance.
Do I still have to pay the congestion charge if I pay for the ULEZ?
The congestion charge and ULEZ charge are 2 separate charges. This means that if you enter the congestion charging zone during its hours of operation, you need to pay the fee. This is the case even if you've already paid a ULEZ charge.
What is the ULEZ scrappage scheme?
The idea behind ULEZ is to encourage more environmentally friendly forms of transport. And with the scheme expanding, more Londoners may be considering upgrading to a less polluting car.
TfL initially offered a ULEZ scrappage scheme to encourage people to switch to a more environmentally-friendly car, motorbike or moped. However, the scheme has since been closed to any further applicants.
ULEZ future and expansion
There are no plans as yet to expand ULEZ any further in London but Clean Air Zones and Low Emission Zones are being rolled out in other cities in the UK.
Bath currently has a Clean Air Zone where vehicles including buses, taxis, HGVs and minibuses need to pay a charge to enter. Birmingham has a Clean Air Zone that also charges cars. Portsmouth has also launched a Clean Air Zone for vehicles including HGVs, buses, coaches, taxis and private hire vehicles but private cars, vans and motorbikes are exempt.
As ULEZ expands and more cities start up similar low emission zones, is now the time to ditch your diesel car? Read more about the pros, cons and future of diesel vehicles.