Cuba is a dream destination for many of us seeking hot weather, vibrant culture and incredible cocktails. However, if you want to tick the country off your bucket list, you need to make sure you have the right travel insurance and visa documents in place.
It's also critical that you understand the coronavirus travel restrictions, or you could find you're turned away at the border.
Here we explain everything you need to know.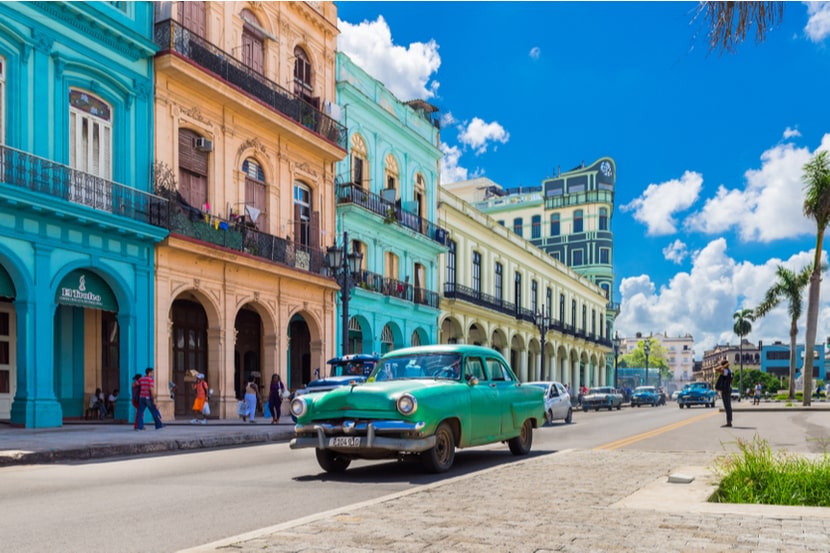 Cuba travel restrictions
To visit Cuba, you need a visa, and you legally must have valid travel insurance. Your passport needs to be valid for at least two months after your departure date.
You should also keep abreast of Covid-19 rules. Cuba sets its own travel restrictions, and these can change rapidly. It's important to check the GOV.UK website before you book and again ahead of flying to make sure you're compliant. You should also check with your airline that your documentation meets its needs.
Currently, the rules say that you need a valid COVID-19 vaccination certificate, and a PCR test taken within 72 hours before travel. Children under the age of 12 are exempt.
GOV.UK adds:
"Visitors are no longer required to routinely self-isolate or take a PCR test on arrival in Cuba, but sanitary authorities are present at the airport and will carry out random PCR tests. Anyone testing positive on arrival will be moved to quarantine in a designated government health centre, at their own expense."
You must also complete a Health Declaration (Declaracíon Jurada de Sanidad) online before you fly.
Why should I visit Cuba?
Visitors to Cuba can expect luxurious beaches and vibrant cities. Tourists love its relatively unspoiled atmosphere, thanks to trading bans with the US that came into force in 1959. Even though relations have thawed, you'll still see vintage cars and none of the usual global chains that you find everywhere else in the world. Amazing weather, cheap drinks and street festivals are all other top reasons to go.
Is Cuba safe to travel to?
Cuba is considered a fairly safe travel destination, but you should still take some precautions. The Foreign, Commonwealth & Development Office (FCDO) advises that you reduce the risk of theft from your luggage during baggage handling by:
Removing valuables
Locking suitcases
Having them shrink-wrapped before check-in
It adds: "There are a small number of bogus tour agents and taxi drivers operating at the airports and around Old Havana. Don't travel with anyone other than your tour operator. If you need to take a taxi, make sure it's a registered one and not a private vehicle."
Pickpockets and bag snatchers are also a concern, so keep an eye on your valuables. Hi-tech items like smartphones and laptops are particularly sought after. Muggings and car-related crime also happen from time to time. The FCDO says you should take taxis rather than walking and drive to the next town if you get a puncture rather than stopping immediately.
Find out more about potential safety and terrorism risks on the FCDO website.
Travel to Cuba from the UK
The average flight time from the UK to Cuba is around 9 hours. There are several popular airlines that run flights, including Virgin Atlantic, British Airways, Lufthansa, AirEuropa and Iberia.
What to expect when travelling to Cuba
There are a couple of main things to consider when travelling to Cuba:
Travel insurance is mandatory
Currency can only be changed when you arrive – and there are two currencies. Travellers' cheques are accepted, as long as they don't have American affiliations.
Internet connection is poor – don't expect to get online unless you're in a top hotel
Always have cash – as you won't be able to use cards in many places. Cash points are thin on the ground
Watch out for street hustlers, pickpockets and scams
Some electrical items with heavy power consumption may be confiscated on entry to Cuba.
Mobile telephones, tablets and laptops can be taken to Cuba, but any inbuilt GPS should be disconnected or disabled.
Do I need a visa for Cuba?
You need a Tourist Visa, also known as a Tourist Card. This allows you single entry to Cuba and a stay of up to 30 days - at which point you can extend it for another 30 days at your hotel.
You need a valid passport and a plane ticket with return dates to get your card. A fee is payable for this service if you obtain it in person at the Consulate. Most travel operators let you apply for a card with them, usually for a fee and sometimes at a discounted price.
One tourist card is required for every member of your party, regardless of age.
Do I need any injections for Cuba?
You need your Covid-19 vaccinations to enter Cuba. You might also need additional vaccinations to meet your insurer's terms and conditions.
These include:
Typhoid
Hepatitis A
Diphtheria Mosquito-borne diseases, like Zika virus and dengue fever, are also a risk.
What is Cuba famous for?
Cuba is famous for rum and cocktails, cigars, music and dancing, classic cars and Fidel Castro. The country also has 9 UNESCO World Heritage sites including the Alejandro de Humboldt National Park and Old Havana.
Is Cuba a good holiday destination?
Yes. There are loads of key attractions for tourists. You've got beautiful beaches like Playa Paraiso or Varadero Beach, as well as Old Havana, El Nicho Waterfalls and Plaza de la Catedral among many other spots.
The best time to travel to Cuba
The weather in Cuba is tropical. Temperatures run between a max of around 30°C from June-September and minimum of around 20°C in the other months.
It's usually hurricane season between June and November, but don't be put off. Hurricanes in Cuba are usually not life threatening, and Cuba has an excellent track record in dealing with them.
However, make sure you have sufficient insurance to deal with the disruption that this weather can bring. Rainfall is higher in those months than others too.
Cheapest time to travel to Cuba
If you want the cheapest prices, you're best off avoiding the school holidays. December to February and Easter are peak seasons for tourists, while July and August are peak holiday months for Cubans. If you don't mind a bit of rain, the wet season is when you'll likely get the cheapest holidays of all.
Travel insurance for Cuba
Travel insurance is mandatory for travel to Cuba. There are spot checks at airports, and you may be asked to show proof of cover when you arrive. If you can't prove you have a policy, you could be denied entry or made to buy a new one.
Make sure you have sufficient cover for the duration of your stay and that the limits are high enough to cover any medical treatment that you might need.
Important cover elements to consider include:
Take a printout of your insurance certificate in your hand luggage so that you can show it when asked.
More Cuba travel advice
Topic
Information

Currency

CUC (Cuban Convertible Peso) is the main currency, and most likely the only currency tourists will use.

CUP (Cuban Peso) is a local currency.

You'll only be able to exchange your money to CUC once you're in Cuba, as neither are traded internationally.

Money info

Don't trade too much at once as there's a fee payable to re-convert CUC back to Sterling.

Traveller's cheques are accepted if they don't have American affiliations. These might be hard to come by in the UK.

If you lose your traveller's cheques, they won't be replaced in Cuba.

Cash is the easiest method. Make sure all your notes are in good condition and not defaced as they may be rejected.

If you insist on traveller's cheques, some banks offer non-American ones. Keep the receipt safe as you may need it - along with your passport - in Cuban banks."

Credit or debit cards by American banks will not be accepted in Cuba. Some ATMs will work with your debit card, but some may not. The exchange rate varies, and you might be worse off taking out money in Cuba."

Official language

Spanish

Staff at hotels and resorts largely speak English, but the further you stray away from the centre, the less English-speaking Cubans you'll meet.

Capital

Havana

Time difference

GMT -4

British embassy

The

British embassy

is located in Havana. It can offer support for British citizens in an emergency.

Driving in Cuba

Driving in Cuba can be a bit of a mission. The roads are less developed than what you may be used to, and they're quite often congested with slow moving motorbikes, horse carts and bicycles.

National dish

Ropa vieja – shredded beef in a tomato sauce base, usually served with rice.

The quality of food can vary. Due to the trading restrictions and hurricane season, there could be shortages of certain types of food.

The resorts usually serve foods like fries and pasta, but you can find authentic Cuban cuisine outside of the resort.

Local information site

Cubadiplomarica.cu