Over 50s life insurance
Get a quote for over 50s life insurance
Get a quote
Explore more in-depth guides: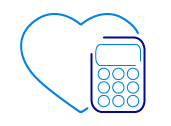 Life insurance calculator
Don't know how much life cover you need? This handy tool can point you in the right direction.
You might also be interested in other insurance types
Confused Life is arranged and administered by Direct Life & Pension Services Ltd, who are authorised and regulated by the Financial Conduct Authority. Registered office; 2nd Floor Gateway 2, Holgate Park Drive, York, United Kingdom, YO26 4GB. Registered in England and Wales No 2467691. Our service is free. Confused.com is an intermediary and receives commission from Direct Life & Pension Services Ltd which is based on a percentage of the total annual premium if you decide to buy through our website. We pride ourselves on impartiality and independence – therefore we don't promote any one insurance provider over another.