Losing a loved one can be difficult and overwhelming. But it's often made worse when you have to prepare funeral plans alongside the grieving process.
So, it makes sense to think ahead and ensure your family doesn't face an extra financial burden when you die. Funeral plans or funeral insurance can be a step towards this.
But are prepaid funeral plans a good idea and how do they actually work?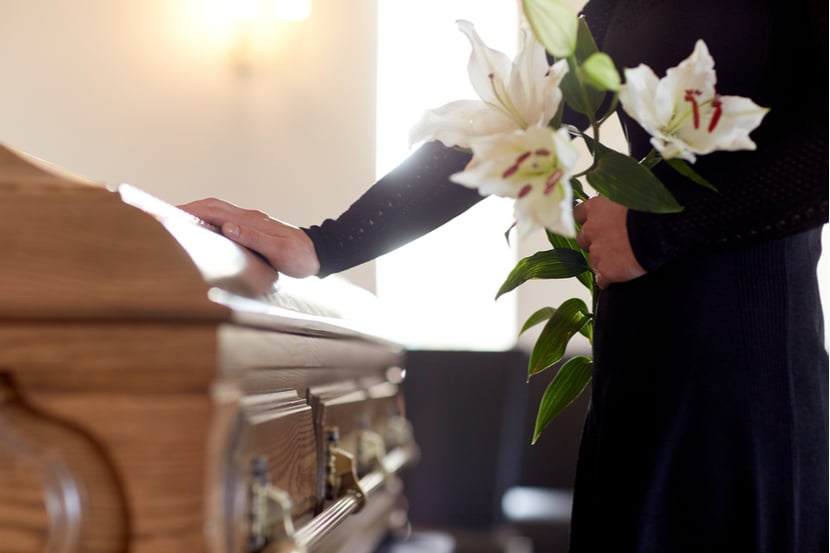 Confused.com doesn't compare funeral plans - this guide is for informational purposes only. However, we do compare life insurance policies, which can be used to cover funeral expenses.
What is a funeral plan?
A prepaid funeral plan, sometimes known as funeral insurance allows you to set money aside for your funeral.
It allows you to prepare and pay for your funeral at today's prices. It also lets you make decisions about how your loved ones conduct the funeral.
How do funeral plans work?
You pay the funeral plan provider, typically a financial company or a funeral director, to deliver a certain level of service.
You can either pay a one-off lump sum or monthly installments, usually over a period of up to 10 years. If you need it, there are longer payment periods available with some companies.
Funeral plans could be seen by some as an alternative to buying life insurance. Many people get life insurance policies so their families get a lump sum on their death to cover funeral expenses.
Prepaid funeral plans pros and cons
Benefits of prepaid funeral plans include:
Most or all of the cost of your funeral should be covered in advance. This helps ensure your family members don't face an extra burden at what's likely to be a difficult time.

You set out how you want your funeral to be conducted. This ensures the ceremony is entirely in accordance with your wishes.

Funeral plans could help protect against inflation. Most plans ask you to pay a certain amount to cover costs such as burial or cremation fees. If the cost of providing these services increases between now and the funeral, you shouldn't have to pay extra.

The funeral costs don't affect your family's inheritance. The money in a funeral plan doesn't count towards your estate when it comes to calculating any inheritance tax liability.
Downsides of prepaid funeral plans include:
It may lower your disposable income. You might have to find a considerable sum of cash upfront or pay a monthly contribution out of your pension to cover the costs.

Your family may be expected to pay the difference if you die before you pay off the funeral plan. If prices rise beyond the level you paid for, again, your family might have to make up the difference.

You're limited with what you can do with the money saved. Unlike other types of insurance plans, the savings you make during the prepaid plan can only be used for the funeral.

You may end up overpaying. If funeral prices fall, you could end up paying more than the eventual cost of the funeral through the prepaid plan.
Start a life insurance quote
What isn't covered by a funeral plan?
Different funeral plans offer different service levels, depending on the price you pay. This is why it's crucial to shop around and check the small print on any plan you're considering.
Not all plans cover expenses such as doctor's fees or the cost of having a minister or celebrant conduct your funeral service. Your plan might also only cover a proportion of your burial or cremation costs.
Typically, funeral plans don't cover:
Funeral notices

Embalming

Headstones

Flowers

Catering for any wake
Are funeral plans worth it?
Whether or not a prepaid funeral plan is worth the money in strictly financial terms depends on:
The price you pay for the plan
The eventual cost of your funeral
But funeral plans could help you get peace of mind by ensuring your wishes for your funeral are set out in advance. You also reduce the financial burden that your family could face.
And if you're particularly worried about the cost of funerals increasing in the future, a prepaid funeral plan could address this concern.
Despite basic funeral costs decreasing by 2.5% in 2021, the average 'cost of dying' continues to rise.
According to SunLife, the average cost of a funeral including professional fees, the funeral service and optional extras is £9,200. This has increased by 3.8% since 2021.
The report also shows that
69% of people in 2022 made provisions to specifically pay for their funerals
39% used prepaid funeral plans
Only 59% saved enough to cover the full cost of the funeral
Prepaid funeral plans can help you save the right amount, allowing your loved ones to cover the full cost.
How much is funeral insurance?
Prepaid funeral plans typically start at around £3,000, with prices rising in line with the level of service offered.
If you choose to spread your costs over many years, you might end up paying extra for the privilege.
What's the new regulation around prepaid funeral plans?
As of 29 July 2022, firms that provide funeral plans must be regulated by the Financial Conduct Authority (FCA).
After this date, only businesses that were registered with the FCA were able to sell prepaid funeral plans. These regulations mean that customers have greater protections against:
If you've bought a prepaid funeral plan before this date, contact the FCA to check if your provider is authorised. If they aren't, you're unlikely to be protected.
Can I compare prepaid funeral plans?
Given the range of plans on offer, it's worth comparing funeral plans to make sure you've got the right one for you.
As well as the overall price, consider these features when comparing funeral plans:
Is there a cap on burial or cremation costs?
Is there a mileage limit on removing the body?
Are there any cancellation fees?
Are limousines included in the plan?
What do I need to know when buying a funeral plan?
How much is the plan going to cost? If you're paying in installments, you should establish how much extra you're paying compared to paying upfront.
What am I covered for? Different plans offer different levels of service, so make sure you're happy with what you sign up for. Also, make sure you understand what extra costs your family could face.
Will where I live affect the price? When buying a funeral plan, you need to tell the provider which funeral director you want. If you move house, you need to update your plan and change funeral directors. You may be charged a fee to do so. If you live in an expensive area, you may also see the costs increase.
Can I get a joint funeral plan?
Some providers offer joint prepaid funeral plans for couples. But they're designed to cover the cost of 1 funeral.
They work in a similar way to a joint life insurance policy where the insurer pays out when the first of the couple dies. This means the surviving partner doesn't need to find extra money to pay for the funeral.
Couples who want to get a plan to cover the cost of both funerals need to set up their own individual prepaid funeral plans.
Are there funeral plans for the under-50s?
While funeral plans are typically marketed at and available to the over-50s, some companies do allow customers to sign up at a younger age.
It's worth checking with the company before committing to a policy in case there are additional exclusions.
Should I pay for a prepaid funeral plan monthly or upfront?
How you pay for your funeral plan depends on your current financial circumstances.
If you choose to pay over several years, you're able to spread the cost. But you might be charged a certain amount of interest for doing so.
If you have enough spare cash, you could consider paying upfront. This means there's no chance of you dying before the plan is fully paid off. So, your family is less likely to be put in a position where they have to make up the difference.
What happens if I die before the funeral plan is paid?
In many instances, the funeral plan provider asks for any shortfall to be made up out of your estate or by your surviving family members.
But some providers offer their funeral plans as a type of insurance. This means, if you die before the plan is fully paid, the company makes up the difference.
It's best to check with the provider so you're certain about what's expected of you.
Should I get funeral insurance or life insurance?
Whole life insurance can be seen as another option instead of getting a funeral plan. These policies are normally available to the over-50s and offer a certain payout on your death.
You can set the amount of life insurance cover at any level. This means you could provide extra money to help your family pay any inheritance tax bills, as well as the cost of a funeral.
With life insurance, you need to pay monthly until you die or until the policy term runs out.
Are there any alternatives to a funeral plan?
There are several reasons to consider taking out a prepaid funeral plan. But depending on your circumstances, you might find that alternative solutions are more suitable.
Comparing life insurance policies
A life insurance policy could provide a higher level of cover to pay for inheritance tax bills, for example, as well as funeral costs.
Buying an over 50s life insurance policy is often recommended if you want an alternative to a prepaid funeral plan.
Setting up a savings account
By putting money aside every month (or as a lump sum) into a designated account, you ensure there's enough spare cash for a funeral. But this also means that the money can be accessed by you in an emergency.
Putting life insurance in trust
You can arrange to put your life insurance policy in trust so you decide who you want the money to go to if you die. These people will be your beneficiaries.
Your insurance policy is then looked after by trustees until it's paid out to a beneficiary. The trustees must consider your wishes and agree on what action can be taken. They then decide where the money is to be paid when you die.
If you put a policy in trust, it's not included in your estate. This could lower the value of your estate enough to not have to pay inheritance tax.
Can I get financial support for funeral costs?
Funeral Expenses Payment
If you need help paying for a funeral you're arranging in England or Wales, you can apply for Funeral Expenses Payment.
To be eligible for Funeral Expenses Payment, you must:
Get certain benefits or tax credits

- For a full list of the accepted benefits, you can visit the relevant page on

GOV.UK

.

Meet the rules on your relationship with the deceased - You must be either the partner of the deceased, the parent of a baby stillborn after 24 weeks or the parent of a deceased child under 16. Relatives or friends can also qualify in some circumstances.

Be arranging a funeral in the UK, the European Economic Area (EEA) or Switzerland
If you apply, an assessment is made to ensure you're eligible for the support and, if so, how much you could get.
If you're accepted, you could get help with some of the following costs as well as up to £1,000 for other funeral expenses:
Burial fees for a particular plot
Cremation fees, including the cost of the doctor's certificate
Travel to arrange or go to the funeral
The cost of moving the body within the UK, if it's being moved more than 50 miles
Death certificates or other documents
Funeral Support Payment
If you live in Scotland, you can apply for Funeral Support Payment. This is similar to Funeral Expenses Payment as you can get help with funeral costs for a baby, child or adult.
It often doesn't cover the full cost of the funeral but it does help pay for some of the other costs included. It can also be paid to you or the funeral director planning the funeral.
To be eligible for Funeral Support Payment, you must:
Live in Scotland

Get certain benefits or tax credits

Be arranging a funeral for someone who died and lived in the UK

Be arranging a funeral that's to be held in the UK, the EU, Iceland, Liechtenstein, Norway or Switzerland

Be applying for support after the person has died or 6 months after the date of their funeral

Accept responsibility for the funeral costs
You cannot apply if you've already had other government support for the funeral.
Bereavement Support Payment
If your partner has died in the last 21 months, you could be eligible for Bereavement Support Payment.
To be eligible for this type of financial support, your partner must have:
Paid National Insurance contributions for at least 25 weeks in 1 tax year since 6 April 1975

Died because of an accident or disease caused by their work

Been under the State Pension age

Lived in the UK or a country that pays bereavement benefits
If you're successful, you could get an upfront payment of either £3,500 or £2,500, followed by 18 monthly payments.
You need to claim Bereavement Support Payment within 3 months of your partner's death to get the full amount. If you claim after this, you may get fewer monthly payments.